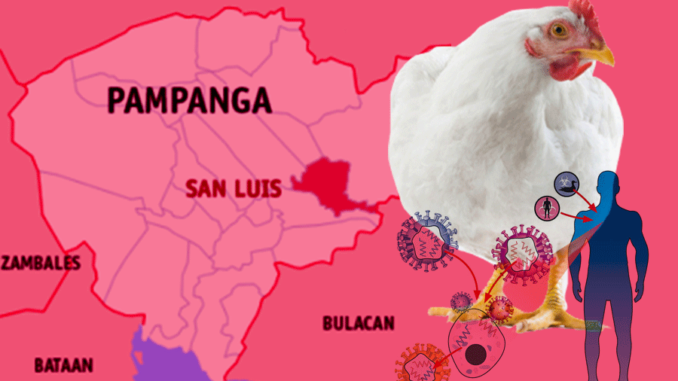 Agriculture Secretary Emmanuel Piñol has confirmed the outbreak of avian influenza virus in San Luis, Pampanga – the first in the country.
According to Piñol, test specimens from six poultry farms in barangays San Agustin, San Carlos and Sta. Rita in San Luis town confirmed the presence of highly pathogenic avian influenza (HPAI) subtype H5.
The outbreak has killed 37,000 poultry heads including quail and ducks.
In an interview, Piñol said there had been indications of the virus' presence as early as May but the commercial poultry operators did not report it immediately. He said the situation worsened around July.
While there has been no report yet of poultry to human contamination, the Department of Agriculture has decided to kill the other 400,000 captive birds, valued at P25 million to P28 million, within the town to avoid the spread of the virus.
"I immediately ordered the deployment of quarantine officers within the one-kilometer radius. We will kill all poultry as there are a lot of those being used for cockfights," Piñol said.
"I don't care if we have to kill a million including those free range and stray fowls. What is that compared to the whole poultry industry? We have to do it because we don't want the disease to spread," he added.
On Friday, the agriculture department has issued a memorandum banning the transportation of live domestic and wild birds and their products including poultry meat, day old chicks, eggs, semen and manure from Luzon to Visayas and Mindanao.
Within the Luzon island, the movement of fresh, frozen meat, eggs and other uncooked poultry products may be allowed provided it is outside the seven kilometer radius control area of the outbreak site in Pampanga. The products must also be accompanied by a shipping permit and a health certificate issued by a government sector veterinarian certifying that the products were sourced from farms with no incidence of Avian influenza for the past 21 days prior to shipment.
Piñol said initial reports showed that the first outbreak started in a certain quail farm, that has killed about 50 of the 70 ducks, wiping out all the quails, and eventually spreading in the poultry farms.
San Luis is a highly agricultural town where the dominant crop is palay, followed by vegetables and orchards. Agri-business like inland fish culture, poultry, piggery and other livestock raising is also present.
It serves as a satellite municipality of Pampanga urban centers, being a major supplier of food.