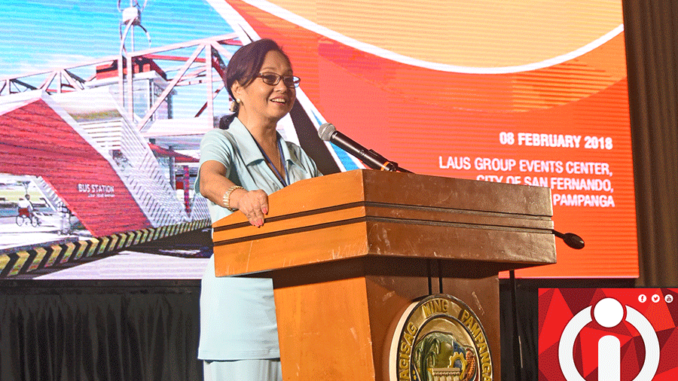 CITY OF SAN FERNANDO – Former president now Pampanga Second District Representative Gloria Macapagal-Arroyo said Pampanga is the best alternative in decongesting Metro Manila and this will become a reality with the right actions.
This was gleaned during the Turnover Ceremony of the Pampanga Megalopolis Plan held at Laus Group Event Centre here.
Arroyo said the first step in realizing the megalopolis plan is funding the feasibility study of one of its major projects by the provincial government.
"Governor Lilia Pineda mentioned that there is P1-billion fund into the development plan and that is because there is still P1-billion that needs the feasibility study, but the funded projects are really close to P2-billion," she said.
She added these projects are the infrastructures related to the circumferential road that the business community pointed out and that the needed fund for the said study costs P20-million.
"Thank you, Governor Pineda kasi kung wala yung P20-million feasibility study, wala rin yung P1- billion na pondo," she added.
The former president also pointed out the next step after the study is the investment promotion program.
"I said this as the next step because on March 23 to 27, Clark Economic Zone, together with the Cagayan Economic Zone will be the guest of the Chinese government in China so that we can promote investments. We are talking already with some commercial attachés and we have a prospect in Guangzhao, Hainan, and some in Beijing," she bore in her speech.
The foremost advocate of the megalopolis plan then pointed that the third step in making this a reality is the involvement of the local government units (LGUs) through the leadership of every mayor.
She then said that the LGUs need to realize their visions formulated during the workshops initiated by the provincial government.
"We will go municipality by municipality again to see how we can put on the ground the visions that they had in order to comply and be in sync with the Pampanga development plan," she said.
Governor Pineda then called out for the creation of the Pampanga Development Office this month composed of business sector representatives, consultants and the provincial engineers to focus on the developments in sync with the Pampanga Megalopolis Plan.
The Pampanga Megalopolis Plan was made by the Palafox Associates in partnership with the Provincial Government and Congresswoman Arroyo as the realization to the call to decongest Metro Manila and to boost the potential economic growth of the promising province. –PHILIP OCAMPO/PIO