Hundreds of teachers​ ​from the City Schools Division of San Fernando gather at the Heroes Hall on October 5 to celebrate World Teacher's Day.
Realized in partnership with the local government, Mayor Edwin "EdSa" Santiago said in his speech that the annual celebration seeks to recognize the educator's unwavering service and commitment towards a better Fernandino community.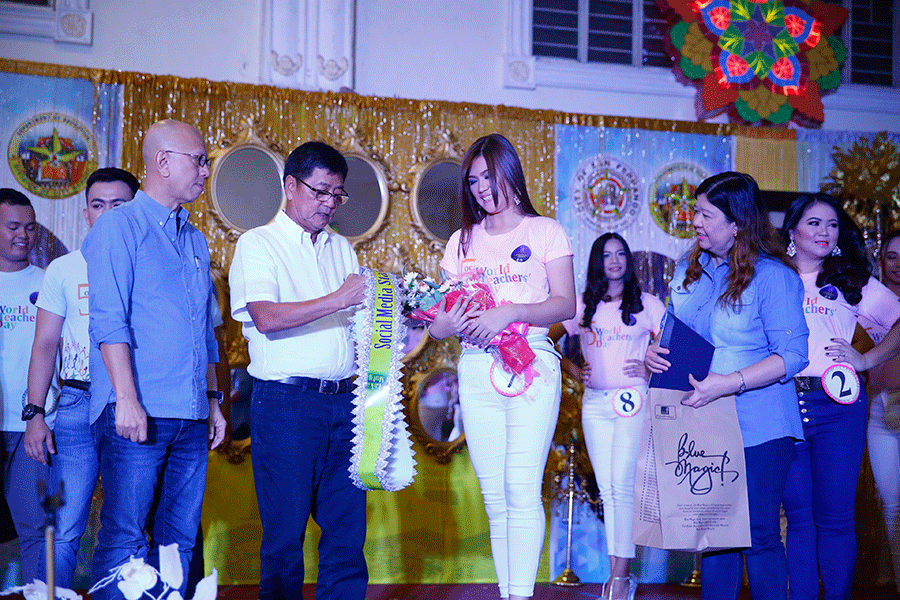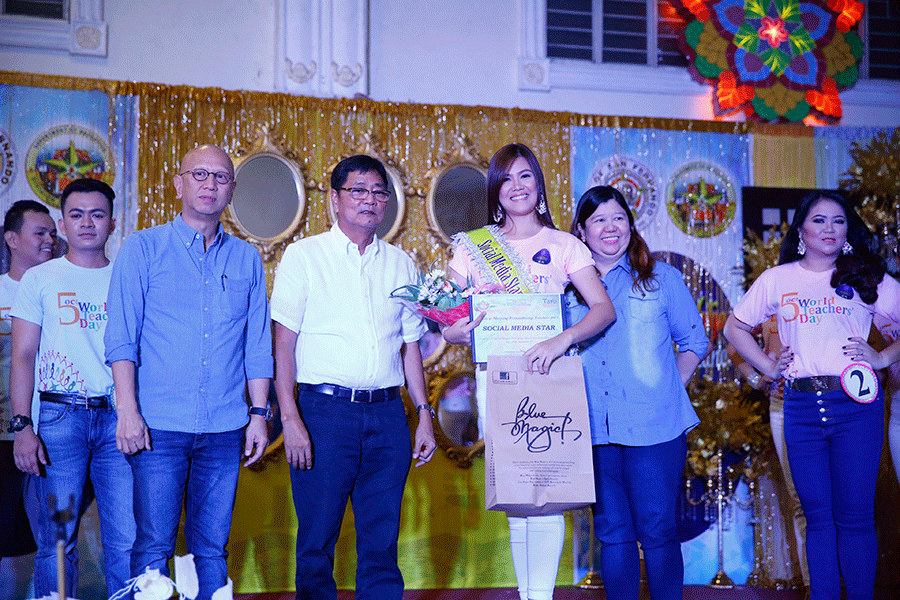 "Allow me to thank all of you for playing an integral role in honing the fullest potentials of the youth to be the hope of the future. As we gear towards a new San Fernando, I encourage you to teach the children to dream big and aim for excellence," he added.
To keep the teachers motivated, the first official hymn of the City Schools Division entitled "Aim High DepEd San Fernando" was also launched during the program. This was composed by Jay Gopez and sung by Janette Amores, Edna Suarez, Edgar Yutuc and Mario Deraco.
94 teachers were also awarded as "Superheroes in the Classroom" for their outstanding performance for School Year 2016-2017 (October to March) and 2017-2018 (June to September), respectively.
The first set of awardees were Norcelyn Panlilio, Kimberly Castro, Danilo Alata, Mark Anthony Lazaro, Marichu Santos, Estella Azcune, Edgar Pineda, Vernalyn Guevarra, Jennifer Malig, Charmain Alcantara, John Kevin Garcia, Rosalina Tanedo, Mina Batac, Nenita Tiomico, Veronica Gozun, Paulina Ancheta, Antonette Cadiang, Anna Bernadette Pineda, Jen Kathlyn Batas, Carmencita Sunglao, Marlen Del Rosario, Danica Ramirez, Rachelle Lacson, Regina Castro, Elizabeth Olalia, Nida Aldana, Alicia Pagcu, Erlinda Sunga, Lilibeth Tejones, Rezzy Gopez, Vivian Saulo, Rodrigo Magpayo, Joan San Juan, Debbie Urbano, Maricar Dizon, Lilia Baluyut, Charisse Mae Canlas, Marnellie Malit, Erlinda Castillo, Jennie Lyn Manalang, Ma. Annie Nombre, Rhoda Joyce David and Nianita Pamintuan.
Other recipients of the award were Recita Espenocilla, Alma David, Conrad Beltran, Zenaida Feliciano, Zharmaine David, Rubie Ann Quaimbao, Ma. Katrina Guzman, Aileen Sazon, Fatima David, Faith Lozada, Moises Flores, Alberto Celon, Angelina Bundalian, Rose Ann Magtoto, Marifel Mercado, Marites Nunga, Richard Gomez, Arlene Dizon, Marissa Waniwan, Alanie Villanueva, Catherine Patiu, Adela Sampang, Ruby Razon, Wilhelmina Caguiat, Celeste Tayag, Maricar Dungo, Rowena Quevedo, Cristina Punsalan, Elsie Lacson, Febe Lingat, Gloria Del Rosario, Precious Marie Richards, Anicia Pamintuan, Kelvin Montilla, Mary Ann Gomez, Rebecca Dakis, Jocelyn Villanueva, Antonio Canlas, Carmelita Mangio, Donnalyn Tulabut, Cristina Paula Pineda, Joven Flores, Elena Marie Guintu, Maria Rita Catingco, Michael Quiazon, Francia Reyes, Airamae Mallari, Rowena Santiago and Jaime Mangune.
Also highlight during the celebration was the 2nd Lakan at Mutya ning Fernandinong Talaturu which showcases the talents and skills of the teachers. This year's winners were Mark Anthony Sawal and Mary Ann Lalic (Lakan & Mutya 2017); Kim Harold Mallari and Patricia Mae Sioson (1st Runners up); and Kelvin Montilla and Nikka Marie David (2nd Runners up).