Spring into action and get a head-start on the 2020 long weekends and vacays with this early Chinese New Year treat from Cebu Pacific. It's Year of the Piso from the airline that gives the best year-round low fares.
From January 16 to 17, score seats on Cebu Pacific flights to over 60 destinations for as low as P1! To give everyJuan a chance to book those Piso fares and Make Moments Happen, destinations are grouped on Day 1 (January 16), with an eight-hour window to book seats on sale.
From 12:00am to 8:00am on January 16, scour for seats because it's lucky travels to all local destinations. Explore the rest of the Philippines—home to some of the world's best island-destinations in the world. Instead of seeing vlogs or images, get real-life experience canyoneering down Kawasan Falls in Cebu, kayaking through karst cliffs in Palawan or lazing on the white beach of Kalanggaman Island in Leyte.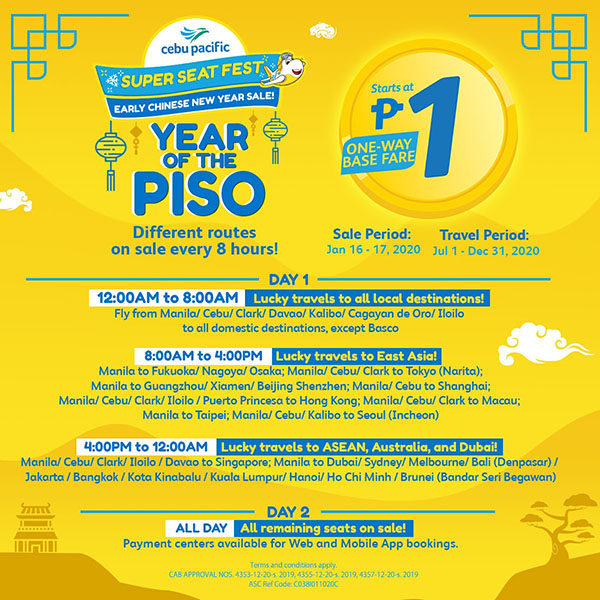 From 8:00am to 4:00pm, get ready because it's lucky travels to East Asia! China, Hong Kong, Macau, Japan, Taiwan, and South Korea routes go on sale. Visit the world's largest retail and trade fairs in Guangzhou, get a Hallyu fix in Seoul, or take a trip to the UNESCO world heritage village of Shirakawa-go in Nagoya.
From 4:00pm to 12:00midnight, all destinations in Southeast Asia (Singapore, Brunei, Malaysia, Thailand, Vietnam, Indonesia), Australia (Melbourne, Sydney), as well as Dubai go on sale. Explore Bali, go on a cruise along Halong Bay in Vietnam; or try going on a desert safari or riding a camel in Dubai.
While Day 1 of the sale are for online bookings, Day 2 (January 17) is a free-for-all, with all remaining seats on sale the whole day, and all payment centers available for web and mobile app bookings.
Travel period is from July 1 to December 31, 2020.
And to ensure that those precious Piso Fares don't go to waste in the event of unforeseen schedule changes, add on CEB Flexi so you can rebook flights up to two times, for as low as PHP499 for domestic flights, PHP799 for international short haul flights, and PHP1,099 for international long-haul flights. No more waiting—just go and book those low fares! The CEB Flexi add-on can only be availed during initial booking.
Firm up those 2020 vacays in the Year of the Piso with Cebu Pacific!
For more information, visit the official Cebu Pacific Facebook, Twitter or Instagram accounts.