AirAsia Philippines continues to ramp up its flight frequencies to domestic destinations to meet the surge of demand for air travel during the Christmas season.
To date, AirAsia Philippines has restored 30% of its pre pandemic capacity, doubling and tripling its frequencies for most of its domestic destinations. The world's best low cost airline has also returned to Hongkong and Singapore to service Overseas Filipino Workers and business travelers.
As of December, AirAsia Philippines is flying Manila-Puerto Princesa 6x weekly, Manila-Iloilo 9x weekly, Manila-Cagayan 6x weekly, Manila-Caticlan 28x weekly, Manila-Tacloban 21x weekly, Manila-Tagbilaran 11x weekly, Manila-Cebu 21x weekly, Manila-Cagayan 5x weekly, Manila-Davao 7x weekly, Manila-Zamboanga 4x weekly, Manila-GenSan 2x weekly, Manila-Singapore 1x weekly and Manila-Hong Kong once every 2 weeks.
AirAsia Philippines Spokesperson Steve Dailisan said, "We are banking on "revenge travel" for a very strong 2022 recovery. People now have the confidence to plan for their future trips as reflected in the forward bookings from 31-120 days. This booking behavior can be significantly attributed to the continuing downtrend of daily COVID-19 infections and the ongoing progress of the government's nationwide vaccination program."
While travel restrictions have been significantly eased and simplified, we call on our guests to never allow themselves to be complacent. Strict adherence to health and safety protocols must be observed on ground and in flight."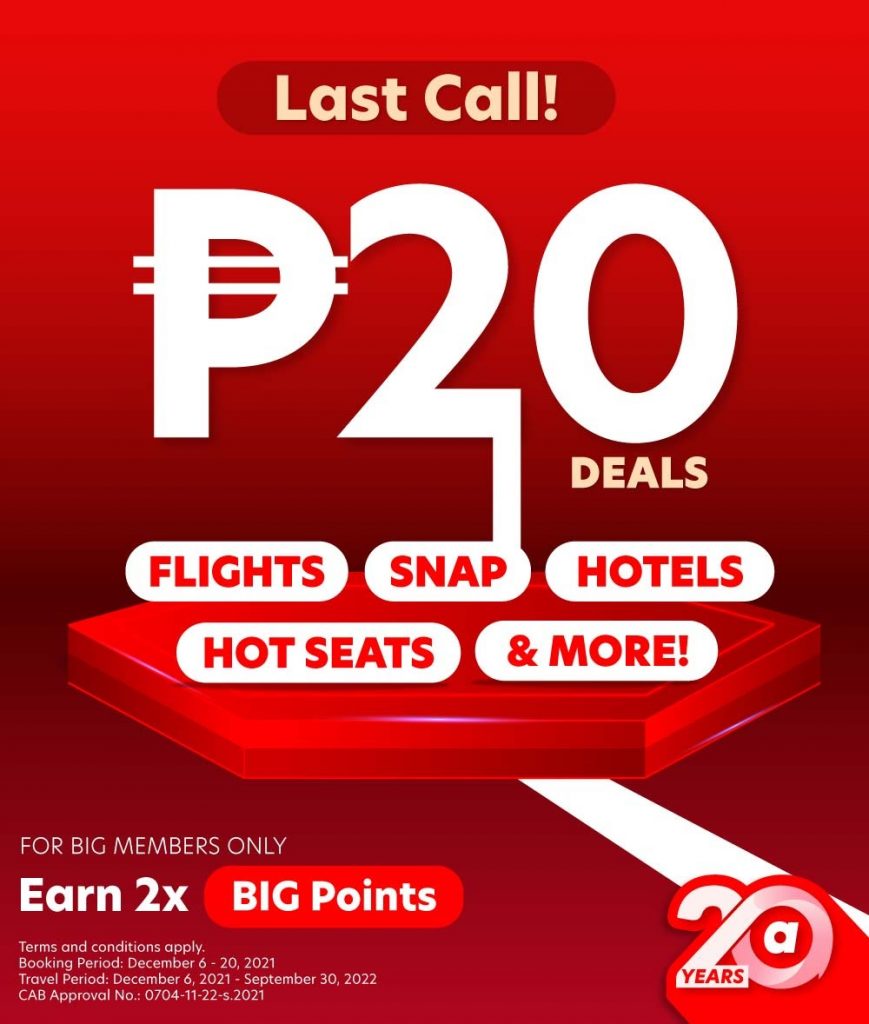 Recently. Puerto Princesa opened up its door to domestic leisure travelers, adopting a "tourism bubble" scheme. Puerto Princesa started to accept fully vaccinated guests on 8 December. Guests however are required to submit a negative antigen test taken at least 24-hours before departure.
In celebration of AirAsia's 20th birthday, guests may avail of the PhP20 base fare if they book within 6-20 December from Manila to Cebu, Puerto Princesa, Iloilo, Cagayan de Oro, Davao, Kalibo, General Santos, Zamboanga and Bacolod. Travel period is from 1 December 2021 to 30 September 2022.
Guests may also enjoy AirAsia's exclusive 20% OFF HOTEL STAYS from 1-20 December using the promo code HAPPY20
"AirAsia has been synonymous with great value through the democratisation of air travel with low fares and great service. We are sharing this milestone with our guests who have been very loyal with AirAsia and are now part of the growing Super App ecosystem", Dailisan added.
As of 7 December, 100% of AirAsia Philippines' flying crew and 99.34% of the whole Filipino Allstars have been fully vaccinated against COVID-19. Most employees who have been fully vaccinated in the last six months have also started to take their booster shots through their respective local government units (LGU).