BALANGA CITY – The Balanga City Police Station (CPS) headed by Police Supt. Byron Allatog presented, on Monday morning, sixty loose firearms to local officials headed by Mayor Francis Garcia and to the members of the local press.
The said activity coincided with a kick-off ceremony in the observation of the 24th National Crime Prevention Week.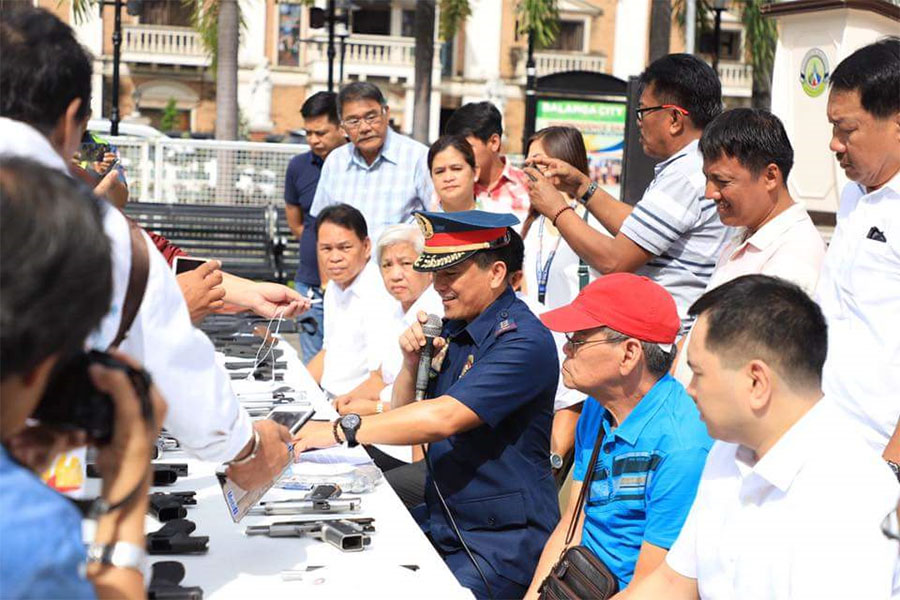 "The Balanga City Police Station is very proud to present our accomplishment as a result of our "FOCUS 1-Time OPLAN KATOK" in a single day," Allatog told newsmen.
The said activity was attended by Bataan Police Director, Police Senior Supt. Marcelo Dayag along with the city's village chiefs and LGU employees at the Plaza Mayor de Ciudad the Balanga.
Dayag said the loose firearms were surrendered to the police by its owners and were marked for safekeeping for the meantime until the time they were able to secure its new registration.
Allatog said the Oplan Katok conducted by the local police was triggered as an off-shoot counter-mechanism after a continuous series of shooting incidents perpetrated in the country and as early preparations in the upcoming 2019 national elections.
Oplan Katok is a PNP approach to account all loose firearms in a given community. Not only it is an audit/accounting in nature but significantly a "Crime Prevention"- the CSOP way or Community & Service Oriented Policing.
Loose Firearms according to Republic Act 10591 refers to an unregistered firearm, altered firearm, firearm which is lost or stolen, illegally manufactured firearm, registered firearm in the possession of an individual other than the licensee and those with revoked licenses.
Previous records showed this component city has 1055 loose firearms as of the year 2016.
Last July 2018, the PNP announced that the agency is mulling a nationwide gun amnesty to account for almost one million loose firearms and to encourage all individuals in possession of a loose firearms to have their gun licensed.
"With this development, the Balanga City Police Station will now be addressing further the problem of loose firearms in the city by applying Search Warrants to individuals still in possession of loose firearm/s and already been informed and still no action is being initiated from their end," Allatog added.