Wide-eyed tarsiers? Perfectly-coned Chocolate Hills? You might be missing a lot as Bohol has more to offer iconic and luxurious travel destinations await you. Here are five among the best of the best must-go leisure haven in Central Visayas.
Mithi Resort and Spa, Your Own Slice of Paradise
Mithi boasts as Bohol's most premier spa resort with world-class amenities upon tropical landscapes, embraced by clear, turquoise waters along the coast of Panglao giving tourists a blissful spa and resort vacation experience at one of the Philippines Island Destinations.
The resort is endowed with half a kilometer white sand beach resort which is exclusively for the use of resort guests. Nature has also endowed us with natural caves with crystal clear brackish water. The natural wild vegetation that abounds is enhanced by domesticated plants generously landscape to blend with nature. It is just a 15-minute leisurely drive from downtown.
Nestled in a 14-hectare natural terrain, this uniquely secluded resort has cliff-top bungalows as well as quadruplexes and duplexes of high ceilinged nipa roof. All are well-ensconced in a harmonious mix of wild and domesticated vegetation.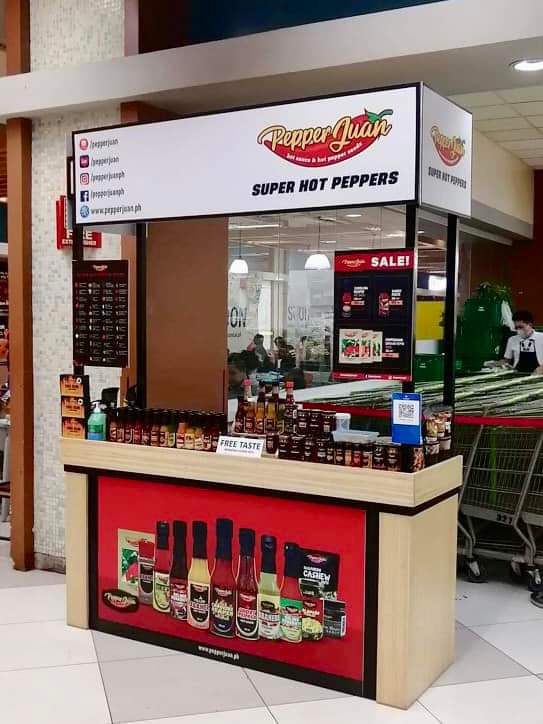 A perfect place to be, the resort has the facilities for honeymooners, as well as for conferences, company, school, family or group outings, extended vacations, weekend escapades and other types of celebration.
SPA
Get away from the hustle and bustle of everyday city living. Escape into a haven of peace and tranquility as you step into Mit-hi, the Spa at Mithi Resort & Spa. Immerse yourself in the enchanting sounds of tranquil music while our experienced spa attendants pamper you with soothing therapies and beauty treatments. And when you wake up from this uplifting experience, you step out of Mit-hi feeling refreshed and energized.
The Mit-hi Spa offers services daily from 3 pm to 10 pm.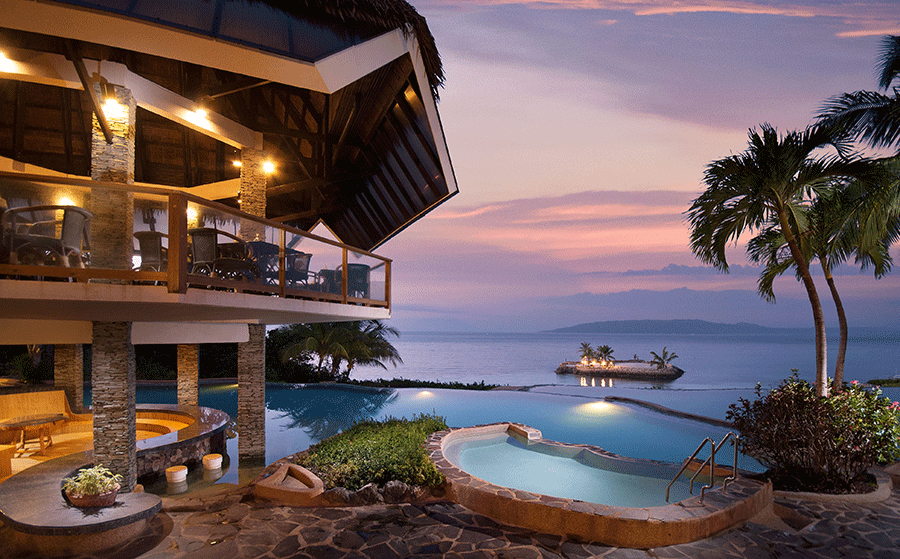 Optional Activities that can be arranged with the resort: Pamilacan Dolphin – Whale Watching Tour, Balicasag Island Tour, Diving, Bay Cruising, Amazing Bohol Tour, etc. (at extra cost).
Mithi Resort and Spa
Bingag, Dauis 6339, Bohol, Philippines
Tel: +63-38-510-8495/510-8497/510-8494
Fax: +63-38-501-8281
E:info@mithiresort.com / sales@mithiresort.com
Website: www.mithiresort.com
For Inquiries, Contact:
Manila Sales Office
Address : #1 Sacred Heart Street, Horseshoe Village, Cubao Quezon City
Tel. : (63-2) 724-0538/724-1052
Fax : (63-2) 724-1051; Tel Fax: (63-2) 794-1228
Cebu Sales Office
Address : #88 F. Ramos Street, Cebu City 6000, Philippines
Tel. : (63-32) 412-5648/412-5620
Fax : (63-32) 253-9827
Bohol Sales Office
Address : Metro Centre Hotel & Convention Center C.P.G. Avenue Tagbilaran City Bohol, Philippines
Tel. : (63-38) 411-5878/4112599
Fax : (63-38) 501-8281
Email : pinrrsv@panglaoisland.com; mchbnqt@metrocentrehotel.com
Bohol Beach Club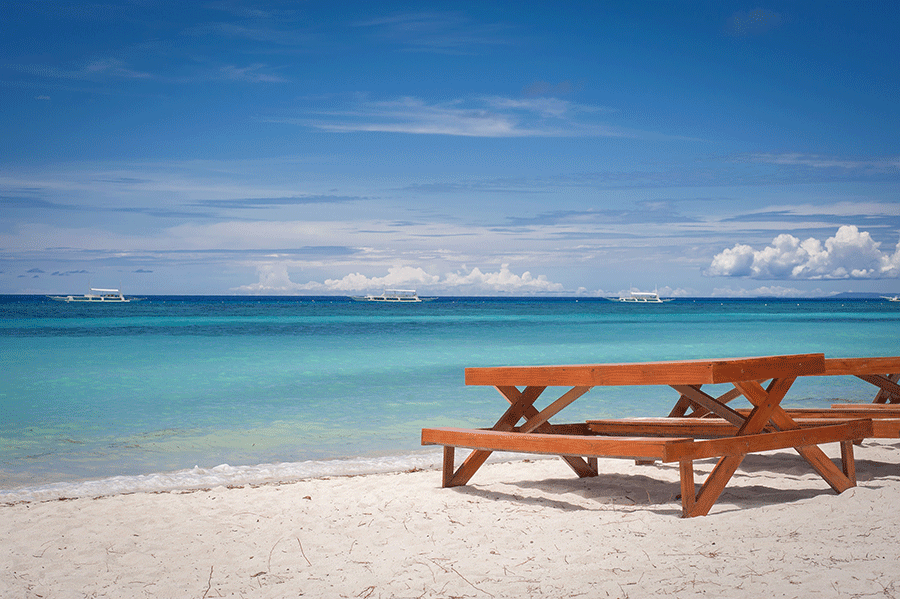 After undergoing a major renovation of our rooms and facilities, BBC has opened its doors once again with major changes including new rooms, new suites and modern facilities to cater to the most discerning travelers.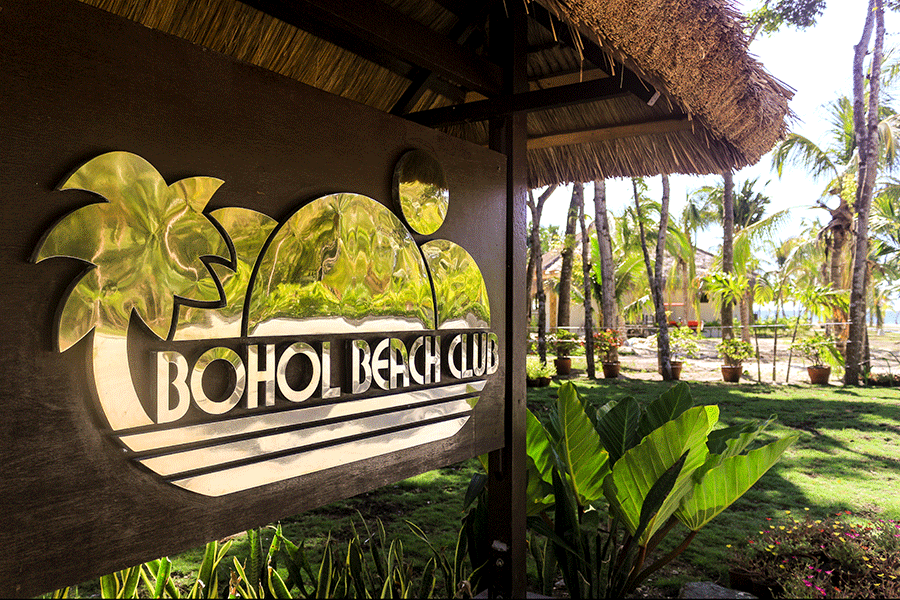 The resort is well laid out so that space is maximized giving all guests' the feel of freedom, privacy and solitude. From the rooms, to the restaurants, the activities and facilities, all aspects of the resort have been enhanced with the satisfaction of our guests' in mind.
Aside from this, BBC continues to boast of having the best beach in the island. A large private beach with powdery white sand, pristine waters and most importantly, all the breathing space that guests' need in order to enjoy, without the maddening crowd and unwanted distractions.
Food choices are also well thought of as the new kitchen team offers a wide variety of traditional Filipino fare as well as international cuisine that will surely satisfy the gastronomical desires of all guests. Add to this the impeccable service of the BBC Team; genuine service that comes from the heart! This is what makes for a perfect vacation in Bohol.
The new Bohol Beach Club; it's about the whole experience!

BOHOL BEACH CLUB
Bo. Bolod, Island of Panglao
Bohol, Philippines 6340
Telephone
(63-38) 502-9222
Fax
(63-38) 411-5222
Globe Mobile
0-927-452-7054
Smart Mobile
0-999-992-1880
Sun Mobile
0-923-250-7828
E-mail:
Room Reservations:
reservations@boholbeachclub.com.ph
Corporate Bookings:
manila.sales1@boholbeachclub.com.ph
Banquet & Weddings:
inquiries@boholbeachclub.com.ph
fandb.coordinator@boholbeachclub.com.ph
PR & Advertising:
prmanager@boholbeachclub.com.ph
Career Opportunities:
hrd@boholbeachclub.com.ph
General Manager:
gm@boholbeachclub.com.ph
The BelleVue Hotels and Resorts


Create lasting memories and indulge in bespoke hotel experiences at The Bellevue Hotels and Resorts.
At the forefront of providing high-quality Filipino hospitality, The Filipino-owned hotel group, The Bellevue Hotels and Resorts, manages deluxe and standard class hotels in the country that offer the finest service and amenities for a luxurious and memorable stay.
The hotel group boasts premiere properties in its portfolio such as The Bellevue Manila and The Bellevue Resort Bohol and midscale properties in Alabang and in Quezon City with its B Hotels. As per the hotel group's expansion projects, The Bellevue Baguio, its fifth property, is set to welcome vacationers this 2018. With several more properties are expected to rise in the coming years.
THE BELLEVUE MANILA


Built in 2003, The Bellevue Manila is the first luxury hotel in Alabang. It houses 456 rooms, two swimming pools, several restaurants, functions rooms and a grand ballroom. The 5-star hotel caters to businessmen, travelers, and families in the urban South looking for an upscale and extravagant hotel experience. We provide the highest Filipino hospitality service that is uniquely Bellevue that our patrons keep coming back for.
B HOTEL ALABANG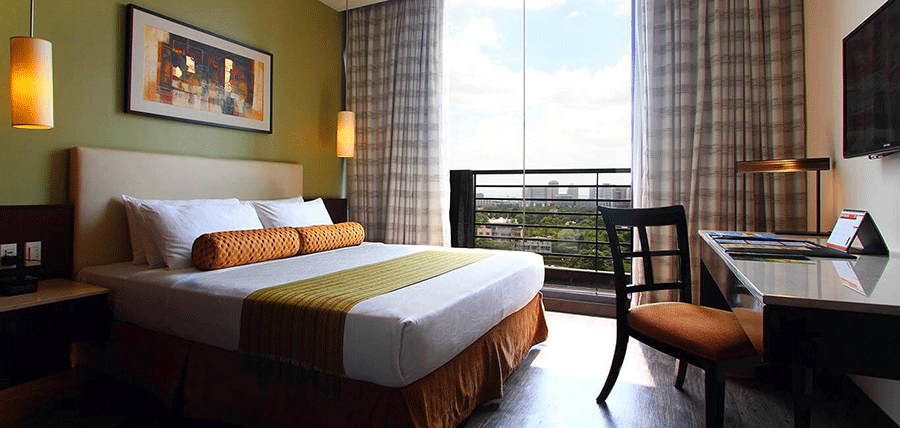 This three-star boutique hotel in the heart of Alabang is a top choice for a quick, no-frills escape in the Metro South. We put a premium on value; adding a touch of elegance and luxury at a more affordable cost. With 156 rooms, a restaurant, and a pastry shop, a visit in B Hotel Alabang gives you the comfort and warmth you desire without sacrificing high quality service.
THE BELLEVUE RESORT BOHOL
The Bellevue Resort Bohol is a deluxe paradise getaway in Panglao, Bohol with pristine beaches and lavish accommodations for everyone's luxury travel needs. This 5-star resort boasts more than 150 rooms, a spa village, ballrooms, and restaurants. Providing the grand vacation experience only we can offer, The Bellevue Resort Bohol makes all of your dream vacations come true.
B HOTEL QUEZON CITY
Inspired by contemporary art, B Hotel Quezon City boasts an industrial and sleek design in the middle of urban North. With top-notch facilities, 105 rooms in its tow, a grand ballroom, and several function rooms available, B Hotel Quezon City proved to be a crowd favorite destination amongst city goers and travelers looking for a comfortable and crisp hotel experience.
The Bellevue Hotels & Resorts |Corporate Office: North Bridgeway, Filinvest City, Alabang, Muntinlupa, Philippines 1781 | Telephone Number: (632) 771 8181 | E-mail: tbmnl@thebellevue.com | Fax: (632) 771 8282
South Palms Resort
Step into the jewel of Panglao Island and experience unparalleled pleasure and relaxation in this secluded paradise that offers a beach holiday worth telling.




Draped in a blanket of green that cascades into half a mile of white sand beach, the longest stretch there is in the entire island, South Palms Resort Panglao stands out with its unique blend of spectacular seascape, cool private villas and warm Boholano hospitality. Discover architecture that highlights local craftsmanship and Boholano heritage. Just a few steps from the beach, each of our tropical-styled rooms frames a panoramic glimpse of the sea.
And just beyond our sandy shores, marine sanctuaries teeming with aquatic life awaits you. First-class amenities cater to a wide range of activities including sports, business and recreation. Fresh produce and live catch from our farms are delivered daily straight to our kitchens for fabulous meals everyday.
Discover an awesome Bohol beach holiday right here at South Palms Resort Panglao. Now that's how it should be!
Brgy. Bolod, Panglao Island
Bohol 6340 Philippines
T +63 38 502.8288
F +63 38 502.9106
M +63 917.716.7609
RSVN +63 38 501.3088
TOLL-FREE 1.800.1888.7777
info@southpalmsresort.com
www.southpalmsresort.com
/SouthPalmsResortPanglao
Cebu Sales Office:
Colonnade Mandaue,
Mandaue City Cebu, Philippines
M +63 917.304.8062
cebusales@southpalmsresort.com
Manila Sales Office:
2013 Jose Abad Santos Avenue,
Manila 1014, Philippines
T +63 02 708.8358, 935.7515
M +63 917.716.8466
mnlsales@southpalmsresort.com

Amorita Resort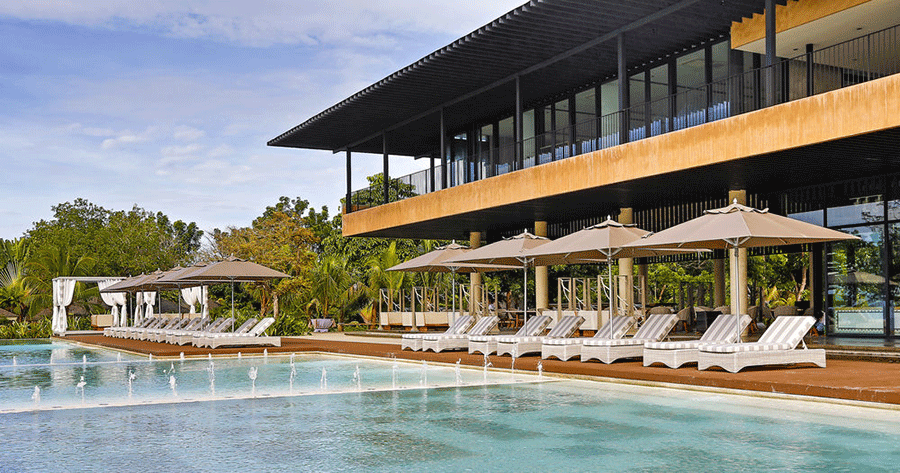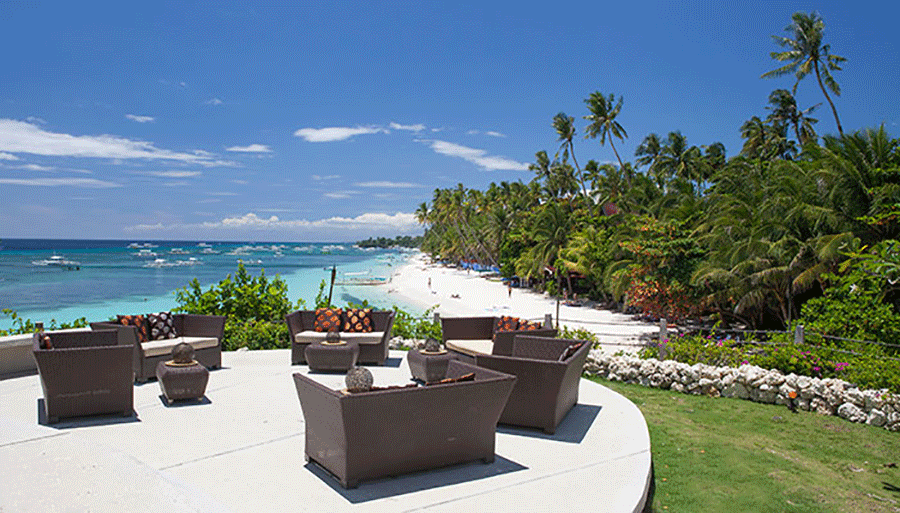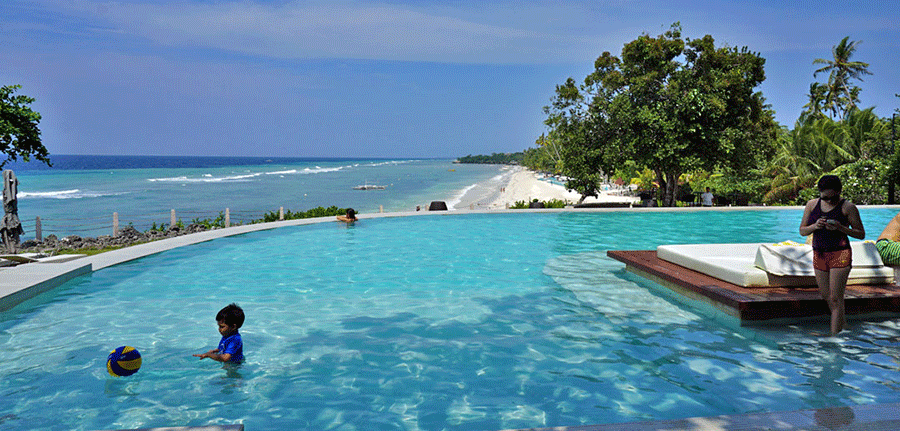 Amorita Resort sits on a five-hectare property. Down Alona beach, up to the cliff, and down again to the resort's private cove, fitness buffs will be able to cover lots of ground and varied terrain to get their daily dose of exercise while on holiday. Walk or run, swim, or try stand-up paddle boarding to develop your core and balance. Complimentary bicycles are available for those who want to try a more vigorous way to explore the Bohol countryside.
Guests also enjoy complimentary use of the gym with treadmill, stationary bikes, cross trainer and weights. Upon request, the resort can arrange personal training and wellness counseling with fitness experts from Russia and the USA (subject to availability).
Bohol is renowned for its amazing marine life. Guests at Amorita Resort have easy access to Bohol's diving and snorkeling sites, including Balicasag Island, and Amorita's very own marine sanctuary just a few meters from our private beach, which is a great place for underwater macrophotography.
Sea Explorers, our in-house PADI dive center, offers open-water and advanced diving certification courses, as well as dive tours to licensed scuba-divers. Manta rays and pelagics are plentiful at Cabilao and Pamilacan Islands, 2-3 hours away from the resort. Dolphin and whales can be spotted around Pamilacan Island, while Hammerhead Sharks are found around Cabilao Island from December to June.
Non-divers can still enjoy the water with our kayaks and stand-up paddle-boards, all offered complimentary on a first-come, first-served basis.
Amorita Resort is the leading family resort in Bohol. Children below 12 years old stay for free and are spoiled with treats like popsicles on a hot day and a candy buffet. There is a children's playground, landscaped gardens and lots of open space for little ones to run around and play. Our infinity pool fronting Saffron Restaurant has a toddler-friendly shallow section with a depth of only 2-feet. Children's activities are organized daily between 4-5PM, catering to a variety of interests, from cookie decorating and pizza making to film showings and original arts and crafts. Amorita Resort also offers babysitting service.
Treasure family experiences with our 2-night Cherished package offering fantastic treats for everyone, including 2-hours of free baby-sitting service and all-you-can-eat ice-cream for the kids during meal times.
Saffron Restaurant
Saffron Restaurant at Amorita is inspired by the seasons and specialties in Bohol. The all-day menu, emphasizes freshness, clarity of ingredients, and local availability. Saffron offers a thoughtful reinterpretation of Boholano heritage cuisine, alongside a wide range of Continental and Filipino food favorites. The Chef's culinary artistry is met with an excellent selection of wines, signature cocktails, and gourmet beverages.
Tomar Tapas x Bar
Neo-Cultural experience takes center stage in Tomar!, bringing innovation thru tradition in terms of atmosphere and the actual cuisine. It looks back at the classic Tapas, Paellas and Pintxos that has been a staple of Spanish cuisine and gives it both a local and modern touch. Tomar! also houses carefully curated wine and whiskey selections from around the globe.
With numerous options to relax, Amorita Resort is the top luxury leisure destination in Panglao Island. Guests can take a stroll or bike around the beautiful gardens, or simply read a book or sip cocktails by the pool. The resort has two infinity pools with stunning cliff-side views of the Bohol Sea, and a Cliff Deck with lounge chairs to enjoy spectacular sunset views over Alona Beach. Guests can snorkel at the marine sanctuary just off the beach cove.
Soothe your mind, body, and soul at Amorita Resort's Sea Tree Spa, with an exclusive range of treatments from authentic Filipino massage therapies to rejuvenating Asian healing rituals.
Complete your wellness experience with yoga sessions, offered complimentary at 7AM every Tuesday and Saturday. Upon request, the resort can arrange private yoga sessions with a yoga teacher and wellness expert (subject to availability).
Amorita Resort also organizes SeaChi, a wellness retreat for small groups. The 3-day holistic program includes yoga, massage, a healthy gourmet dining experience, and an art expression workshop. Email us at marketing@one-ofcollection.com to book a program or learn more.
Resort Address
#1 Ester A. Lim Drive,
Barangay Tawala, Alona Beach
Panglao Island, Bohol
T: +63 38 502 9003
M: 0917 726 4526
Sales & Reservations
T: +632 856 1443 | 553 9549
M: 0917 861 9441
E: inquiries@one-ofcollection.com
Mondays to Fridays: 8:00AM-6:00PM
Saturdays: 9:00AM-12:00NN
One-of Collection
Amorita Resort
Momo Beach House
Sta Monica Beach Club
The Funny Lion