CITY OF SAN FERNANDO —- With the awarding yesterday of P100,000 each to 27 elderlies, aged 95 years old and above, a total of P30,100,000 has been given to 301 elderly-beneficiaries since the enactment of the provincial ordinance.
Governor Lilia "Nanay" G. Pineda personally gave the incentives to the beneficiaries as the lady governor reminded the respective relatives to use the cash incentives in buying food, medicines and other supplies for the own comfort of the elderlies.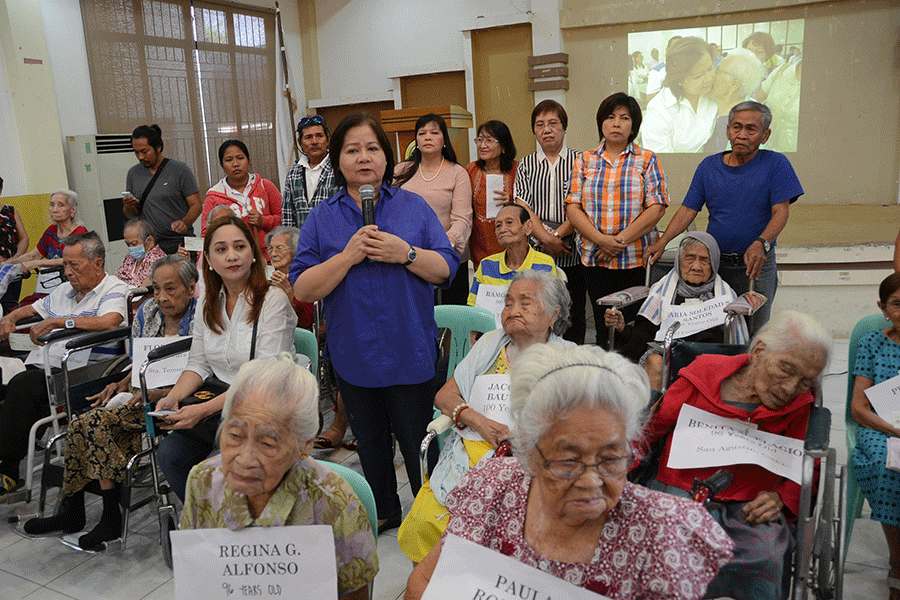 The elderlies who received the incentives were Avelina P. Supan from the 1st district; Belen S. Estrada, Lourdes D. Songco, Soledad D. Ocampo, Paula J. Rodriguez, Regina G. Alfonso, Pedro P. Sampang and Bonifacia F. Felipe from the 2nd distict; Petrocinia R. Carreon, Corona C. Duban, Maria Soledad S. Santos, Benita M. Elagio, Flora L. Pineda, Pilar P. Quizon, Regina R. Catangal, Maximina M. Quiambao, Ramon P. Pinpin and Leonita D. Maliwat from the 3rd district; and Ligaya G. Garcia, Alberto C. Salas, Lucia G. Mamangun, Jacoba G. Bautista, Emerenciana B. Gaddi,Encarnacion T. Sunga, Pacencia y. Manansala, Maria consolacion Pauli and Alejandra P. Quiwa from the fourth district.
Elizabeth Baybayan, chief of the Provincial Social Welfare and Development Office (PSWDO), announced that elderlies who reached 100 years old and were given P100,000 by the provincial government are still qualified to receive another P100,000 from the national government, provided they comply with the needed requirements and upon the availability of funds.
It can be noted that Pampanga is the pioneer in the distribution of cash incentive to centenarians worth P100,000.
Ordinance No. 647 or the Senior Citizens Code was then amended by the Provincial Board lowering the age of the beneficiaries from 100 to 95 years old.
One of the elderlies, Ramon P. Pinpin, a 98-year old farmer from San Vicente, Mexico shared his secret for having a long life. He said that healthy lifestyle and submitting oneself to God are the best thing to acquire a healthy body.
Aside from Governor Pineda, Board Member Olga Frances David-Dizon, Commission on Audit (COA) Officer Emma Sarmiento, Susan Luna from the Provincial Treasurers Office and her staff graced the distribution. –Aida B. Bungue/PIO