Cargill in the Philippines recently hosted delegates from the United States Department of Agriculture (USDA) Agribusiness Trade Mission as they went on a tour of the company's flagship poultry plant, C-Joy Poultry Meats Production, Inc., located in Sto. Tomas, Batangas. This is the first in-person trade mission to be hosted by the global leader in food, agriculture, and nutrition in the Philippines since the pandemic began.
The delegation, consisting of representatives from the USDA Foreign Agricultural Service, 10 state agricultural departments, and 9 farm organizations and trade associations, is part of a trade mission to the Philippines with the goal of introducing a diverse group of companies and organizations to new export and investment opportunities in the country.  Parallel with this visit, 16 agribusinesses will conduct 200 meetings with Philippine companies and FAS Administrator Daniel Whitley will liaise with government leaders. The Philippines is considered the eighth-largest market for U.S. agricultural exports averaging $3.1 billion annually during the last five years,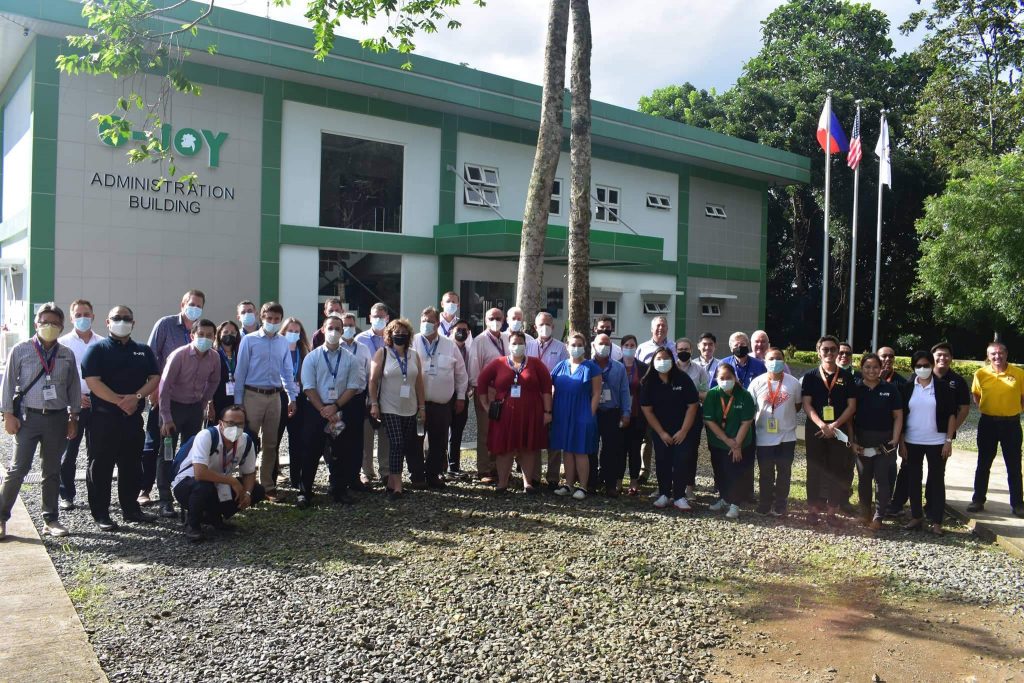 During this trade mission, the 30-strong delegation visited C-Joy Poultry Meats Production, Inc., a joint venture between Cargill and the Philippines' largest fast-food chain, Jollibee Foods Corporation. At full capacity, C-Joy can process up to 45 million chickens a year in its state-of-the-art facility spanning 10 hectares. With the visit, the USDA aimed to showcase the country's flourishing poultry and livestock industry and explore potential partnerships and opportunities for the visiting delegation participants.
"This trade mission celebrates the long-standing commercial relationship between the United States and the Philippines and allows U.S. agriculture industry representatives to explore the possibilities for investment and growth offered by this critical market," Foreign Agricultural Service Administrator Daniel Whitley said. "The C-Joy Poultry Meats Production facility in Batangas is a prime example of the mutual benefits that successful joint ventures provide to local economies while ensuring access to safe, high-quality food products to Philippine consumers," he added.
Speaking on behalf of the Minnesota contingent, Thom Petersen, Commissioner of the Minnesota Department of Agriculture said "We are proud of our agriculture industry in Minnesota, including global companies like Cargill. We appreciate the opportunity to see firsthand Cargill's operations in the Philippines, and we look forward to continuing to build partnerships around the globe to support Minnesota agriculture."
Cargill's headquarters is based in Minnesota State.
Supporting trade missions helps strengthen trade relations between the Philippines and the U.S. Moreover, it highlights Cargill's place at the center of the agricultural supply chain and its unique role in connecting partners and leveraging market opportunities with focus on building accessible, resilient, and sustainable food systems. In the Philippines, Cargill combines its global capabilities with local expertise to help partners compete and win globally while addressing food security and challenges for a fast-growing population.
"As a proud investor in the Philippines, Cargill is honored to be hosting this USDA delegation where we are able to serve as a living testimony to the huge prospects that the Philippine food and agriculture market has to offer. As potential investors and suppliers, it is great to see the interest of American agribusinesses exploring more ways to expand their presence in the country, which is poised to continue growing on the back of a rising middle class and strong, consistent economic growth. The partnership of our two countries is one with a long history and has always striven to be one that seeks to be mutually beneficial on both sides of the Pacific Ocean for our respective economies and citizens," said Anthony Wu, President of C-Joy.
Almost 75 years after its official launch in the Philippines, Cargill remains true to its mission of helping farmers prosper, connecting markets, and bringing consumers the products they're seeking. The company's primary focus has been to help ensure food security, advance health and nutrition, and attain food sustainability all the while working with and enhancing the lives of farmers in the communities where the company operates.
"We have always recognized the role we play in food security, and we have worked closely with our customers and local communities to unlock opportunities to enlarge our market footprint. With the USDA's visit, we look forward to new investments, trade flows, and partnerships that will come to fruition and help us all nourish our country and the world in a safe, responsible and sustainable way," added Wu.
Cargill began doing business in the Philippines in 1948 with a copra buying station, becoming the first Asia-Pacific subsidiary. Over the years, it has evolved and diversified its footprint to include animal nutrition and health, poultry products, grains and oils, and food and beverage ingredients. Headquartered in Bonifacio Global City in Taguig, Cargill employs over 2,000 people across 27 locations nationwide.