​The Clark Development Corporation (CDC) has recently turned over a customized ​three-wheeler motor firefighting vehicle​ worth P135,000 to the Angeles City Fire station.
Capable of entering narrow streets, the 600​-​gallon capacity "firetryk" is the first of its kind in the country. It aims to be the first responder to fire incidents.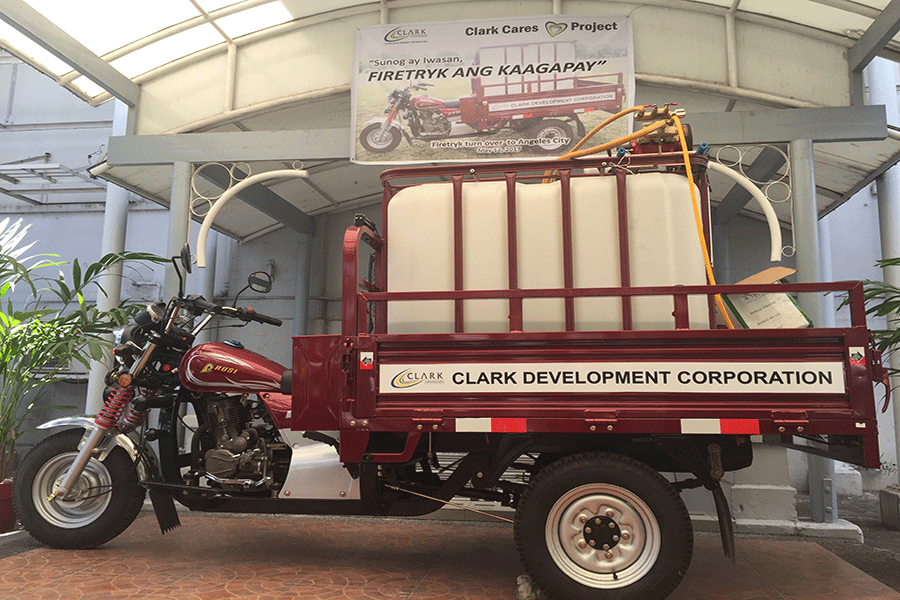 The 'firetryk' was turned over to the city officials of Angeles in simple rites held at the side of Building 2125 CDC Corporate Center here where the vehicle was also tested.
Present during the turnover rites ​ ​​were CDC Director Francisco Villaroman, Vice President for Security Atty. Ramsey Ocampo, OIC Vice President for Finance Group Alizaido Paras, and Assistant Vice President for External Affairs Rommel Narciso.
"This is a major step in our fire prevention and fire-fighting goals. We hope there will be many other benefactors for other safety and fire-fighting moves," Ocampo said in his opening remarks.
He said that CDC's aim is to present Clark as a "tourism magnet, a crowd-drawer and a producer of warm bodies that help sustain the businesses of stakeholders," adding that these goals, can only be realized if they intensify their safety initiatives.
On the other hand, Villaroman, former head of the public safety security command center of Davao City, said that it is his first time to see a "firetryk".
"It amazed me to see this kind of firetryk," Villaroman said.
"We can maybe replicate this in other cities. That's why I took photos and I will provide Davao City with this," he added.
Meanwhile, receiving the vehicle are Vice Mayor Atty. Bryan Nepomuceno, Senior Inspector Josie Lising, Acting Fire Marshall Arnold Simbulan and Councilor PG Ponce's Chief of Staff Reynaldo Laquian.
Dubbed as as "Sunog ay Iwasan ,Firetryk ang Kaagapay", the project is part of CDC's corporate social responsibility program under Clark Cares program.