The City Government of San Fernando on Monday has commended the PNP San Fernando for the arrest of three notorious foreigner syndicate members who were behind the recent Automated Teller Machine (ATM) skimming.
Mayor Edwin "EdSa" Santiago together with Vice Mayor Jimmy Lazatin and Councilors Ruping Dumlao, Reden Halili and BJ Lagman, led the awarding of certificates to the police officers, headed by P/Supt. Roland Agohob and his personnel, who participated in the successful operation.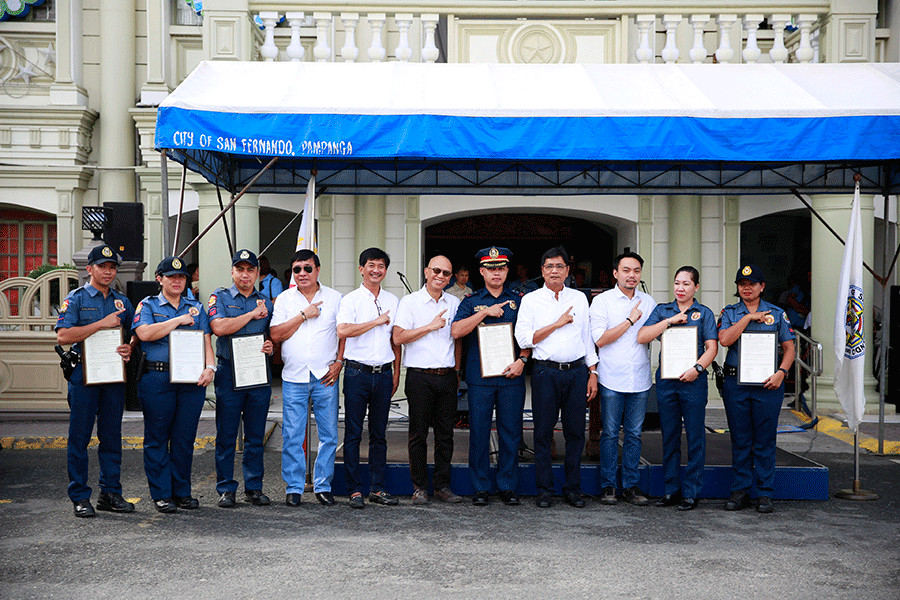 Other recipients of the recognition were PC/Insp. Christopher Guste, PC/Insp. Phillip John Pineda, PS/Insp. Norlito Calderon, SPO1 Marlon Nerona, SPO1 Ernesto Mangune, PO3 Dennis Marana, PO3 Edwin Abad, PO3 Jerome Flores, PO2 Rethmel Santos, PO2 Rio Basilio, PO2 Jeremy Agustin, PO2 Marlon Miranda, PO2 Mark Zeson Dela Torre, PO2 Rene Roy Danason, PO2 Jerimy Bargamento, PO2 Philip Arconado, PO2 Lloyd Elefante, PO1 Zabdiel Corpuz, PO1 Ezecquel Manlapaz, PO1 Redmar Santos, PO1 Joel Asuncion, PO1 Rusty Manlapaz, PO1 Alvin Masbang, PO1 Josefino Joaquin Jr., PO1 Allan Eugenio, PO1 Arsenio Aquino, PO1 Levy Almadin, PO1 Andres Gumitang, PO1 Jayson Jan Fronda, PO1 Rhuel Salamangca and PO1 Lina Mabborang.
Based on the report, the city police have successfully aborted the ATM skimming activity at BPI Family Savings Bank (San Agustin Branch) at around 10:30 p.m. on July 24, 2017 and were able to apprehend the three suspects identified as Radu Minodor Sandor, Nicaraguan national; Marcu Bogdan, Italian national; and Petro Ioan Uveges, Romanian national.
The arrest of the suspects also yielded a skimming device, one hundred and fifty two (152) pieces of assorted cloned ATM cards and cash money amounting to P339,362.15.
In his speech, Vice Mayor Jimmy Lazatin said "this is the kind of police that we need in the city. Congratulations to the entire police force."
For his part, Mayor EdSa said this is another major accomplishment of the city police that truly manifests excellent teamwork not only of the PNP personnel but also the entire Fernandino community.
The city mayor added that he salutes the police for their honesty and commitment to their duties after they refused to accept the bribe amounting to 50,000 US Dollars from the suspects.
"Saludo ako sa inyo dahil mas pinili ninyong maging matapat sa inyong mga tungkulin at responsibilidad bilang tagapagtaguyod ng kapayapaan at kaayusan sa syudad, " Santiago said.