CITY OF SAN FERNANDO – Some 80 personnel from the Department of Labor and Employment (DOLE) participated in an Earthquake and Fire Drill the other day at its regional office in San Fernando City, Pampanga.
The disaster-preparedness event was initiated by the DOLE and Pampanga Provincial Disaster Risk Reduction and Management Office (PDRRMO) in observance of this year's National Disaster and Resilience Month (NDRM).
Formerly called the National Disaster Consciousness Month, this year's NDRM theme: "4Ks: Kamalayan sa Kahandaan, Katumbas ay Kaligtasan," highlights the shift from disaster awareness building to disaster resilience.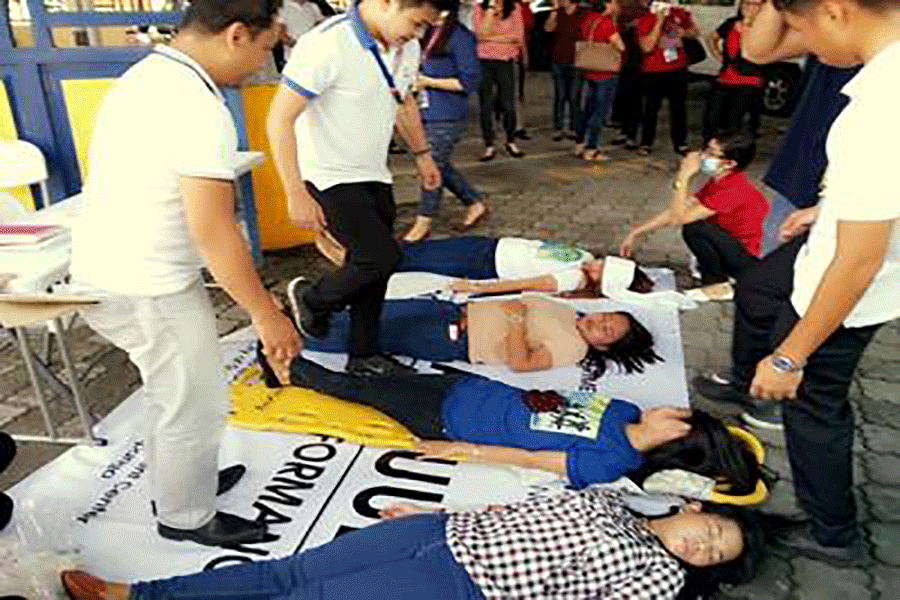 The event was also initiated as part of the regional office's compliance with the Green our DOLE Program (GODP) and Government Excellence Class (GEC).
DOLE Regional Director Atty. Ana Dione said that the drill was timely organized and facilitated because of recent earthquakes and calamities experienced by the country.
"We have experienced earthquakes of quite strong magnitudes these past couple of months, thus the need to heed to government's call to "prepare for the big one" – a quake with a magnitude of 7.2 to be generated by the West Valley Fault, which is already ripe for movement," Dione said, adding:
"The DOLE, which is an agency that looks after the conditions of workers through its occupational safety and health programs, should actively take part in all sorts of disaster-preparedness training and schemes because disasters strike like a thief in the night."
Pampanga PDRRMO Earthquake and Fire Drill Training Officers Rowel Tablante and Antonio Dungo and DOLE Internal Management Services Division Chief Lorna SM Toldoya, led the drill.
Before the drill, Tablante and Dungo took turns in orienting selected DOLE personnel from the regional and field offices on Earthquake and Fire Safety Awareness.
Pertinent topics discussed include Understanding Earthquake Hazards, Fire Safety Awareness, and How to Conduct an Earthquake Drill.
Tablante for his part, highlighted the various hazards caused by earthquakes as well as strategic measures that need to be done before, during, and after an earthquake.
"Earthquakes cannot be prevented, but the damage they cause can be greatly reduced with communication strategies, proper structural design, emergency preparedness planning, education, and safer building standards," Tablante explained.
Meanwhile Dungo provided the necessary tips and measures in managing a fire situation as well as the proper usage of fire extinguishers.
"Do not panic when fire breaks out, locate your nearest door exits, save your lives first before your belongings. If you can still manage the fire, do it properly using the right types of extinguishing equipment or methods. Get medical attention if needed," Dungo explained.
The orientation led to the creation of the DOLE Central Luzon Disaster Control Group comprising the Rapid Assessment, Rescue, Evacuation (Incident Command System), Medical, Fire Safety, Communications, and Logistics Teams.
The Earthquake and Fire Drill proper, which had three scenarios (Stampede, Collapse, and Fire), commenced around 10:30am and was actively participated by DOLE personnel, visitors, and clients.
Soon as the "alarm sound" signifying an earthquake was heard, participants did the "duck, cover, and hold" while waiting to be assisted by the Evacuation Team.
IMSD Chief Toldoya, designated Incident Commander, tasked all designated Evacuation Team Leaders (Division/Field Office Heads) to do a head count of employees/clients for each division/office.
It was reported that all employees and clients were "accounted for" except for "6 victims" that were still inside or "trapped" in different areas of the building.
The Rapid Assessment Team (RAT), which were dispatched at different areas in the building to locate the reported "victims," coordinated with the Rescue Team to assist them.
All "victims" in the mentioned scenarios of this particular drill were rescued, assisted, and treated by the Medical Team at the designated Emergency Medical Station (EMS).
With all employees/clients/visitors and victims accounted for, the PDRRMO Trainers officially ceased the drill around 11:20am and gave their feedback and observations.
"We would like to congratulate the entire DOLE organization for a job well-done in the proper execution of this earthquake and fire drill. Overall, you achieved an 8.5 over 10 score card for this drill because of your eagerness and willingness to be equipped with the right knowledge and skills in managing an unexpected earthquake situation," Dungo said.
"Of course, garnering an 8.5 also means that there are some opportunities for improvement like the functionality of your emergency bell, which we believe, needs to be louder or working correctly, so that everyone inside the building would hear the sound of its alarm," Tablante added.
The DOLE regional and field offices are committed to hold regular or similar disaster-preparedness drills at the wake of unforeseen earthquakes and other calamities. –END/Jerry Borja