ePLDT Inc, the ICT arm of PLDT Enterprise, is starting the new year strong after winning two awards during the Microsoft Philippine Partner Awards 2021—further cementing its place as the industry-leading enabler when it comes to digital business solutions in the Philippines.
The awards acknowledge Microsoft partners that have demonstrated and developed innovative solutions in the past year.
ePLDT received the Tech Intensity Award, the same award it won in 2020, for excellence in driving tech intensity within the organization and its customers.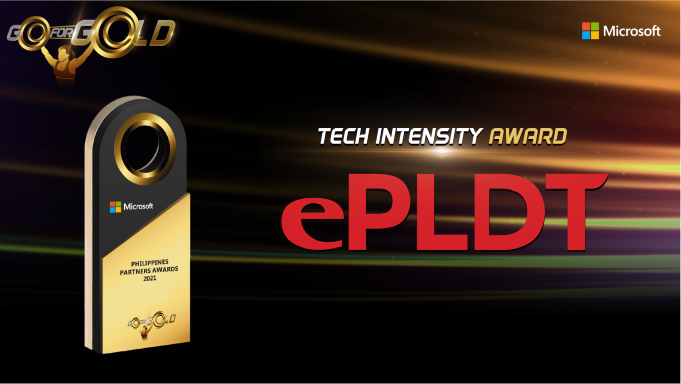 ePLDT was also awarded the Azure Customer Recruit Award that recognizes excellence in delivering outstanding business value to Microsoft by landing new cloud customers in line with Microsoft Azure.
ePLDT Inc. continues to lead the industry in the development of end-to-end technologies for enterprises across the country and well beyond in the Asia Pacific region. Specific to Microsoft technologies, ePLDT is constantly deploying its cloud experts for the Microsoft Certified Professional (MCP) Program to further enhance their technical expertise in terms of delivering cloud solutions to customers. To date, the group holds close to 100 Microsoft Certified Professionals for M365 and Azure technologies.
"These wins validate ePLDT's commitment to providing our customers with the best digital business solutions that are up to par with global standards," says Jojo Gendrano, FVP & Head for PLDT and Smart Enterprise Business Groups. "We are grateful for our long-standing partnership with Microsoft Philippines that allows us to create such a positive impact into the lives of our community, our customers and their businesses."
ePLDT drives Microsoft Azure capabilities by demonstrating Azure migration, innovation and educating customers on Microsoft Azure showing a higher closure rate. Likewise, the group accelerates its Azure Stack co-sell motion in Microsoft marketplace for wider market reach. With these activities, ePLDT delivered the greatest number of net Azure Customer Adds in most of the industry segments.
Fay September Ocampo, AVP & Head of Enterprise Strategic Partnerships and Alliances, was virtually present to accept and acknowledge these accolades from Microsoft for Azure Customer Recruitment Award, Tech Intensity Award and Customer Centricity (finalist) during the Go for Gold, Microsoft Partner Awards and Thanksgiving.
Last year, ePLDT also won the Para Sa Bayan special distinction award during the Microsoft Philippines Partner Awards and Appreciation Day for its efforts to enable remote learning for school and students nationwide.
For more information, visit epldt.com