CITY OF SAN FERNANDO, Pampanga- Escolastica Romero District Hospital (ERDH) here was recently conferred the 'Hospital Star Award 2019' by the Department of Health (DOH).
The Hospital award was presented  to Governor Dennis "Delta" Pineda and Vice Governor Lilia "Nanay" Pineda on Monday during the Flag Raising Ceremony at the Capitol grounds, here.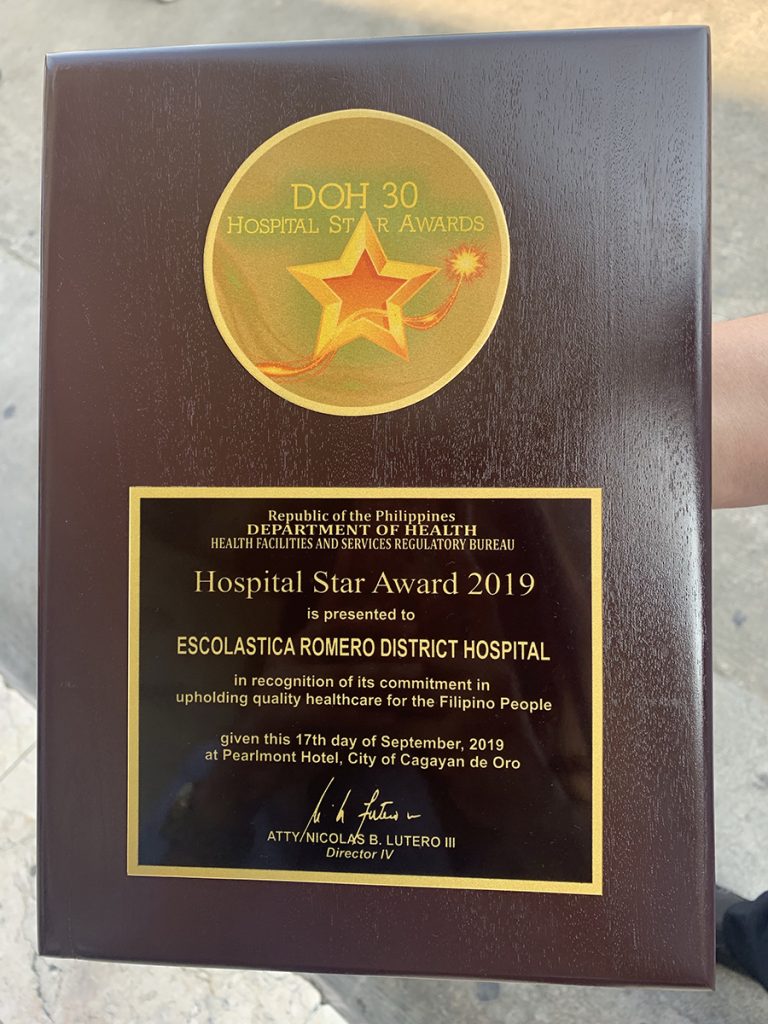 The Health Facilities and Services Regulatory Bureau (HFSRB) of the Department of Health (DOH) cited ERDH for its commitment in upholding quality healthcare for the people.
Juliana Reyes, assistant regional director of DOH 3 commended ERDH for its exemplary efforts in realizing the visions of the department for the people.
"This is in recognition of your efforts in continuously improving the quality of healthcare services to our citizens even exceeding the minimum requirement of our rules and regulations," Reyes told Dr. Zenon Ponce, hospital chief of ERDH.
Reyes also expressed her gratitude for Ponce and his staff for the warmth hospitality and cooperation they extended to the assessors during the latter's visit to ERDH.
Ponce meanwhile thanked then Governor and now Vice Governor Nanay and incumbent Governor Delta for prioritizing health as one of the flagship programs of their administration.
ERDH was among the top ten hospitals who received the DOH30 Hospital Star Awards 2019 last September 17 at Pearlmont Hotel, Cagayan de Oro City.
Other nominees for the same award were Romana Pangan District Hospital (RPDH) in Floridablanca and Dr. Andres Luciano District Hospital (DALDH) in Magalang.


The "DOH30 Hospital Star Awards" recognizes hospitals that uphold high standards of quality in the provision of health services.
Furthermore, Ponce also disclosed that Regional Director Cesar Casion of DOH 3 pledged to donate a mammogram to the hospital due to the increasing incident rate of breast cancer.