IBA, Zambales — Gov. Hermogenes Ebdane Jr. reiterated his call for proper regulation of mining operations in Zambales after a shipload of nickel laterite ore mined in Candelaria town and bound for China was seized by the Bureau of Customs (BOC) for lack of an export permit and environmental compliance certificate (ECC).
Ebdane said businesses, particularly mining companies operating in the province, must abide by existing laws to keep the industry efficient and sustainable.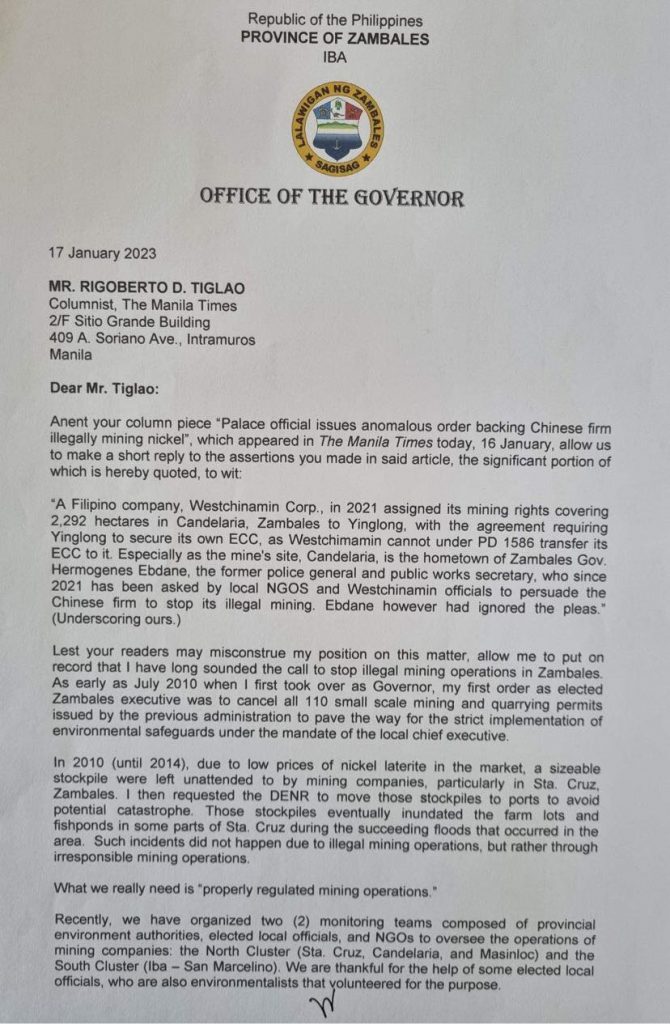 "What we really need is properly regulated mining operations," he insisted.
Ebdane also revealed relevant information related to the seized shipment to clarify assertions made by columnist Rigoberto Tiglao in his opinion piece titled "Palace official issues anomalous order backing Chinese firm illegally mining nickel" that ran in The Manila Times last Monday, January 16.
Among others, Tiglao said the DENR's Environmental Management Bureau had ordered Yinglong Steel Corp., which owned the seized shipment, to stop its nickel-mining operations in Zambales for lack of an ECC, and that Westchinamin Corp., the original operator of the mined area, had sold its mining rights in 2021 to Yinglong "with the agreement requiring Yinglong to secure its own ECC."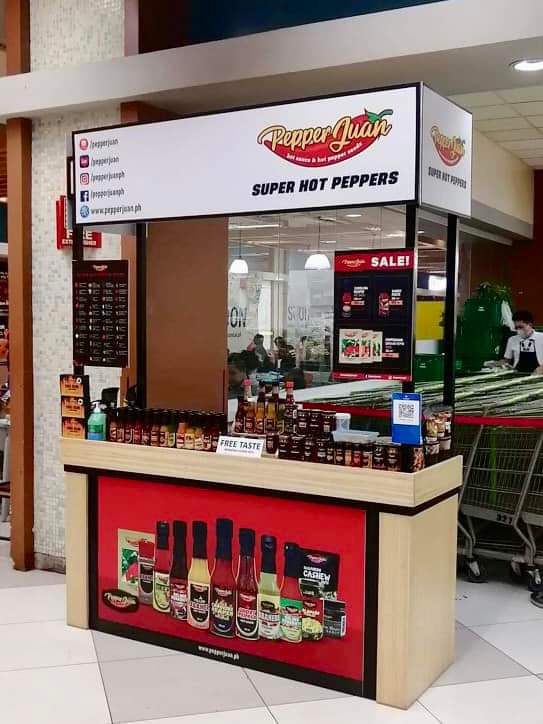 Tiglao added that since 2021, local NGOS and Westchinamin officials had asked the Zambales governor to persuade Yinglong to stop its illegal mining. "Ebdane however had ignored the pleas," Tiglao wrote.
Ebdane said that the public "must be informed of what is happening on the ground." He clarified that under its original operator, Westchinamin never conducted mining operations, but instead sold piecemeal its mineral production sharing agreement (MPSA) over the mining area to Yinglong and other companies.
"But now, for reasons only known to Westchinamin, it became interested in taking over the mining operations of Yinlong," Ebdane noted.
The governor also said that while Westchinamin successfully obtained a cease-and-desist order (CDO) against the operations of Yinglong, a motion for reconsideration was filed before the Office of the President, and that consequently, a stay of the CDO was issued.
"This temporary lifting of the CDO was grounded on the fact that there is imminent environmental danger posed by nickel stockpiles in the area, including flooding, that my constituents from Candelaria and Sta. Cruz do not want to experience again," Ebdane added.
Ebdane pointed out that it is on record "that I have long sounded the call to stop illegal mining operations in Zambales."
He recalled that when he first took over as Governor in July 2010, his first order as Zambales executive was to cancel all 110 small-scale and quarrying permits issued by the previous administration "to pave the way for the strict implementation of environmental safeguards."
In 2010 to 2014, he also requested the DENR to move to ports "sizeable nickel stockpiles left unattended to by mining companies to avoid potential catastrophe." Some of those stockpiles, however, eventually inundated farm lots and fishponds in some parts of Sta. Cruz town during floods.
"Such incidents did not happen due to illegal mining operations, but rather through irresponsible mining operations," Ebdane added.
Ebdane also said that as elected governor, he has no authority nor the personality to influence decisions of agencies and instrumentalities of the national government when it comes to large-scale mining operations.
"What we are after only is the pursuance of what is right for our people," he said. "By the same token, we also expect businesses in Zambales to respect local authorities and regulations—as doing business in Zambales is just a matter of privilege and not a right," Ebdane added. (Dante M. Salvana)