iOrbit's article titled "Megaworld launches Chelsea Parkplace for its Capital Town project" written by one of its prime movers and senior writers has bagged the Story of the Year Award given by one of the leading property developers in the Philippines and the Asia-Pacific region.
The news feature written by Noel Tulabut, also executive vice president of the Pampanga Press Club, bested two other nominees from other media entities. The award was handed by Harold Geronimo, senior assistant vice president of Megaworld.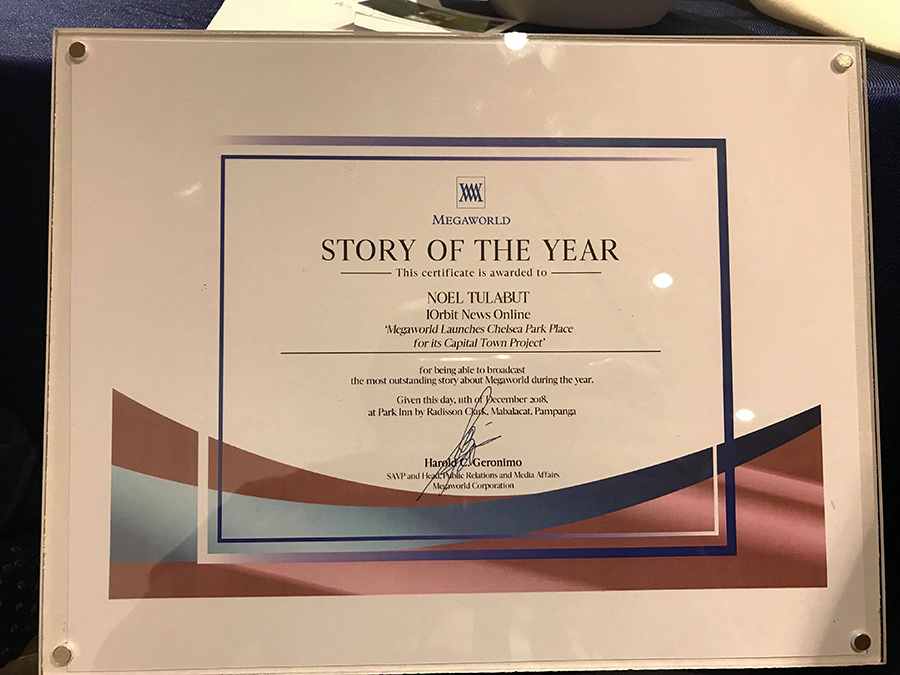 The story is about the launching of the 12-storey flagship condominium project inside the 35-hectare Capital Town at the former PASUDECO sugar mill complex.
It delved on the pioneering efforts of Megawrold in bringing the integrated township experience being brought by Andrew Tan-led company in Central and Northern Luzon.
Under its heritage-meets-progress program, Megaworld has launched its Chelsea Parkplace at the Capital Town, its flagship development at the former PASUDECO in the premier city of San Fernando.
Megaworld is investing P70 billion in this integrated urban development project at the former sugar mill. It is one of the most awaited property development as it will usher in a completely new smart, green and pleasant environment nestled in the bustling city.
The story opens with "Pampanga and Northern Luzon region will soon get a taste of a celebrated township as one of the country's classy and most succesful property developer brings its live-work-play environment to capital city San Fernando," for its lead.
The award was given during the annual thanksgiving party of Megaworld for media in Pampanga at Park Inn Hotel by inside Clark.