IPC (IP Converge Data Services, Inc.), leading PH cloud and data center services provider and Southeast Asia's first and only Salesforce Gold Cloud Alliance Partner, today announced that it will conduct a series of Salesforce University training classes designed to aid End-Users, Systems Administrators, and Developers using the platform.
"For enterprises to experience a truly streamlined sales cycle and really get the most out of Salesforce CRM (Customer Relationship Management), special skillsets are required, and this knowledge base can only be acquired from IPC, being the only Authorized Training and Delivery Partner of Salesforce University in the country today," said Niño Valmonte, Director for Marketing and Digital Innovation in IPC. "Through this accreditation, IPC has gained the knowledge to conduct Salesforce training courses in order to help users maximize the platform for their respective businesses."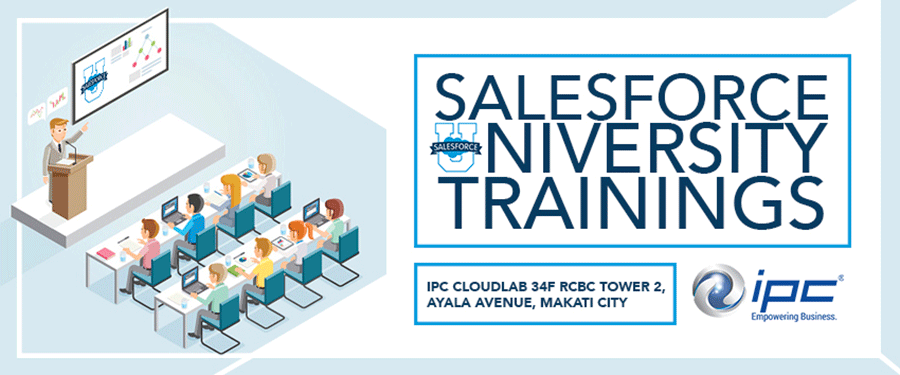 IPC is the only partner in the Philippines that has been certified for training delivery and training resellership by Salesforce University. This distinction gives them exclusive access to modules and exercises made by the developers of the world's leading cloud-based CRM platform.
The classes will feature a Salesforce University Certified Instructor who will teach students through a series of exercises designed to reinforce the concepts presented in class. For this year, IPC will offer four courses: Administration Essentials for New Administrators (ADM201), Administration Essentials for New Administrators (Professional Edition) (ADM202), Administration Essentials for Experienced Administrators (ADM211), and Declarative Development for Platform App Builders (DEV402).
"Enrollees are assured that the courses are programmed to fit their timeline, complete with hands-on exercises. The coverage is also up-to date, based on latest version releases," Valmonte said. "Also, these classes are designed by Salesforce personnel through Salesforce University so this is a great opportunity to learn from the developers themselves."
Valmonte adds that these classes are popular in Salesforce University and are related to the cloud platforms or services that most companies are subscribed to. "The number of classes that we offer may increase depending on the latest trends but as of now, these are the classes that have the highest demand and are vital for any business using the cloud," he said.
Vital for success
After finishing their desired course, students are expected to learn various skills such as building and customizing multi-user cloud applications with just a few clicks, implementing complex business processes using workflow rules, and the customization of the Salesforce app to create quick actions to increase efficiency.
All of these are critical skills needed to boost overall productivity using Salesforce. Arguably the world's leading cloud-based CRM software, Salesforce has a proven track record of helping large companies to even small startups and SMEs (small and medium enterprises) increase business productivity with the underlying objective of putting the customer first.
And with enterprises moving their businesses to the cloud, more and more highly-skilled people are needed to help run and maximize its benefits.
"Salesforce University training will open up new opportunities for its attendees. Whether they are already a part of or just about to join the evolving workforce that is increasingly leaning on technology, they are already equipped with the latest knowledge, giving them the upper hand," said Valmonte. "We're also excited that this program will give small and mid-size customers the opportunity to provide their employees with a world class, instructor driven training experience at an affordable price."
Classes will start in March and will be held at the IPC Cloudlab in Makati. Those who are interested in attending can register online at http://ipc.ph/sf-university/.