Dubai, United Arab Emirates (UAE): The founders of MEDAL Consortium are in Dubai to unfold and celebrate two-events, grand opening of IMEREX Cargo Center and launching of MIREJ Clark Resort Hotel on Friday, August 24, 2018 at 3pm, this city.
IMEREX Cargo, a global freight forwarding company was founded by the Mercado brothers (Ric and Mark) of MRM Holdings, who both worked as Overseas Filipino Workers (OFW) in Saudi Arabia (KSA). It was through their hard work, perseverance and love for their families that inspired them to start the business which catered to the Filipino communities.
The company became the leading remittance center and cargo business in the Kingdom. Through the years, IMEREX expanded to The United States and Taiwan. And today, IMEREX went into partnership with three other business leaders and formed the consortium MEDAL.
The cargo opening in Dubai is a proud initiative of the consortium who saw the necessity and potential since Dubai is the largest transportation hub in the region.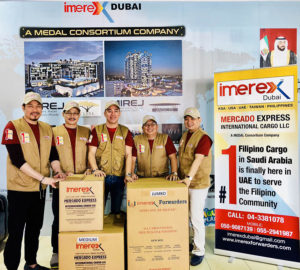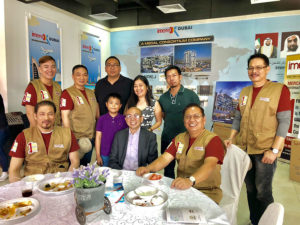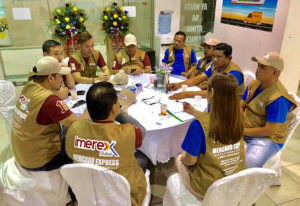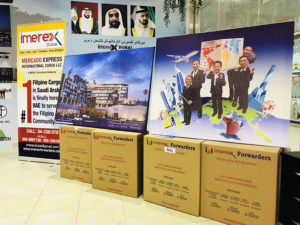 The ribbon cutting and launching ceremonies will be led by the founding members of MEDAL Consortium: Dr. Irineo Alvaro, Jeffrey Del Mundo, Edwin Lim and the Mercado brothers Ric & Mark with invited officials from the Philippine Consulate in Dubai to witness the affair.
"About half a million of our kababayans are now here in Dubai and made it their home away from home, the Balibayan Box is a fitting tribute for all the sacrifices and hard work of our Overseas Filipino Workers (OFWs)". Dr. Irineo Alvaro, MEDAL president said.
"The Balikbayan Box is a long tradition of "pasalubong" to many Filipinos abroad as it brings joy and happiness to ourlove ones back home, you have inside the box: bag – for nanay, make up – for ate, shoes – for kuya, toys – for bunso and the list goes on". Alvaro added.
With that in mind, Imerex is committed to preserve this tradition by making sure the box is delivered on time and in good condition sealed with love.
IMEREX Center is custom designed to meet the changing demands of the cargo industry.
Coincidentally on the same occasion, MEDAL executives will spearhead the launching of its signature project: The MIREJ Clark Resort Hotel as part of its international road show.
The wholly-Filipino owned consortium is the developer for MIREJ, an eight-storey structure with 200 state-of-the-art room facilities which also features roof deck infinity pool, fine dining resto, bar and bistro club among others.
Amid its modern-day design, it can highly speak of centuries old acacia trees as its centerpiece development to let nature redefines hospitality. The hotel is located inside the internationally resounding Clark Freeport Zone in Pampanga, Philippines.
The hotel intends to cater to both foreign and local tourists as well as guests visiting Aqua Planet Water Theme Park across it, which is the biggest water theme park in the Philippines to date.
"MIREJ is derived from our initials: Mark, Irineo, Ric, Edwin and Jeff with a Latin meaning to look at, to wonder at…..to admire". Alvaro said.
"We are here in Dubai to let our kababayans know that after years of hard work, anytime they can visit Clark Freeport, whether for family vacation or even investment, everything is in place for our modern day heroes". Alvaro added.
"Once inside Clark, a must-see place is MIREJ, include it in your bucket list, because at MIREJ, you Stay Wonderful". Alvaro concluded
As of today, Filipinos comprised 21 percent of Dubai's population engaged in various industries.
Filipino community organization leaders, carriers, business associates, regular customers, media, city and local officials were also invited to join the celebration.
IMEREX Dubai is located at Al Bada Oasis Building Shop #30, Hudaiba Street (across the Iranian Hospital), Stawa, Dubai, UAE.
To schedule a pick up call +971-552-941987. Business Hours: Monday-Sunday, 10am-10pm.