Toscana Dining – Midori Clark Hotel's main dining outlet is set to fill your appetite this July as it launches new offerings that every diners will surely love.
Eat like no other with the Super Feast
ALL YOU CAN EAT Toscana Dining's specials offering every weekday with the Super Feast.
Choose from a wide selection of authentic Dumplings and Dim Sums, flavorful Korean Fried Chicken such as Soy and Chili Garlic, Roast or Yang Neum Chicken. A variety of savory barbecue is also available such as Buffalo Wings, Chicken Inasal, Roast Chicken and Pork Belly.
In addition to the favorites, side dishes, soup, noodles, sushi, desserts and drinks are inclusive in the semi-buffet.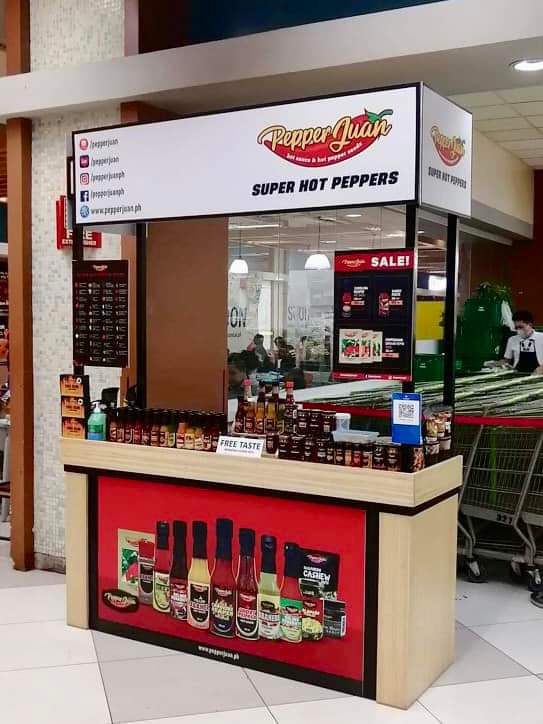 The semi-buffet offering is available every Monday – Thursday from 11:00am – 2:00pm for lunch and 6:00pm – 10:00pm for dinner. Super Feast is priced at P899+ / head and add P100 for Unlimited Draft Beer.
All American Buffet
Mark the 4th of July with Midori Clark Hotel's All American Buffet this weekends of July.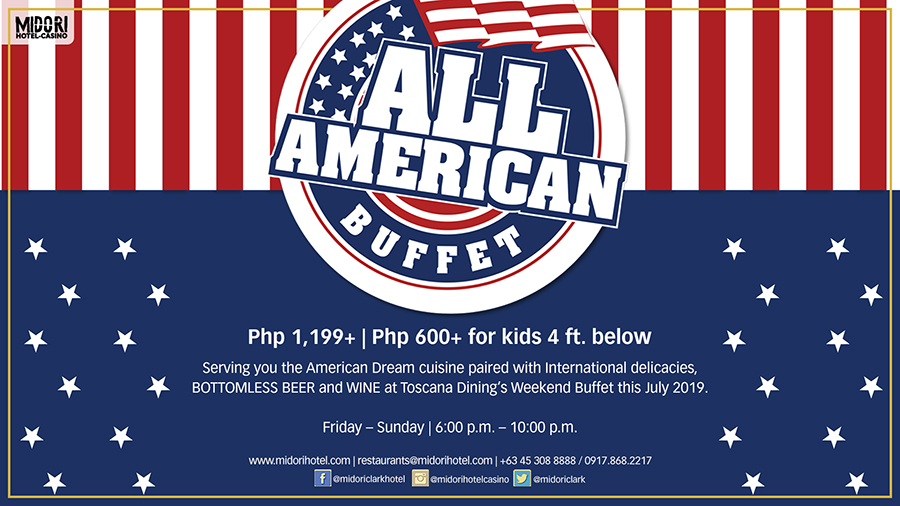 Satisfy your U.S. cravings with the best hamburger, pork ribs or even the confectionery version of an American pie available at the themed buffet. All American Buffet will also highlight the US Prime Roast Beef or Whole Baked Salmon in a carving trolley.
Diners will also enjoy creating their own favorite American sandwich with the Subway Station. Choose from a selection of piled meat, homemade bun and dress it up with a variety of toppings. Buffet will also feature the Mobile Carts of Pork Ribs, Sausages and Pork Belly.
This is in addition to buffet staples of Cold Appetizers, Salads, Heat Lamp Stations, Live Seafood Cooking, Dim Sum Station, Korean – Chinese Station and American Sushi.
After reading about every U.S.'s iconic dishes featured at Toscana Dining, you'll want to take a road trip based solely on dessert. While you've likely had your state's fair share of the dessert it's known for, you're about to discover a whole new realm of confections that you shouldn't miss during your visit.
The U.S.'s national favorite – American Pie, is available with the version of Key Lime Meringue Pie. Also charmingly called slump, grunt, and buckle, a Banana Cobbler is also available ramekins. Other famed American desserts that will be served are Campfire Smores, Banana Foster, Giant Chocolate Chip and Apple Caramel Upside Down.
All American Buffet comes with UNLIMITED DRINKS, BEER, and WINE at a price of P1,199+ for adults and P600+ for kids 4 ft. below. Buffet opens every Friday, Saturday, and Sunday from 6 PM to 10 PM.
Make sure you have your seats reserved! For reservations, email restaurants@midorihotel.com or call 0917 868 2217 / 045 308 8888.
Keep social with us! Visit www.midorihotel.com or stay connected, like Facebook.com/midoriclarkhotel, follow @midoriclark on Twitter and @midorihotelcasino on Instagram.