FREEPORT AREA OF BATAAN — Running under the theme "Gender Equality, Empowerment and Motivation", Bataan 1st District Representative Geraldine B. Roman was the guest speaker at this Freeport's 2017 National Women's Month Celebration.
Authority of the Freeport Area of Bataan (AFAB) Chairman and Administrator Emmanuel Pineda and other officials and employees gave a warm welcome to "Miss G", as she is fondly called by close friends and supporters.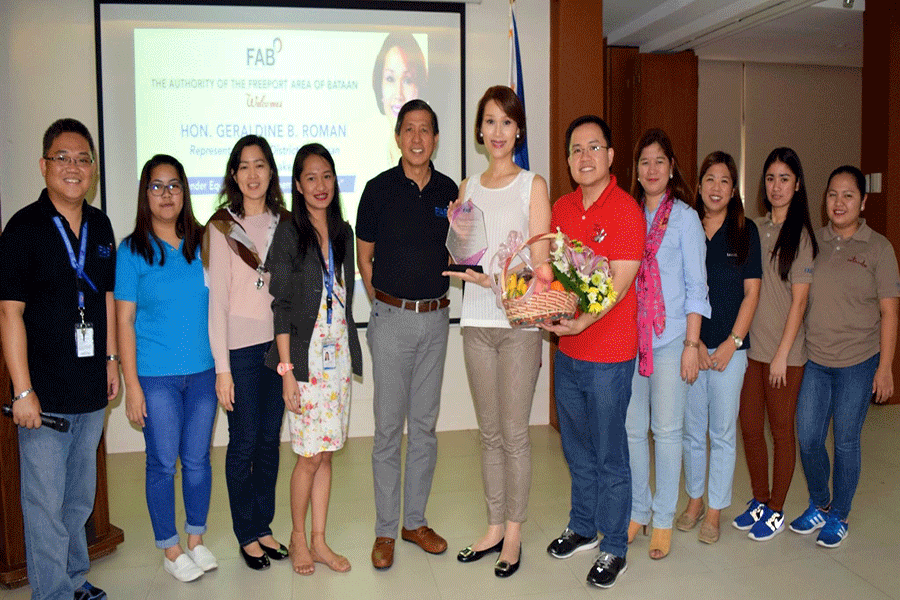 This year's International Women's Month has a theme: "We Make Change Work for Women." Roman cited the importance of women's role not just in raising a family but as part of the society in nation building.
"Kung ang pagiging transgender woman ko ang magmumulat sa mga mata hindi lang sa ating mga kababayan dito sa Bataan kundi sa buong Pilipinas na pahalagahan ang pantay pantay na pagtrato sa ating mga kababayan ay tinatanggap ko po kahit paulit ulit na ilahad ang aking buhay hindi po ako magsasawa," Roman said.
Roman also discussed about the latest House Bills she filed in the Lower House as well as her everyday activities as lawmaker and now as a celebrity to a lot of occasions all over the country.
The neophyte congresswoman, tagged as the first transgender woman lawmaker, became an instant celebrity after she won the congressional race in her district. Since then, she has continuously receiving numerous invitations for interviews and public speaking engagements from national and international media companies, universities, colleges and even local government units from almost all regions in the country. One of her major legislative measures is to pass the anti-discrimination bill.
"As a transgender woman, and as a visible public servant representing a district of proud, hardworking Filipinos, I still know what it is like to be bullied and judged by people who think they are morally superior, who believe that they are the owners of the absolute truth. But I'm still here, stronger and wiser," Roman reiterated.
She also addressed the opponents of the Anti-Discrimination Bill based on SOGIE (sexual orientation and gender identity and expression) saying that the ADB is an "anti-life and anti-family" measure and "erroneously watered it down to same se marriage and gender recognition, which are totally different issues."
"The ADB is simply about freedom and equality, regardless of your sexual orientation and gender identity. It is a bill that will benefit all Filipinos," Roman said in her Facebook page post. –Mhike R. Cigaral