6
CITY OF SAN FERNANDO – Newly-elected officers of Nanay Community Workers (NCWs) in the province took their oath of office on June 25, this year.
The oath-taking was administered by Acting Governor Dennis "Delta" Pineda during the Second Quarterly Meeting of NCWs held at the Provincial Capitol.
NCW is an organization of volunteer household wives formed by acting Governor Pineda in 2015 aimed at assisting Governor Lilia Nanay Pineda in the speedy implementation of disaster, health response of the provincial government at the grassroots level.
"NCW serves as the Governor Office's arm for quick dissemination and response regarding issues concerning health, peace and order, natural disaster, and education," the acting governor said.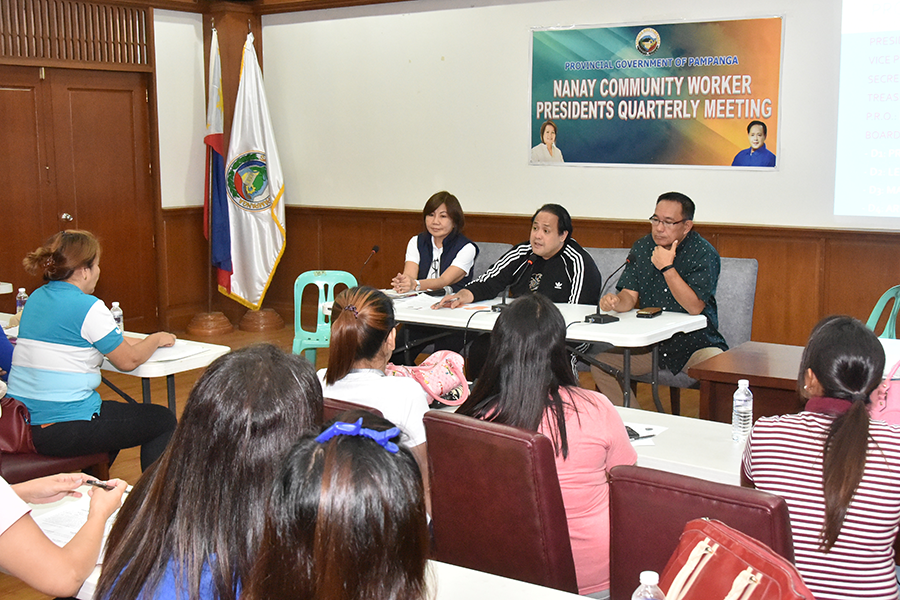 Acting Governor Dennis "Delta" Pineda encourages the Nanay Community Worker presidents to continue supporting the programs of the Provincial Government. Together with him are PDRRMO head Angie Blanco and 3rd District Board Member Rosve Henson.
At present, NCW has 8,558 active volunteer workers coming from the different barangays all over the province.
The newly elected provincial officers are as follows: NCW President Leni S. Rambino; Nilda M. Torres (Mexico) – Vice- President; Catalina F. Delos Santos (CSFP) – Secretary; Milani T. Gonzales (San Simon) – Treasurer and Melinda S. Faller (San Luis)- Public Relation's Officer.
The Board of Directors assigned per district are Procesa V. Rodriguez (Magalang) for District 1; Levitica A. Quanico (Lubao) for District 2; Marlyn L. Pineda (Arayat) for District 3; and Arlene Argonza (Apalit) for District 4.
Also present were 3rd District Board Member Rosve Henson and Provincial Risk Reduction and Management Office (PDRRMO) Head Angie Blanco.
When asked about her marching plans for NCW, Rambino shared "patuloy pa rin tayong susuporta sa mga proyekto ni governor at vice governor".
Rambino added that being chosen as the president of NCW comes with great responsibility that's why she pledges to fulfill her duties and deliver what is expected from her using her experiences as former health worker.
According to Pineda, the NCWs play a very important role in their respective communities in bringing the provincial government closer to the people.
"Not only they serve as the extension of the governor's office to the people but also serve as the people's voice to raise apparent issues surrounding the province," the acting governor added.
Blanco, meanwhile, shared that the provincial government is planning to recruit another 5,000 empowered women to serve as force multipliers for easy access to the programs and services of the provincial government and contribute in fulfilling the goals and vision of the Pineda administration. -PHOTOS BY JUN JASO/PAMPANGA PIO