The National Economic and Development Authority (NEDA) Region 3 joins the pool of organizations around the world that adopt and maintain processes compliant with international standards after it received ISO 9001:2015 Quality Management Systems (QMS) certification from TÜV SÜD on March 3, 2022.
NEDA 3 started its QMS journey with a Foundation Course held in September 2018. It was officially launched on July 1, 2019, and two Internal Quality Audits were conducted in 2021. The said agency passed the first stage external audit in November 2021 and the second stage last January. TÜV SÜD finally issued the certificate after NEDA 3 has satisfactorily completed the post-audit documentary requirements.
NEDA 3 is certified for its core processes, as follows: (i) the Regional Development Planning and Plan Monitoring, (ii) Regional Development Investment Program Formulation, (iii) Project Evaluation, and (iv) Regional Project Monitoring and Evaluation. The certification also includes support services being delivered by the agency's administrative unit.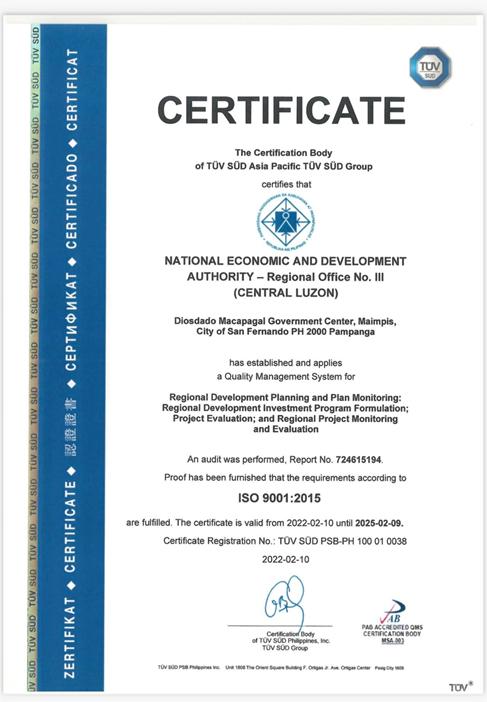 Regional Director Gina T. Gacusan thanked all the staff for working together to fully implement the agency's quality management system and enable the delivery of a more effective and responsive government service.