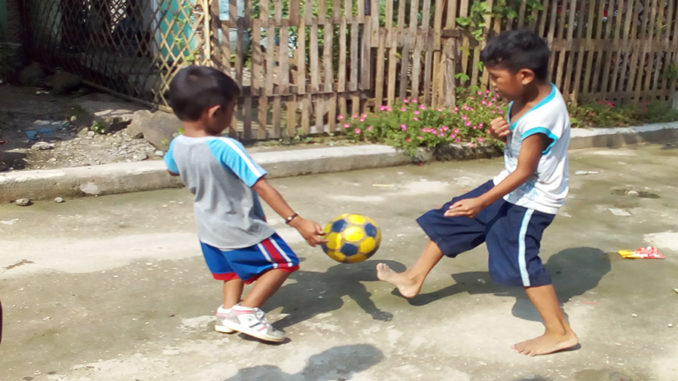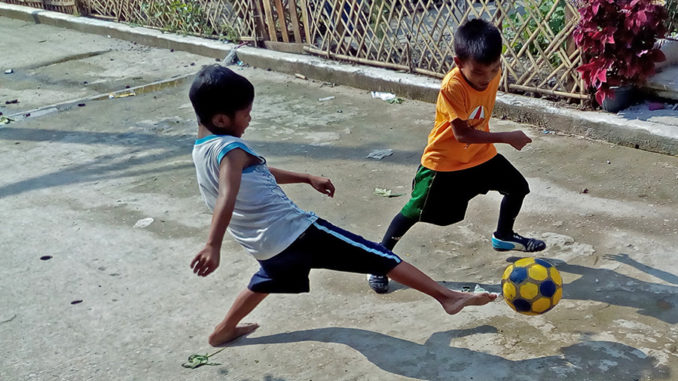 PANDI, Bulacan – They may not have the proper gears nor the right playing field, but young kids at the Lois Ville resettlement area in Bgy. Siling Matanda here are now being trained by a foreign professional football player to become the best in this sport.
Nigerian football player Prince Alhassa Abuja believes that by starting them young the 14  "Kadamay Kids"-whose ages ranges from 5 to 11 –could one day become the hottest football stars and bring  
Pride and honor to their country.
Abuja, who played for three international football clubs—Union Footbal Club, Pachanga FC and Mendiola FC –started giving free football lessons to the "Kadamay KJIds" shortly his wife and two sons moved to one of the housing units that were occupied by members of the urban poor group

Kalipunan ng Damayang Mahihirap (KADAMAY) last March of this year.
"The kids are strong, quick and are now beginning to love the game. In their young age, I can see that they have the potentials to become great football players. They only need support and guidance," Abuja said.
He said that in the Philippines, football is not yet as popular in many provinces in the Philippines compared to basketball. Lately however, he said, many kids are beginning to play this game, after the brothers Phil and James Young husband and the Azkals game a new dimension to this sports and gained popularity.
He said he is thankful that lately, the St. Jude School near Malacanang Palace is supporting his cause to coach the "Kadamay Kids"  by providing them with uniforms, socks and shoes.
Abuja said he sees that the young kids in Bulacan has the "gift" of becomeming agile and good football players.
"Maybe, if the local government would help them, these young kids can be molded into the next great football players in the country," he said.
He said that if he is free from coaching students of St. Jude School, he gives the 14 "Kadamay Kids" basic training in a vacant grassy lot at the resettlement area.
"I just wish that these kids could train in the right playing field," Abuja said.
His two sons, Ali (!!) and Beruel (5), are also part of the "Kadamay Kids".
Abuja hopes that thru the game of football, the young poor children will have a good future ahead.
"Football can change their lives," Abuja said adding that her wife Concepcion is also very supportive of his desire to train the young children become good football players.—EMIL G. GAMOS