Olongapo City — Mayor Rolen Paulino questioned the list PNP Chief Oscar Albayalde described as "hotbed" of drugs in the country which include Olongapo City.
The PNP chief also tagged Santiago in Isabela, Angeles in Pampanga Puerto Princesa in Palawan and Naga City as the top 5 hotbed of shabu.
"How did he come up with the list, because based on records Olongapo City is second most peaceful place in region 3 and that is backed with figures from no less than PNP region 3," Olongapo City Mayor Rolen Paulino said.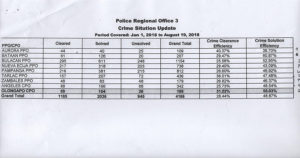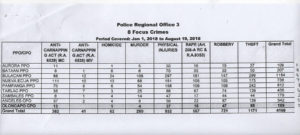 Records from PRO3 states that Olongapo recorded only 189 crimes from the period of Jan1 to August 19, 2018 which ranked 8th in region 3, Aurora being the last with a total crime rate of 109.
Top on the list is Bulacan with 1154, Pampanga came in 2nd with 812 while Nueva Ecija came 3rd with 738.
Paulino added that the statement of Albayalde tainted a bad image of the city without actually showing any data to prove his claim.
Just this afternoon, Police Senior Superintendent Benigno B Durana Jr, Spokesperson and Acting Chief of the PNP-PIO issued a clarification regarding the pronouncement of Albayalde that Naga is top 5 in the so called hotbed of drugs in the country.
"Let me make some few corrections and updates in the data presented in last Wednesday's press briefing. Based on the latest PNP data, among the major cities of the country outside of Metro Manila, Naga City is ranked No.6 in the total crime volume during the period from January to July 2018. It is ranked No. 2 in the index crime volume (crimes against person and property) even compared to the other 6 provinces of the Bicol region."
"During the same period, Naga City has also posted the highest average monthly crime rate (AMCR) followed by Mandaue City, Iloilo City, Santiago City and Cebu City."
"My sincere apology to this oversight and whatever inconvenience it may have caused in which I, as Acting Chief PIO, is solely responsible. (PNP-PIO)" the statement said.
Paulino added that "Baka nagkamali lang si PNP chief sa nasabi niya, but the damage has been done and we hope that the Philippine National Police makes the correction as soon as possible.
Added information from PRO3 also said that the city is number 2 when it comes to crime solution efficiency with 55.03%, 1st on the list is Bataan with 60.87% and completing the top 3 is Bulacan with a 52.95%.