CITY of SAN FERNANDO — Superintendent Jhoanna Ponseca Rosales graduated the Officers Senior Executive Course with flying colors during her six-month stay at the National Police College in Silang, Cavite.
Ponseca-Rosales (PNPA Class 99), bagged the third honor among 73 students who took the OSEC, a pre-requisite course for any senior police officer seeking rank promotion and higher assignments in the Philippine National Police (PNP).
She said only 72 made it to the graduation rites.
"Originally our class is 73 but one of my classmates suffered cardiac arrest while reading a book," said Ponseca-Rosales.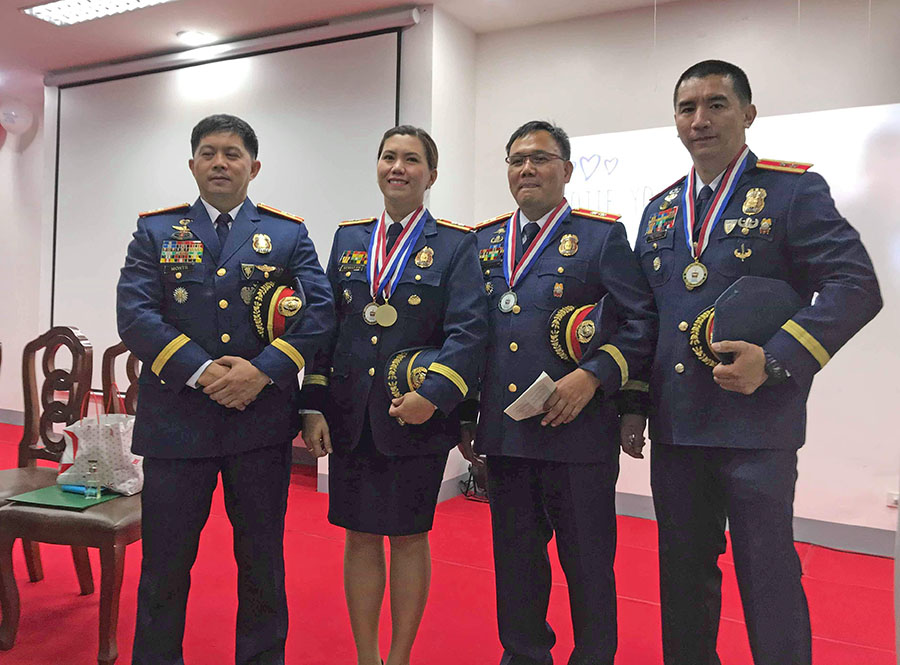 Flying colors. The only rose among the batch of Officers Senior Executive Course (OSEC) class (from left to right) Supt Leda Monte; Supt Jhoanna Ponseca-Rosales; Supt Hansel Marantan and Supt Lambert Suerte. (handout photo PNPA)
Supt. Lambert Suerte (PNPA class 98) notched the first honor while Supt. Hansel Marantan (PNPA class 98), placed second honor.
Suerte is among batch of police officers deployed to Mindanao during the Marawi seige.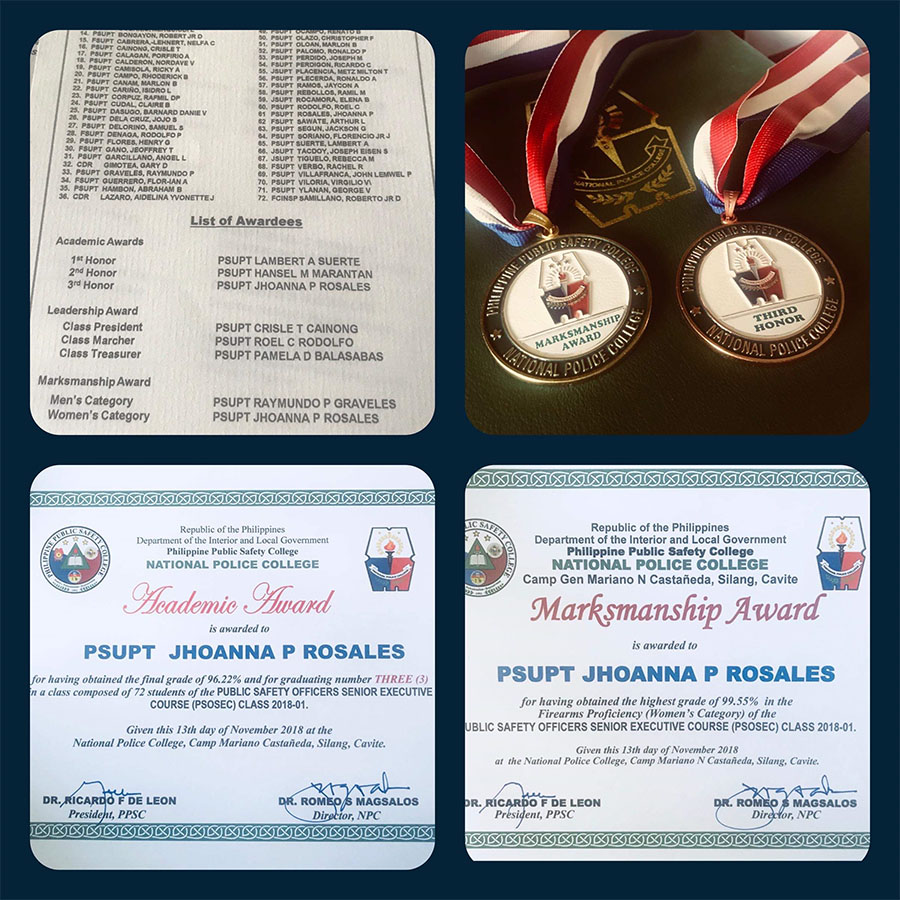 Aside from being an honor student, Ponseca-Rosales also clinched the best in markmanship award in the Women's Category. She was cited during the graduation rites last Nov 13, 2018 where retired PDDG Ricardo De Leon was the guest of honor and speaker.
Married to Army Colonel Rojhun Rosales (PMA class 94), Ponseca-Rosales also completed her graduate studies specifically on Masters in Public Safety Administration (MPSA).
A mother of three kids, Ponseca-Rosales makes sure she has quality time for her children and a good wife to Rojhun during weekend breaks.
"Sinusulit ko ang bonding namin each time I'm home for a weekend break," said Ponseca- Rosales, as she expressed thanks to the PNP College headed by Dr. Romeo Magalos, director; Dr. Maria Leonor Tuibeo, Learning Manager; and Supt Russel Maca, commandant.