"Being a part of the French military could be the most unorthodox way to land a job in the hospitality industry, but this brash 19-year old kid from France carved himself a path to greatness through hard work, discipline, and a penchant for perfection."
FOR PATRICK BECK, it is exactly his experience in the military that led him to realize that there are things in life you couldn't take for granted — these are discipline, responsibility, teamwork, and respect for authority.
To this day, he still embodies these and instills them in his work as the newest General Manager of Quest Hotel and Conference Center – Clark, and Mimosa Golf Course.
Patrick, who was born in France, had an early exposure to the hospitality industry from his parents in the quaint family restaurant that they owned. While his father was busy manning the kitchen as the chef and his mother waited tables, both he and his sister had their turns washing dishes and learning what they can from the day-to-day operations.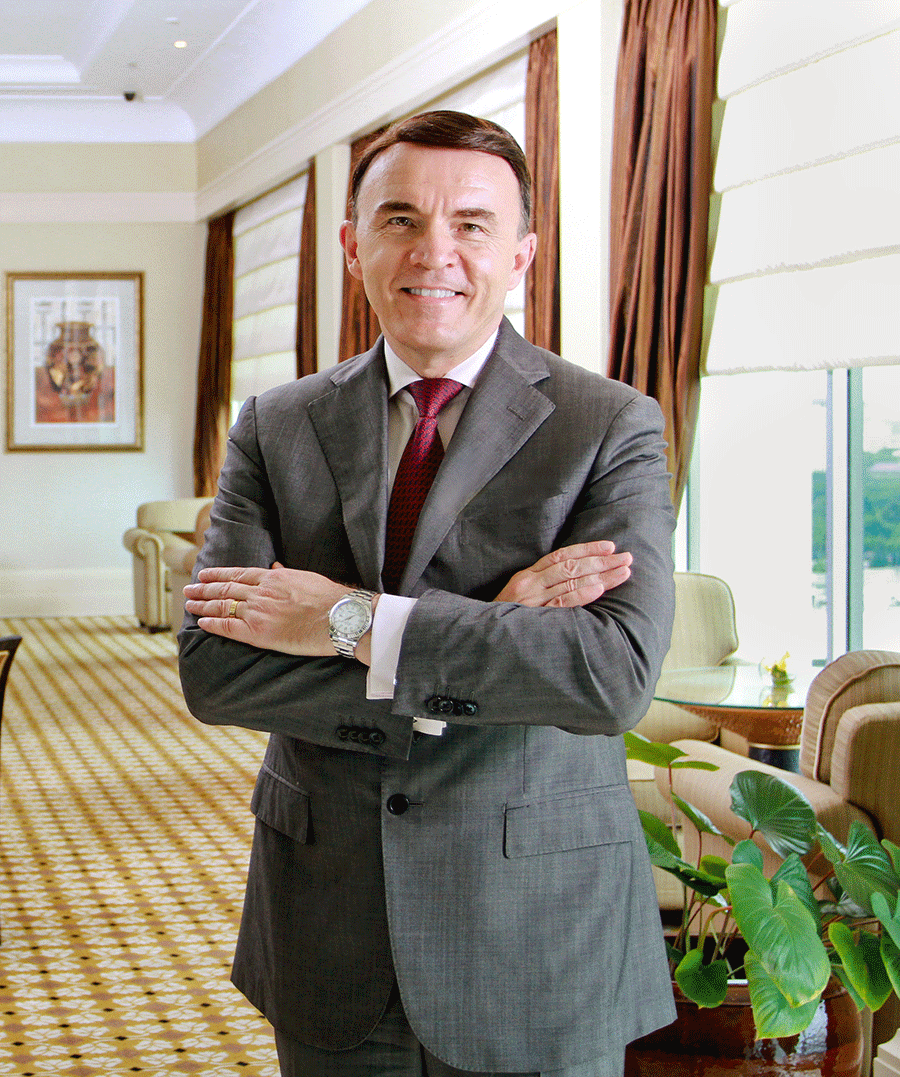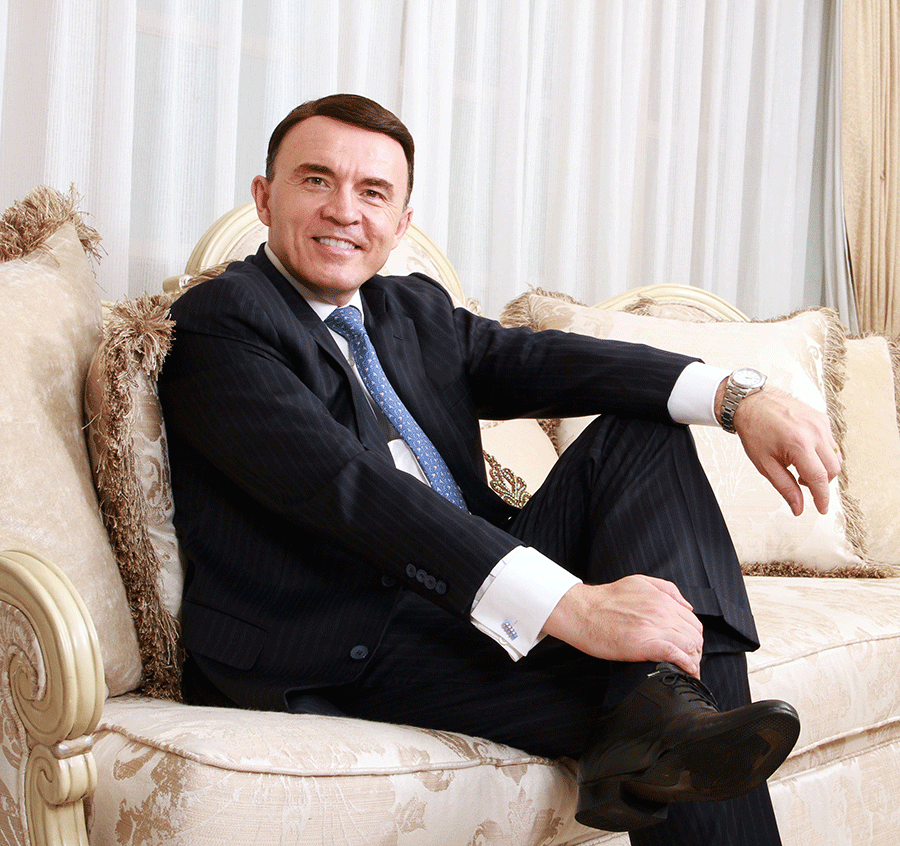 This was what prompted young Patrick to take up studies at a hospitality and management school by day and trained further by interning in different restaurants and hotels after his classes.
With diploma in hand and spatula in another, the young GM-to-be was ready to create dishes that inspired awe and fascinated the palate. But before he could do it, he had to literally collapse.
The French Connection
Patrick, aged 18 when he first entered, spent three years of his life in the French military at Senegal, Africa. Looking back, the GM described these years as a "beautiful time" in his life which had molded him into the person that he is today.
He would describe himself as a self-assured and confident young man who thought he was above anyone else – or at least better than the six guys he shared the barracks with.
Little did he know that these people would become part of a crucial point in his life in the military. Collapsing in the midst of a marching drill, Patrick felt his exhausted body being carried by his roommates, where he would then hear: "We started together, we finish together."
Apart from learning how to value discipline, responsibility and respect for authority, he also learned the most important value of respecting and treasuring colleagues. These have become the people who are now closest to him.
The American Dream
After serving in the army, Patrick had a renewed sense in life to explore the world, and found himself in the land of opportunity, flying straight to California, USA, barely knowing any English.
During his 23-year stay in the States, he started working for big hotel brands such as Marriot and Four Seasons, fulfilling his dream to become a chef. But because of his talents and work ethic, he was taken out of the kitchen and back to school so that he can be better equipped in serving in higher capacities within the business and the industry in general.
From being a young, promising chef, Patrick breezed through the different departments, taking on multiple and varied responsibilities over the years. He became the Food and Beverage Director after studying, then the Front Office Manager, Housekeeping Manager, and Room Division Manager. Crowning his hard work and sacrifices in the US was his position of becoming the Hotel Manager of Four Seasons Hotels and Resorts.
One could say Patrick has lived the American dream. However, all this success in the US would not satiate his longing for home, and so he flew back to France for the first time in 23 years.
The Road to the Top
No sooner after he landed back in France, Patrick worked as the Production Director for Accor's luxury division, Lenôtre, a world-renowned pastries and catering company. It didn't take long before he was transferred to Accor in Egypt in the hospitality department this time, and the only direction where Patrick's life was headed was up.
He consequently managed exclusive hotels and resorts in both Mongolia and Indonesia, where he eventually became the General Manager of Hotel Borobudur in Jakarta.
"I made a lot of sacrifices," Patrick said, reflecting on his career and life. "Imagine a 14-year-old boy, holding a small cook diploma—and now he manages hotels."
Indeed, Patrick's hard work had paid off as he lived a life managing one of the world's most renowned luxury lodgings. However, he loved challenges, and when his time fell idle with no problem to solve anymore, he felt the need to venture into a new world again.
This is when he would have a chance encounter with Mr. James Montenegro, Country Manager of Chroma Hospitality, to become Quest Hotel and Conference Center, Clark's new General Manager in 2017.
A Beautiful Beginning
"Coming to the Philippines was another chapter in my life," Patrick said, expressing his excitement to work in a new country, and no less than in the newest, rising cosmopolitan metropolis, Clark.
Clark, a growing hub of a wide spectrum of businesses, aviation and tourism, has begun attracting the eyes of many tourists and businessmen alike recently. Quest Hotel and Conference Center, Clark and Mimosa Golf are just two of the many establishments that will be venturing into bigger, better expansions.
Patrick is eager to be working in this emerging market which he believes can be one of the Philippines' biggest growth drivers. "[Clark is] Organized, clean, has a lot of businesses… I am happy that I am part of this beautiful beginning."
The Quest for the Best
For Patrick Beck, he aims for Quest Hotel to be recognized as the best. According to him, he starts building the foundation of this vision by gathering a team that can work together through thick and thin—or a "family", as he would say.
"Build a team, a strong foundation; trust who will believe in your visions." Beck says with an unfailing sense of surety.
The new GM invests in every team he is put in, and has plans to add more professional training to the staff of Quest Hotel Clark. "It's important to take care of your employees; and we will do this with continuous trainings and seminars so that we can carve out new talents and new managers for the new and exciting projects that may soon arise in Mimosa.
Not only is it essential to shape the team professionally, but Patrick also intends to address issues and create an ideal working environment for everyone. "To be a good GM is to be able to listen", he says.
To belong and thrive in the hospitality industry, Mimosa's top man shares his wisdom. "Listen. Learn how to smile. Smiles can go a long way. Be willing to work hard and sacrifice."
Sacrifices and overcoming obstacles bore fruitful results for him. Years of dedication to his work and education gave him experience and insight. Respect, honesty, hard work and motivation—all these made Patrick Beck a highly sought after general manager whom the industry looks up to.
It was a bumpy ride to reach where he is right now, he describes. "I fell so many times in my life, and it's going to happen to everyone all the time. But you should always learn how to get back on your feet."
Patrick Beck spearheading Quest Hotel Clark and Mimosa brings a new wave of optimism to the estate and its people.
It is truly not in the military where you would expect to have produced a man that defines the very meaning of hospitality and management—but here is a professional, respectable, charming, hardworking GM who bears an enthusiastic smile that inspires each member to reach the vision he has for the hotel and the golf course.
The Vast Mimosa Estate
The Mimosa Leisure Estate is home to Quest Hotel and Conference Center, Clark, a 303-room hotel with eight spacious function rooms for MICE and life's most meaningful events. It is also home to the Mimosa Golf Course, with two, par-72, 18 hole courses that tests both enthusiasts and veterans alike.
For bookings and inquiries, visit questhotelsandresorts.com/clark and mimosagolf.com or call +63 (45) 599 – 8000.
About Chroma Hospitality, Inc.
Chroma Hospitality, Inc. owned by Filinvest Hospitality Corporation is the management company behind Crimson Hotel Filinvest, Manila, Crimson Resort and Spa Mactan in Cebu, Quest Hotel and Conference Center in Cebu City and Quest Hotel and Conference Center in Clark, Pampanga and the highly anticipated Crimson Resort and Spa Boracay set to open in 2017. Chroma Hospitality is a young, forward-thinking company crafting bold, innovative hospitality brands and currently manages 1,365 rooms. For more information please visit http://chromahospitality.com/.