In celebration of CLMA's 45th Anniversary, the Central Luzon Media Association Pampanga Chapter, now the premier press club in Pampanga province, will hold its induction of officers on Nov. 6 with Sir Reghis Romero II, PHL special envoy to Japan, as Guest of Honor and Speaker and PIA Director General Joe Torres as Inducting Officer.
The new CLMA Pampanga officers for 2023-2024 is led by veteran broadcaster Boy Santiago, president (DWRW95.1FM); Mark Sison, Executive Vice President (iOrbitNews); Albert Lacanlale, VP for Radio (DWRW95.1FM/Sun Star Pampanga; Clea Arcellaz, VP for Print (Sun Star Pampanga); Larrica Angela Cunanan-Dinio, VP for Online (iOrbitNews); Jhoedie Mercado, VP for TV Broadcast (CLTV36); Luisse Gabrielle Rutao, Business Manager (GMA7); Rey Malig, Treasurer (iOrbitNews); JP Manalang, Auditor (iOrbitNews); and Chiqui Cacal, Secretary, (DWRW95.1FM).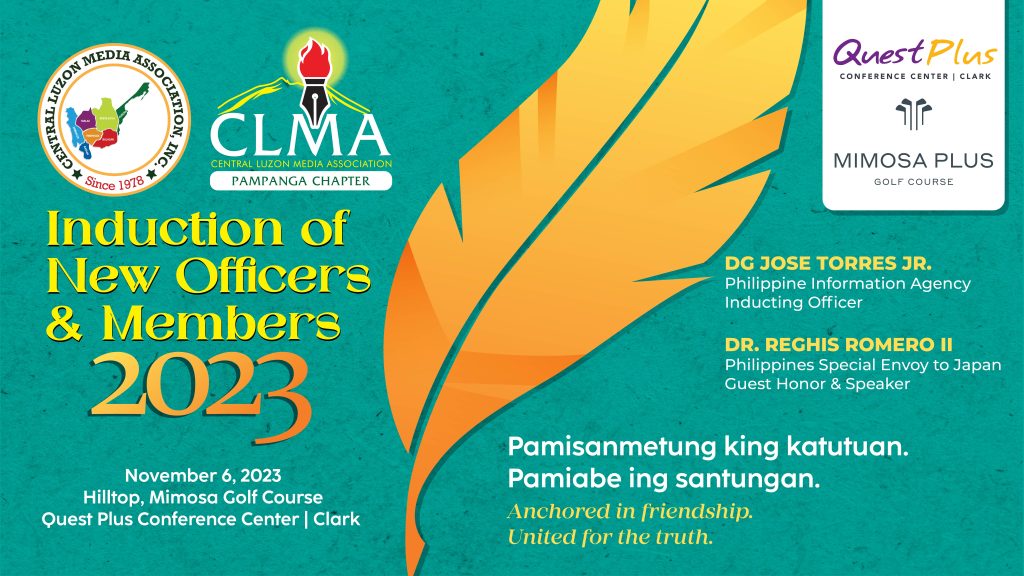 The CLMA Pampanga Board of Directors is led by Chairman AP San Pedro (iOrbitNews); and Directors Deng Pangilinan (iOrbitNews), Glendy Sembrano (GNN TV44), Joe Asuncion (CLTV36), Jose Salazar (Newsline 103.1FM), Gerald Gloton (The Voice), Paolo Gee Santos (CLTV36), Rowena Tinio (iOrbitNews) and Benny Guinto (GNN TV44). Veteran newsman Caesar "Bong" Lacson is Chairman Emeritus (Punto! Central Luzon).
The CLMA Pampanga now represents the working mediamen in Pampanga province and the members are: Joann Manabat (Rappler), Archie Reyes (iOrbitNews), Gracie Rutao (ABS-CBN), Rudy Simeon (iOrbitNews), Johnny Coronel (CLTV36), Nelson Gonzales (iOrbitNews), Christopher Espino (Newsline 103.1FM), Felix Barrios (CLTV36), Alvin Masangcay, Maricar Sargan (Brigada News FM), and Rev. Fr. Jonathan Bartolome (Men of Light). Honorary members are Francis "Kiko" Sison, and Joanna "Ning" Cordero (Punto! Central Luzon).