ANGELES CITY – The Local Government of Angeles City in partnership with the National Commission for Culture and the Arts (NCCA) launched on Monday one of its "Dap-Ayan" cultural sanctuary projects here named "Santungan".
City Mayor Edgardo Paminutan along with Angeles City Tourism Office (ACTO) head John Montances and the NCCA represented by Art Section head Ferdinand Isleta led the ground breaking and time capsule laying of the cultural hub's site located under the bridge adjacent to the historic Abacan River.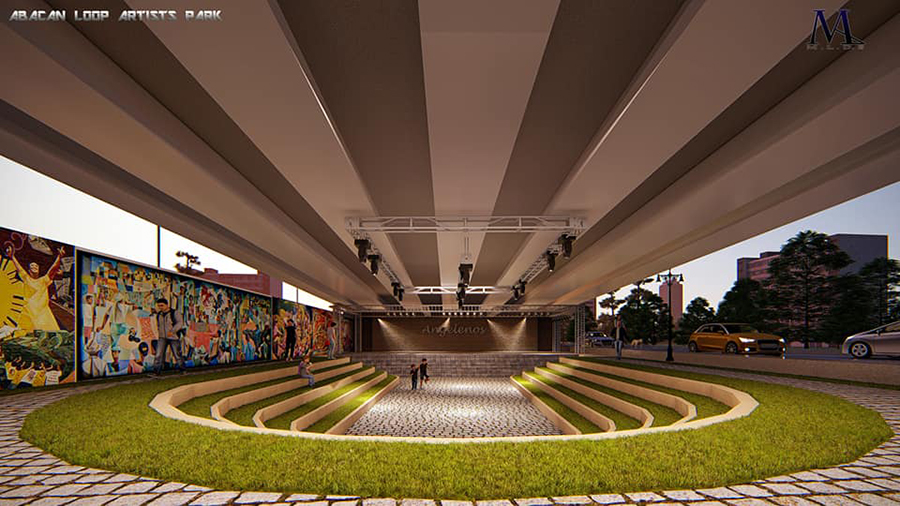 'SANTUNGAN' KENG ANGELES. Photo shows the artist's perspective design for the 'Santungan' Cultural Sanctuary located under the Abacan Bridge in Angeles City. The city received a P3 million grant from NCCA for the said project. (Photo by Wing Pingol)
"We have since sought to exhume the spirit of culture and arts of Angeles City which had been buried under the ashes of Mount Pinatubo," reminisced Mayor Pamintuan. The mayor cited how the Abacan Bridge had become an object of disconnect after it fell during the 1991 tragedy.
Under the project, a grant amounting to P3 million will give way to the construction of an open space activity center under the Abacan Bridge, as well as the launch of numerous projects and workshops to be opened to the public in the months to come.
Isleta said the establishment of Dap-Ayans aim to decentralize cultural centers and develop cultural awareness by setting up hubs in key provinces and cities across the country.
"This project was conceptualized by the Luzon cluster of NCCA to provide artists with a space to do collaborative projects together," said Isleta.
ACTO head John Montances envisions the Santungan as a gathering place of different disciplines of art, not just in the city but across the province of Pampanga.
The project is overseen by 19 committee members of the NCCA representing the disciplines of Architecture, Visual Arts, Film, Literary Arts, Dance, Music, and additional scopes distinct to Angeles City- Culinary and Fashion.
To cap the program the statue of the Phoenix Bird as a symbol of Angeles City's resilience was unveiled.
The program was graced with performances from local artists: Sunlag Bamboo Ensemble, City College of Angeles Performing Arts, Aguman Sulat Kapampangan, Aslag Teatro SPCinio, Angeles City National Trade School, Sinukwan Kapampangan Center for the Arts and the Holy Angel University Dance Theatre.
Angeles City was named by NCCA as a "local government unit partner" in 2017. Other Dap-Ayan sites in Luzon are situated in San Fernando in La Union and San Jose in Occidental Mindoro.