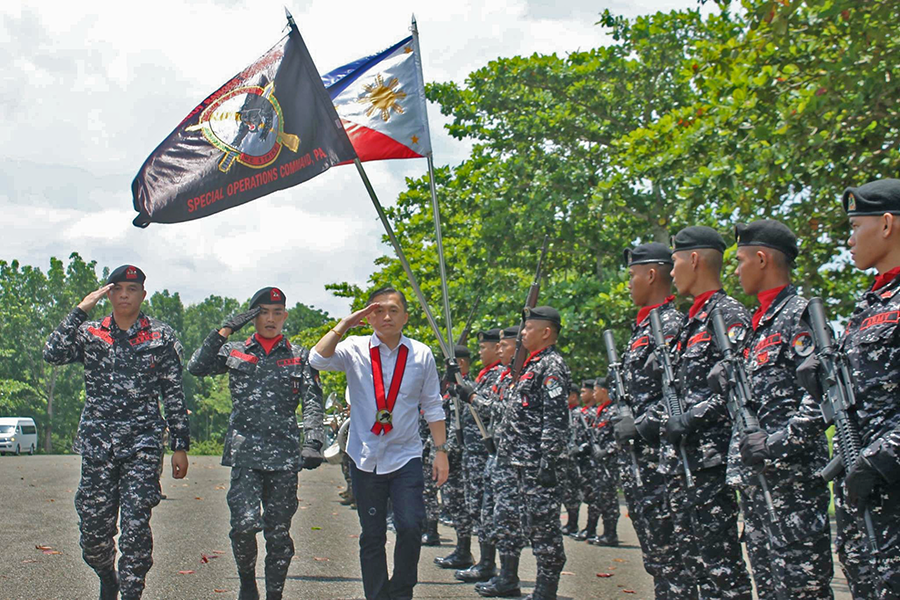 CAMP TECSON, San Miguel, Bulacan- Special Assistant to the President Secretary Lawrence "Bong" Go served as a guest of honor and speaker during the joint closing ceremony of Scout Ranger / Sniper Courses of the First Scout Ranger Regiment (FSRR) held on Tuesday afternoon.
Go was accompanied by Col. Jess Durante, Presidential Security Group head and his friend actor Phillip Salvador. He congratulates the 88 graduates, 70 from Scout Ranger Course Class 204-2017 and 18 from Scout Sniper Course Class 204-2017, who all undergo a 6 months rigid and special training.
Out of 150 who enrolled, only 50% finished the courses.
The Chief Executive Special Assistant together with Col. William N. Gonzales, Regiment Commander, First Scout Rangers Regiment, SOCOM of the Philippine Army (PA), led the distribution of the medal and trophy for the top scout rangers of the said courses and pinning scout rangers badges to the graduates.
The FSRR also bestowed to Go and pinned to him the Honorary Scout Ranger Badge and received a certificate by Col. Gonzales as a lifetime member of Scout Ranger of the Philippine Army and he will avail all of its privileges as member.
During his speech, Go said that the Philippine Scout Rangers and Snipers are considered as one of the most elite military units in the world.
"Even United States Navy Zeal veteran Joel Lambert declared that our scout rangers are one of the best units they had encountered due to their ability to carry out their mission. Due to the scout rangers and snipers important role in the internal defends and security of our country you must always demonstrate physical toughness and mental fortitude to serve well as world best anti-guerilla fighters," Secretary Go said.
Around 100 units of 60-square meters decent housing will be awarded this month to the elite members of scout rangers.
"Aside of doubling their salary, they are the 1st beneficiary of a decent and big housing program from 24 square meters lot area to 42, and now it's expanded to 60 square meters per unit," Go said.
He also gave wristwatches to all the graduates and cellphones to the top students of Scout Ranger and Sniper courses. ELOISA SILVERIO
SAP Go also promised to donate MP vehicles to FSRR and also assured them to support the scout rangers' needs.
He also assured that the other benefits of the scout rangers like livelihood projects, the scholarship program will continuously receive by their families.