SUBIC BAY FREEPORT — The Subic Bay Metropolitan Authority (SBMA) has given the green light to Grab Philippines allowing its operation in this freeport.
Grab, Southeast Asia's leading Internet-based ride-hailing and booking company would initially field 120 taxi units for commuters in the Subic Bay Freeport Zone.
SBMA Chairman and Administrator Wilma T. Eisma welcomed the launch of Grab operations here on Tuesday, pointing out the service would provide a safe and cost-effective transportation system for commuters in the Freeport.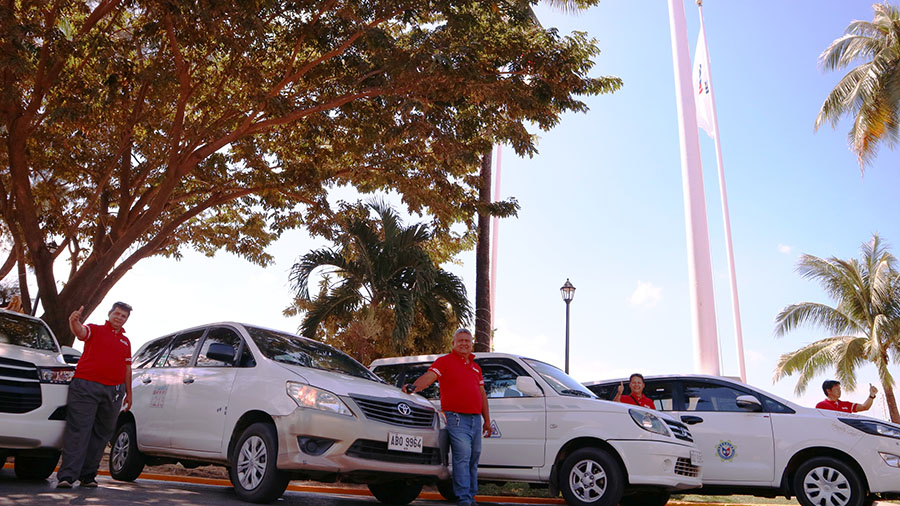 Uniformed Grab taxi drivers signal their availability to ferry passengers, as the Internet-based ride-hailing platform started operating in the Subic Bay Freeport on Tuesday, Nov. 27.
She said the riding public in Subic want ease and convenience, as well as competitive rates, while the SBMA opts for a top-of-the-line digital platform to put Subic's transport system at par with those in other global growth centers.
"This is an opportunity for everybody to step up and improve their services," Eisma stressed. "There is really a need to modernize the transport system here and normalize taxi fares so that there will be no more unnecessary negotiation for how much passengers should pay."
Aside from standardizing fare rates in the Freeport, Grab operations are expected to help provide interconnectedness with nearby communities that are being encouraged by SBMA to open up tourism attractions for visitors who arrive in Subic.
According to SBMA Deputy Administrator for Business Kenneth Rementilla, tourists, business locators and employees are the primary customers for Grab.
He said the Subic Bay Freeport Zone logged in more than 8.6 million same-day visitor arrivals in Subic last year, up by 10 percent over the previous year's figure. On the other hand, more than 1.6 million tourist arrivals were recorded last year, a slight growth over the 2017 tally.
"As more and more visitors arrive in Subic and more of them spill over to sites in Olongapo City, Zambales, Bataan and Pampanga, we expect Grab to play a bigger role in providing accessibility," Rementilla said.
He added that aside from giving passengers comfort, safety and convenience, Grab can actually help boost local tourism and play a significant part in increasing local income.
Rementilla said that to avail of Grab services in the Subic Bay Freeport Zone, commuters would simply have to download an application from the App Store or get it on Google play.
With the application, commuters can easily book a ride by setting their pick up and drop off point; find the nearest available driver, and track and find out details about him and his location; or even let family and friends track the progress of their trip.
Grab, which originated in Singapore under the MyTeksi brand, is now active in Malaysia, Indonesia, Vietnam, Thailand, Malaysia, Myanmar, Cambodia, and in the Philippines where it is operational in major urban centers like Manila, Cebu, Davao, Bacolod, Iloilo, Baguio, Cagayan de Oro, Angeles City, and Balanga, Bataan.
In Subic, Grab is seen to revolutionize how business locators, workers, and visitors are being ferried in and around this growing business and industrial center, Chairman Eisma said.