SUBIC BAY FREEPORT — The Subic Bay Metropolitan Authority (SBMA) approved 45 new investment projects worth P2.85 billion from January to June this year, bringing total investment commitments here to P499.6 billion.
SBMA Chairman and Administrator Wilma T. Eisma said the total investment pledges in the first semester of 2018 was 290 percent higher than the P731 million generated in the same period last year.
The first semester projects are also expected to generate 2,439 new jobs in the Subic Bay Freeport Zone, she added.
"This is a significant harvest of business commitments and opportunities for Subic, and it only goes to show that this free port remains to be one of the strongest economic drivers in the country today," Eisma said.
"It also goes to show that businesses continue to grow in Subic, because 13 business locators here have proposed expansion projects in the first 6 months," she added.
The expansion projects are worth a total of P276 million and are projected to generate 286 new jobs.
According to Kenneth Rementilla, SBMA deputy administrator for business and investment, the biggest investment commitment the SBMA signed up in the first semester was made by Citic Hotels and Leisures Corporation, a brand that carries the world-renowned five-star hotel chain Wyndham Hotel.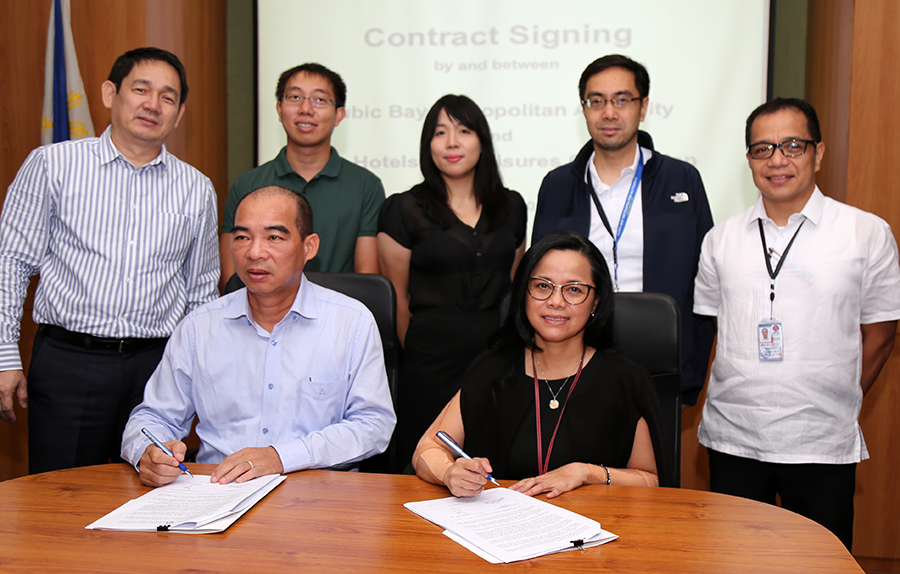 SBMA Chairman and Administrator Wilma T. Eisma signs a memorandum of agreement with China National Heavy Machinery Corp. (CNHMC) Chairman and President Xiao Ping (2nd, left), CNHMC Vice President Zhang Fei, and Hermosa, Bataan Mayor Jopet Inton (right) for the development of a techno-industrial facility at the Subic Bay Freeport.
The Citic proposal was worth P1.34 billion and will generate 2,000 new jobs.
The second biggest new project was proposed by Air Juan Aviation for the operation of air transportation services and charter passenger flights to various points in the country. The firm will invest P671.47 million.
GGG Technology Inc., meanwhile, proposed a P200-million project that will involve an initial workforce of 110 to engage in manufacturing, assembly and refurbishing of high-technology consumer electronics.
The fourth largest project was that of First Aviation Academy Inc., an operator of aviation-related training and skills assessment center. It will offer various aviation-related courses to airline and non-airline employees and individuals, infuse P156.6 million into the business, and hire 28 workers.
The fifth biggest proposal came from Vortex Oil and Gas Solutions Corp., which will operate an office for the import and export, trading, selling and distribution of petroleum products with a committed investment of P100 million and a workforce of five employees.
Chairman Eisma said the Subic agency hopes to create more business opportunities here, as it arranges cooperation programs with neighboring communities to host additional investment projects.
As of June this year, the Subic Bay Freeport Zone hosts a total of 1,596 business locators that employ a total workforce of 133,940.