Mayor Edwin "EdSa" Santiago visited Lourdes Heights Subdivision in Brgy. Del Rosario on Saturday to lead the discussion of the city's programs and initiatives as part of the program "Talakayan sa Villa."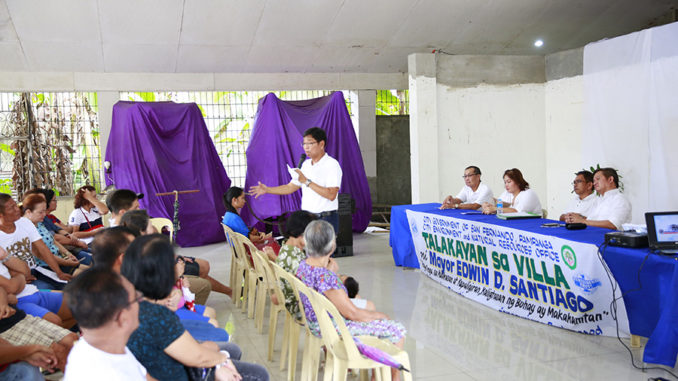 Among the topics discussed were the proposed and ongoing infrastructure projects in line with the New San Fernando concept and environmental programs such as the ecological solid waste management act and the plastic-free ordinance.
The residents were also given opportunity to raise their concerns and suggestions for the betterment of their subdivision. These were addressed by Mayor EdSa, together with City Environment and Natural Resources Officer Engr. Anele David, Brgy. Captain Reginaldo David and homeowner's association President Angelito Alcantara.
Meanwhile, the city government has turned over a brand new grass cutter and a tri-bike to the homeowner's association to help maintain cleanliness and proper waste segregation in the said subdivision.