CITY OF SAN FERNANDO — Vice Governor Dennis 'Delta' Pineda hands cash incentives to 16 athletes with disabilities who won in the recently concluded 6th Philippine Sports Association for the Differently Abled National Para Games (PHILSPADA-NPG). He was assisted by Board Member Cherry Manalo, Board Member Fritzie David-Dizon, and former board member Attorney Gerome Tubig during their visit at the Provincial Capitol here.
The Pampanga delegation brought honor after winning 13 gold medals, 12 silver medals, and 11 bronze medals. The PHILSPADA winners received ₱10,000 each as cash incentives.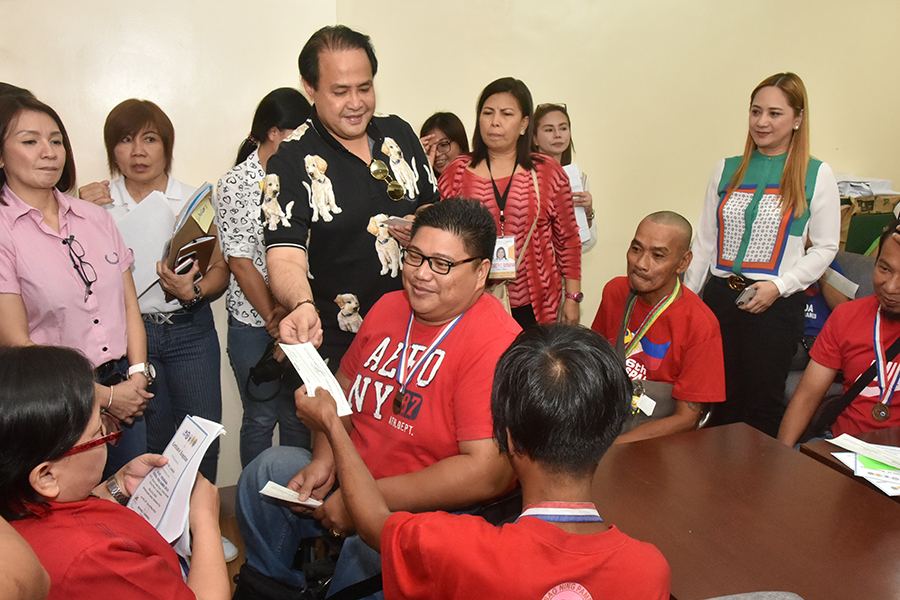 Moreover, Provincial Social Welfare and Development (PSWD) Officer Elizabeth G. Estiller-Baybayan pointed out that aside from the educational and financial assistance received by the winners, they can also avail free checkups in provincial and district hospitals of Pampanga.
Angelito Barro II, one of the awarded participants with hearing impairment, will participate in the upcoming Deaf International Basketball Federation (DIBF) Asia Pacific Cup in Melbourne, Australia.
Barro II won bronze for the Javelin Throw in the PHILSPADA-NPG.
According to Leni Barro, mother of Barro II, her son always had a heart for sports. In fact, he developed his skills by playing basketball with soldiers at their place in Clark. Moreover, at the age of 12, he started participating in basketball competitions.
"Every time naman na may sports events tumutulong yung Capitol, wala kaming masabi sa suporta," she said.
Barro II with his team, Philippine Deaf Association will leave the country on November 18 which happens to be his birthday while the tournament will be on November 20 to 25.
Other PHILSPADA winners are the following: Eliza Baluyut with orthopedic disability, bagged three gold medals for Shot-put Throw, Discus Throw, and Javelin Throw; Rommel Laurencio, also with orthopedic disability brought home three gold medals for the 200-meter dash, Table Tennis (Open), Table Tennis (Singles) events and two silvers for Table Tennis (Doubles) and 4 x 100-meter dash. Ma. Mercedez Ponce with visual impairment got one gold for Discus Throw, one silver for Shot-put Throw, and one broze for Javelin Throw; Maybelle Angeles with hearing impairment got one silver for Shot-put Throw; Jannyl Rivera with hearing impairment, took home two bronze for Discus Throw and Javelin Throw; Eduardo Mendoza with orthopaedic disability bagged two silvers for 100 meter dash and 4 x 100 meter relay, and bronze for Long Jump; Christian Medrano, with orthopedic disability got one gold for Long Jump, one silver for 4 x 100-meter relay, and a bronze for the 800-meter dash; Ronnel B. Cacho, also with orthopedic disability got one bronze for 4 x 100 meter relay, one silver for Long Jump and another silver for 100 meter dash; Christian Chantengco, with orthopedic disability, got one gold for Discus Throw and a silver for Javelin Throw; Wilma Waje with orthopedic disability bagged two silvers for Discus Throw and Shot-put Throw; Persons with Disabilities Affairs Officer (PDAO) Mary Ann S. Zamora with orthopedic disability, won one gold for Shot-Put Throw and two silvers for Discus Throw and Javelin Throw; Jessie Turla with cerebral palsy brought home one bronze for Javelin Throw; Elvin Reyes with orthopedic disability got one bronze Javelin Throw; Alvin Santiago with orthopedic disability bagged one gold medal for Powerlifting and; Saira Jane P. Alburo, also with orthopedic disability bagged two gold medals for Discus Throw and Javelin Throw. –Almira Julia A. Bituin