(Groups to Young Learners: Don't Put that Eraser in Your Mouth)

21 August 2022, Quezon City.  As young learners troop back to schools, two non-government organizations drew attention to potential hazards of putting objects such as plastic erasers in the mouth.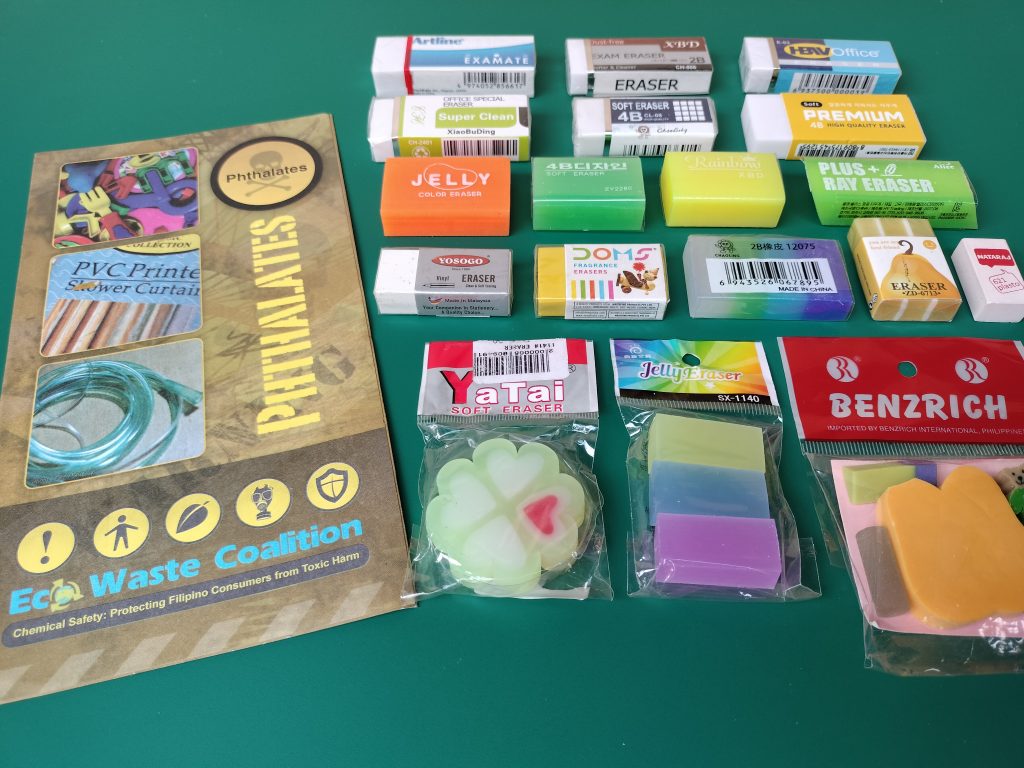 The Interfacing Development Interventions for Sustainability (IDIS) and the EcoWaste Coalition warned that erasers, especially those made of polyvinyl chloride (PVC) plastic, may contain phthalates (pronounced THAL-ates).

Phthalates, which are synthetic compounds used to soften PVC plastic, can affect hormones such as estrogen or testosterone and interfere with normal growth and brain development.  Phthalates are known endocrine disrupting chemicals (EDCs).

"A child unknowingly ingests phthalates in a plastic eraser whenever she or he puts it in the mouth. Exposures to phthalates can adversely affect a child's health, including contributing to neurodevelopmental and behavioral problems, obesity and increasing risk of allergic diseases such as asthma," said Lemuel Manalo, Program Coordinator, IDIS.
"There are other potential sources of phthalate exposure in a child's environment aside from erasers and school supplies made of PVC plastic, including PVC or vinyl toys, backpacks and raincoats, and even processed foods, cosmetics and flooring materials," said Manny Calonzo, Adviser, EcoWaste Coalition.  "It is therefore important to know and minimize, if not eliminate, such sources to protect our children from being exposed to phthalates."     IDIS and the EcoWaste Coalitionrecalled the results of phthalate analysis for eraser samples from the Philippines carried out by the Wonjin Institute for Occupational and Environmental Health (WIOEH) with support from the Korea Financial Industry Public Interest Foundation (FIPIF).
As part of the EDC-Free Asia project, the groups bought erasers from local retailers and sent them over to South Korea for analysis. Out of the 40 eraser samples analyzed, 31 (78%) were found to contain one or more phthalates such as DEHP, DBP, DiBP and DINP.
Nineteen (48%) were determined to contain phthalates above the 0.1% total limit for phthalates under South Korea's "Special Act on the Safety of Children's Products," which sets standards commonly applied to children's products, including toys and school supplies, used by or used for children under the age of 13.
The phthalate concentrations detected in the 19 samples ranged from 10.1% to 36.7%, way above the 0.1% limit. DEHP, a probable human carcinogen (a substance that causes cancer) was detected in 30 samples (75%) with the worst sample having 31.28%.
As not all erasers in the market are properly labeled and marked "phthalate-free" or "PVC-free," IDIS and the EcoWaste Coalition advised parents to constantly remind their children not to put erasers and other objects in their mouths and to wash hands before meals.
While DEHP, DBP, BBP, DINP, DIDP and DnOP are prohibited in children's toys as per DOH Administrative Order 2009-0005-A, these phthalates are not yet banned or restricted in school supplies.
IDIS and the EcoWaste Coalition are pushing for an expanded ban on phthalates in all children's products, including school supplies, to reduce children's exposure to EDCs and protect them from harm.