Carlo Catu, the 23-year old Kapampangan filmmaker, theater actor, writer and director won in the Association of South East Asian Nations (ASEAN) Youth Video Competition 2017.
The Film Development Council of the Phillipines announced on Friday that Catu's shortfilm entitled 'Casting' bagged the national award and he is set to represent the country in the upcoming ASEAN Film Festival.
'Casting' put into highlight the physical and psychological abuse among young aspiring female celebrities who wish to delve in the world of entertainment. The talent handler in the story which was played by another Cabalen broadcast journalist and environmentalist Cecile Yumul depicted the malicious trade of talents in return for showbiz profit.
"I put emphasis on this because I know how harsh talent casting can be and I believe that the film reflects how we tend to treat people into mere objects, commodifying human beings and objectifying them in the marketplace which is how I define human trafficking," Catu added.
Other awardees are 'My Name is Anna' by Breech Harani, 'Black Market' by Gio Gonzalves, 'Tagpo' by Jered Frigillana, 'Pulasulila' by Angelo Logdat, 'Lupad' by Steven Evangelio, 'The Ninth Month' by Paul Gumagay, 'Breaking Silence' by Ailes Banzagales, 'Barikada' by Mico Tagulalac and 'First Day' by Martin Mahinay.
The winners will receive 500 USD each.
The competition continues to raise public awareness on ASEAN's efforts to combat Trafficking in Persons in light of ASEAN Convention Against Trafficking in Persons, Especially Women and Children and ASEAN Plan of Action Against Trafficking in Persons, Especially Women and Children.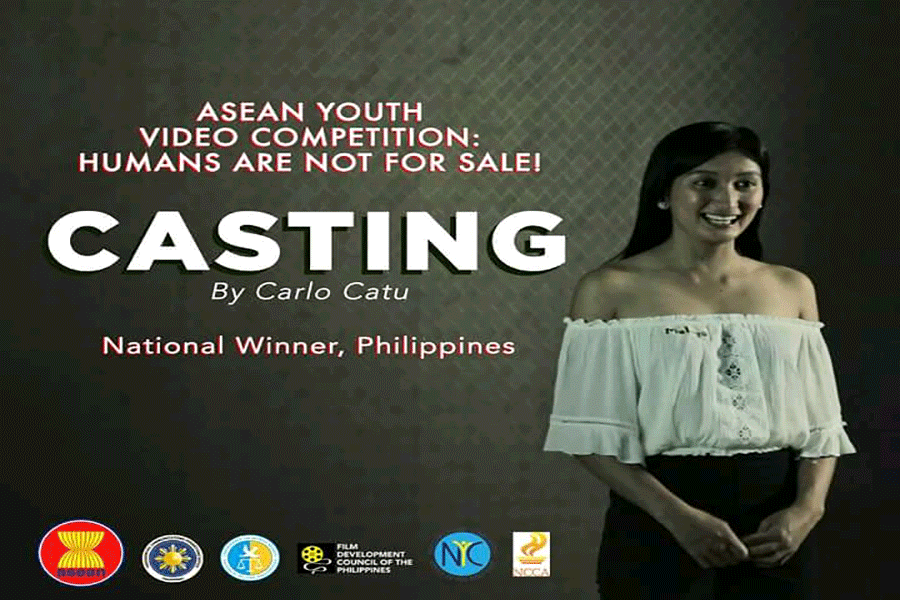 ***
Catu, a native of Lourdes Sur East in Angeles City, Pampanga finished Bachelor of Science in Hotel and Restaurant Management at the HAU.
He was hailed as the Kapampangan Writer of the Year in HAU's Gawad Digmaang Rosas back in 2010. He was also a fellow in the university's The Angelite's Pamiyabe writing workshops on 2010 and an all star guest in 2014.
He worked as a professional theater actor under the direction of Isabelo Bicong del Rosario from year 2012 to year 2014 and eventually wrote and directed children's theater plays such as Barbie Live in Fairytopia and Atin Cu Pung Singsing.
The first short film that he wrote and directed is Lakbe (Wander) had immediatelys given him his first Best Screenplay and Best Director awards in Cinekabalen Kapampangan Film Festival (CKFF) 2012.
It was then followed by his Matwang Dalaga (Old Maid), which competed up to the Cinemanila International Film Festival 2013 after winning Best Cinematography and the Kapampangan Cultural Award at the CKFF of the same year.
His third short film Mis Da Ka (I Miss You), CKFF's 2014 Best Film, Best Director and Singkuwento International Film Festival's First Honorable Mention short film award that gave him his ticket to his yet biggest achievement in his film career.
Ari (My Life with A King) was his directorial debut film that made him win his first two international best director awards, the Best Debut Film Director award at the All Lights India International Film Festival 2015 and the Best New Talented Director award at the London International Filmmakers Film Festival 2016.
In 2016, he was nominated as best director for the 39th Gawad Urian, the most prestigious film award giving body in the country.His co-nominees were veteran directors Ralston Jover, Jerrold Tarog, Brilliante Mendoza, Jun Lana, Erik Matti, Lawrence Fajardo, Zig Dulay, Mario Cornejo and Kidlat Tahimik.
He was by far the youngest director to be nominated in this said category.
Two years after, Ari is still receiving international awards and citations.
Currently, Catu is working on other Kapampangan indie film Aria.