The most awaited season has arrived! Have you caught yourself planning a unique staycation or a quick out of town adventure with your family, friends, and loved ones? These and more is something Zoomanity Group's Zooper Zummer has to offer. Get your summer plans ready with us! In our theme parks, your safety is our utmost priority. Rest assured that you can take a break with no worries.
Going to the North from Manila is where the wild adventure happens. Bring out your animal instinct as Zoobic Safari being the only tiger safari in the Philippines located in Subic, offers an amazing experience for everyone. Hang on for a new wave of safari adventure in this exotic sanctuary. The fiery nights of the jungle are back, as Zoobic Night Safari once again is available every Saturday until May 27, 2023, with special shows on April 6 and 7.
Zoobic Safari now offers GlampZ or Glamping at Zoomanity, experiencing a glamorous night in the wild as you stay in one of our animal themed rooms. It's a way to enjoy the great outdoors without sacrificing an ounce of comfort. To make it more exciting, guests can take a dip in our glamping swimming pool.
Relax like looking at the beautiful sky with CLOUD 9 Glamping, with packages complete with breakfast and Safari Tour or feel like the king of the jungle while staying above with TREE HOUSE, enjoy a hawk eye view of the forest. Your vacation is not complete without having a taste of  SAMGYUP SA GUBAT, savoring Korean Food in the middle of the forest.
Zoocobia in Clark Pampanga offers you a different fun filled experience, not just as a fun zoo but also set to be the only BIRD PARK in the country. Have a walk tour to our newest attractions at Macaw Corner, Parrot Lane, New Philippines Pride, New MAZE, Opalines Lane Aviary, Bunny World, SINA UNA with Aeta and New Barn.
Be amazed with FUNTASTIC WING SHOW, witness the spectacular performance of different birds every weekend. Funtastic nights are also back with NIGHT OWL SHOW , every Saturday 5pm onwards
Other attractions include the Zoocology Museum, Giant Slide, and the Zooc Ride, the first and only gravity car ride in the country that's safe for all ages. Beside Zoocobia is Clarkzilla, it is the newest extreme adventure destination in Pampanga that offers a "Dubai Feel " experience. Challenge yourself to zooper up your 4×4 experience by crossing rivers, lahar and Mt. Pinatubo. Experience other exciting activities like Zip Line, ATV Ride and Camel Ride.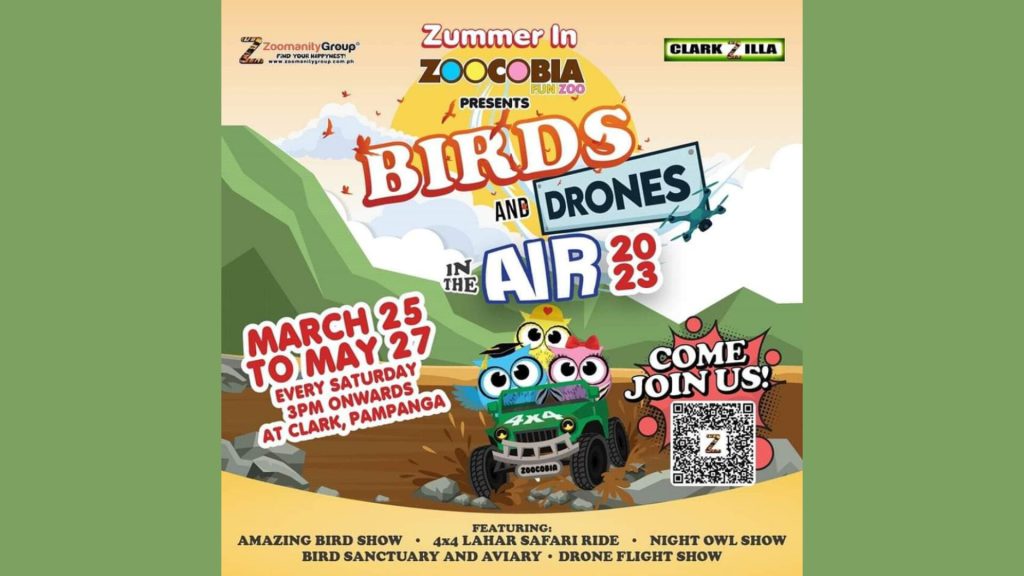 Anticipate the biggest drone show competition in the country to be launched in the middle of the year together with the Tweeter Rooms.
For park schedule, room availability, requirements, and other concerns, you may reach us through Zoomanity Group's official Facebook fan page at www.facebook.com/zoomanitygroup. For more info please call: 8899-9595 loc 339/348/350; 82758480: 09158904728 or 09661938965. Email: [email protected] or visit our website at www.zoomanity.com.ph.