ANGELES CITY – Anti-illegal drugs operatives arrested on Wednesday two visiting Nigerian nationals during a buy-bust in an apartment situated at Barangay Amsic, where the suspects are temporarily staying.
However, both denied to be engaged in unlawful drug trade.
Supt. Rommel Batangan, chief of the Regional Drug Enforcement Unit (RDEU) stationed in Camp Olivas, identified the suspects as Christopher Chukwuwa, 33 and Ben Okoye, 34, both tourists, temporarily staying at a rented apartment in Bgy. Amsic, a slum area adjacent to Clark Freeport.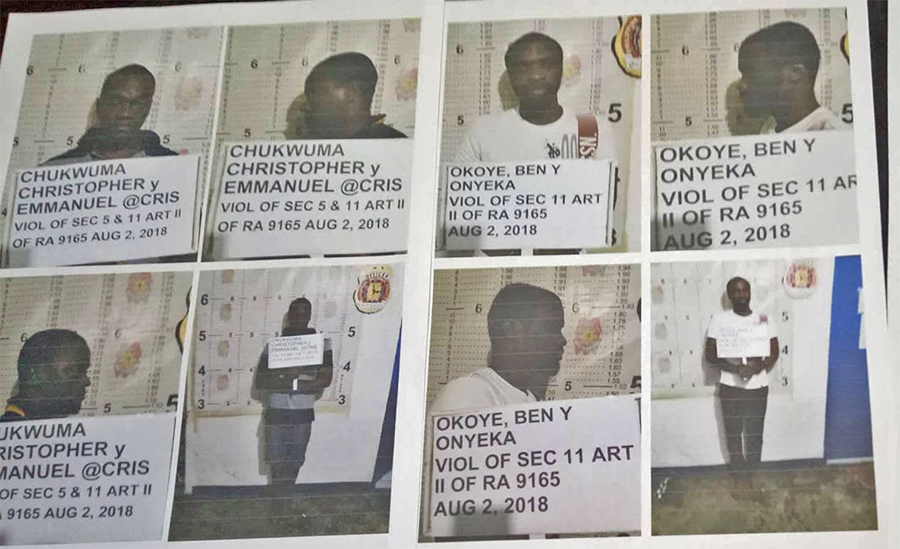 Batangan said the suspects did not resist arrest.
Okoye, who claimed to be an Evangelist preacher, denied the accusation, saying he was mistakenly identified due to his closeness to Chukwuwa.
"Nothing was taken from me… I don't even know that kind of illegal drugs," said Okoye during an interview in his cell.
Okoye said he was about to take his dinner in a nearby restaurant when policemen ganged up on him for alleged illegal drugs violation.
Police records showed that Okoye was arrested sometime on 2011 for human trafficking offense. However he was released from police custody after the complainant ceased from pressing charges against him.
Both suspects are staying in an apartment where Okoye is the caretaker. Chukwuwa is married to a Filipina.
Police said the suspects were pinpointed by another man who was earlier arrested for a similar offense.
Seized from Chukwuwa's possession include the dusted money used in the buy-bust and significant quantity of methamphetamine hydrochloride (shabu) amounting to P150,000 stated in the report released by the Public Information Office (PIO).
Violation of the Comprehensive Dangerous Drugs Act is being readied against Chukwuwa while a separate offense, specifically immigration law, is being readied against Okoye. Both are detained at the Angeles City Drug Enforcement Unit detention facility.