CITY OF SAN FERNANDO – A total of 2,313 differently-abled persons received P5,782,500 educational assistance from the Provincial Government through the Provincial Social Welfare and Development Office (PSWDO) in line with the celebration of Youth Week.
The distribution held at Lubao town and Bren Z. Guiao Convention Center was led by Governor Lilia 'Nanay' Pineda and Vice Governor Dennis 'Delta' Pineda.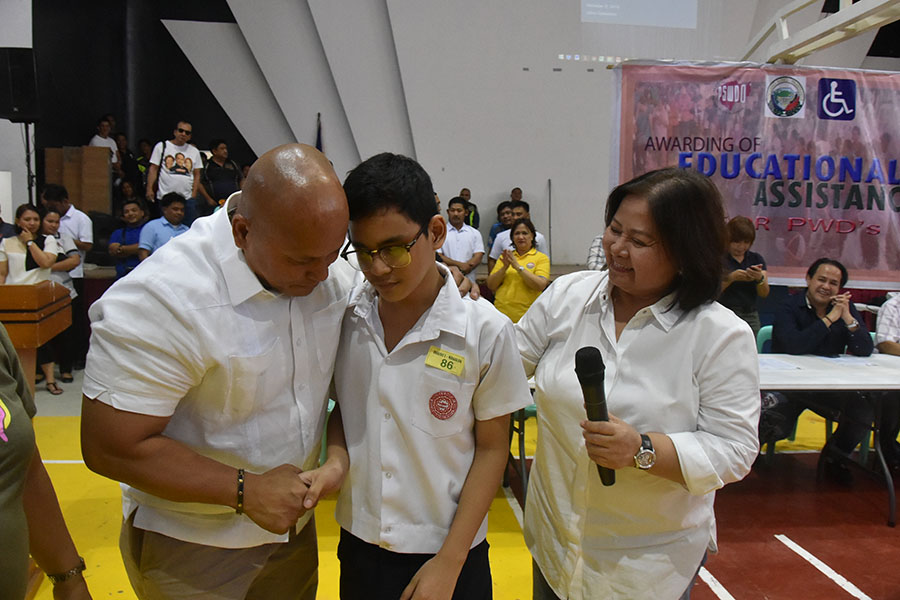 Bureau of Corrections Director General Ronald 'Bato' dela Rosa and Governor Lilia 'Nanay' Pineda motivates the student in his studies during the awarding of educational assistance held at Bren Z. Guiao Convention Center. –Photo by Jun Jaso
The beneficiaries were elementary and high school students and children of parents with disabilities received P2,500 each. At least 481 of them came from the first district; 580 from the second district; 827 from the third district; and 425 from the fourth district.
Gov. Pineda said that education is one of their priorities. Moreover, she pointed out that the disabled people in the province should be given equal opportunities in employment and training programs.
Vice Govenor, for his part, said that the Capitol will always support its people not only in ther education but also in their livelihood. –Almira Julia A. Bituin