ANGELES CITY – Thirty-four drug surrenderees graduated from Angeles City's community-based rehabilitation program on Thursday, January 16,2020, where Angeles City Mayor Carmelo "Pogi" Lazatin Jr. stressed the importance of implementing prevention and reformation in terms of drug abuse.

During their recognition ceremony, Mayor Lazatin mentioned his top agenda to establish a drug-free City.

"Following my top agenda which aims to ensure a drug-free community in the city, the Angeles City Anti-Drug Abuse Council (ACADAC) program provides comprehensive activities for outpatients in hopes of total reformation from substance abuse," he said.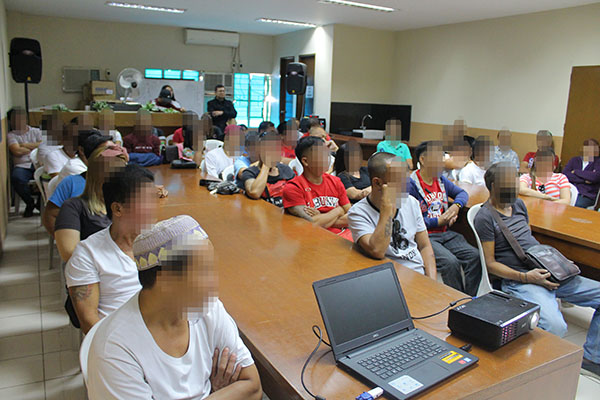 According to him, the ACADAC is not a law enforcement entity, but a counseling and treatment center. It provides support groups, seminars, and other activities such as counseling, lectures, outreach programs, tree-planting, family intervention, among others. 

"This focuses on spreading awareness and implementing prevention and reformation, as well as the essence of family intervention," he shared. 

"The family intervention program will help to boost a better relationship between the outpatients and their families – for them to regain trust and knowledge with each other," he added. 

"The activity," Mayor Lazatin furthered, "invites family members to a seminar that helps them regain trust and knowledge about their outpatient relatives."

Furthermore, Richard Alan Saul, Officer in Charge of the ACADAC, said that the aforementioned activities will build the self-esteem of the outpatients, and to have them live a better life – avoiding relapses to substance abuse. 

"Bagong buhay, bagong panimula, bagong pag-asa is the revolving theme of the ACADAC. The lectures and the seminars on the other hand, are meant to give the outpatients a thorough understanding of the effects of illegal substances to the body and to legal matters," he added. 

According to Saul, success rate of the ACADAC is around 80% in terms of outpatients finishing the duration of the program. After graduating, the ACADAC also helps the outpatients in regard to livelihood and job opportunities. 

"Other activities such as the Narcotics Anonymous is the support group provided by the ACADAC in hopes of helping the outpatients be consistent in their rehabilitation," he said.

Meanwhile, the Mayor also mentioned the newly-constructed Philippine Drug Enforcement Agency (PDEA) – Angeles City which is set to be inaugurated in January. 

"This is one of our efforts to utilize anti drug-related programs at the grassroots level which aims to ensure that Angeles City will be drug-cleared," he added.

In support of the holistic program of the ACADAC, also present during the recognition ceremony were representatives from the PDEA, City Health Office, Angeles City Police Office, Bureau of Jail Management and Penology (BJMP), City Probation and Parole Officer, and Executive Judge Branch 57, Hon. Omar T. Viola. –Victoria Harris