MARIVELES, Bataan — Authority of the Freeport Area of Bataan (AFAB) signed a Memorandum of Agreement (MOA) with Philippine Information Agency (PIA) Region 3 on empowering communities through development communication.
Under the agreement, PIA will assist AFAB in the crafting of its communication plan, capacitate its personnel through conduct of trainings, and aid in the production of their information, education and communication materials.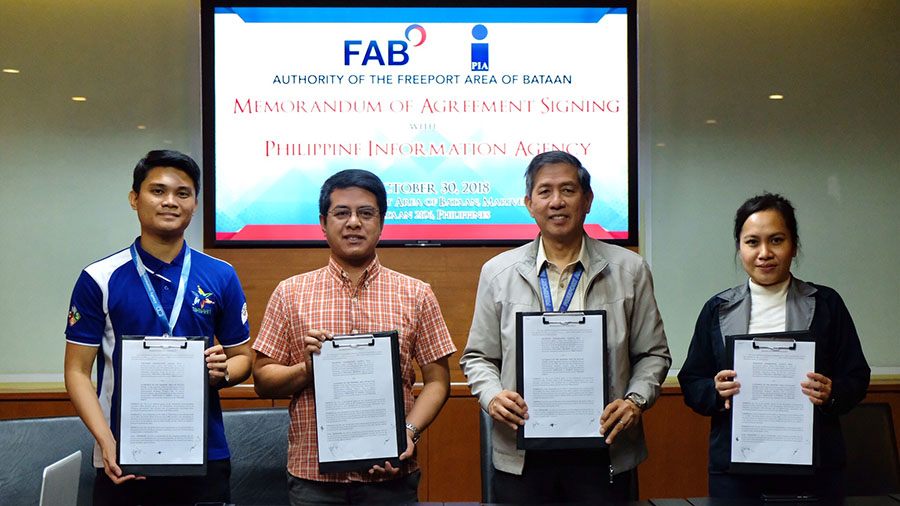 For its part, AFAB commits participation on national information drives, advocacy activities, and services of the government.
"We welcome our partnership with PIA specifically in crafting our communication plan. We will be able to both project a better image, a better reputation of the Authority, and so that we will become more palatable, more attractive to potential investors," AFAB Chairman and Administrator Emmanuel Pineda said.
"Also, part of the MOA is the support of PIA to level up or upgrade our skills on public information management," he added.
PIA Regional Director William L. Beltran said it is the agency's first formal tie-up with a freeport and it will serve as benchmark on promotional activities.
"PIA, under the MOA, will try everything within our means to capacitate and train all your personnel involved in public information and development communication," Beltran pledged.
He also stressed that the partnership will further strengthen the role of PIA and AFAB in empowering the communities especially those underprivileged people.
"I think the core existence of AFAB lies on empowering communities. Let's give our people the information they need so that they would become empowered also," Beltran said.
"It's not all about business, it's not all about investments – it's all about empowering our communities also and I think AFAB has been doing that already," he furthered.