Industry leaders in arts, culture, tourism and travel have expressed optimism on the contribution of new flights at the Clark International Airport (airport code: CRK)
This stemmed from the latest domestic flights by Air Asia Philippines (AirAsia) launched Saturday, February 3 that now makes CRK one of the busiest airports in the Philippines.
AirAsia, voted nine times as World's Best Low Cost Carrier, launched fights to key cities Iloilo, Tacloban and Puerto Princesa, giving rise to more opportunities not just for trade and commerce but also in arts and cultural exchanges.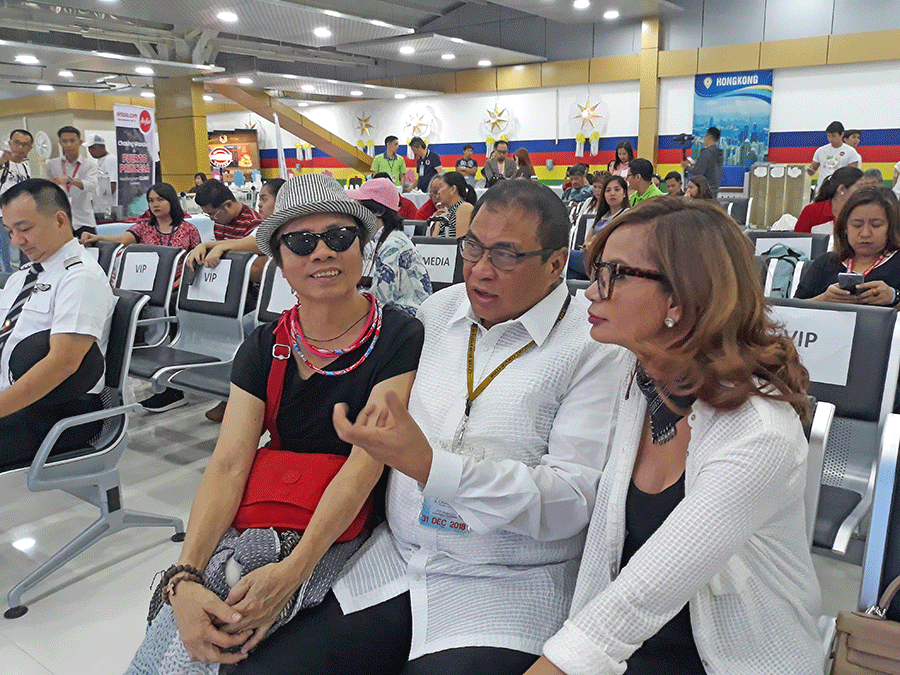 Renown Pidayit creator and fashion designer Philip Torres (left) exchange notes with CIAC President Alex Cauguiran (center) and Interior Designer Josephine Dianelo during the send-off program for AirAsia's Clark-Iloilo flight.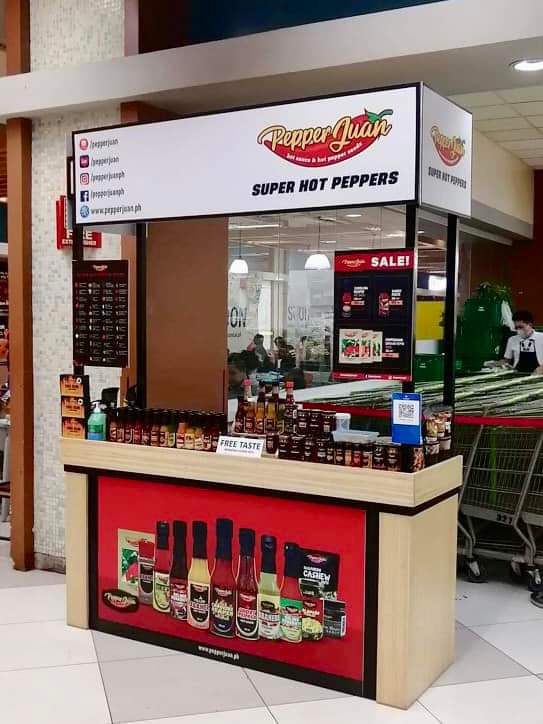 "We can have interactions for business, trade, products plus collaboration with different artists.There are lots of artists in Iloilo region," said Philip Torres.
Torres is leading fashion designer in Central Luzon. He was in the maiden flight of thrice weekly Clark-Iloilo route.
"We can promote our festivals, culinary, arts and culture. I can also source fabrics there," said Torres.
He is known for his Pidayit, a fashionable clothing made from scraps or fragments of fabrics. His designs were one of the sidelights in the Asean Summit held in the Philippines last year.
Push for Clark and Pampanga
Major players in the travel industry are also upbeat by the additional fights by Air Asia.
Gilda Padua, director of Greater Clark Visitors Bureau said that the flights would greatly help in the promotion of Pampanga and Clark.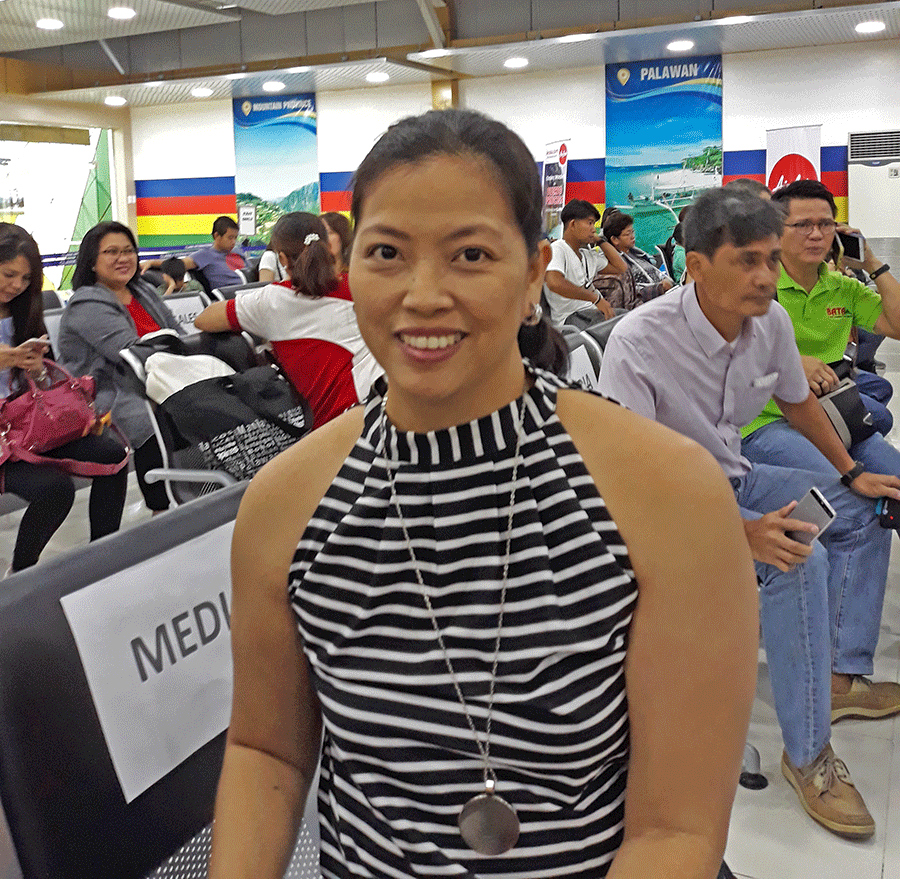 Gilda Padua, Director of Greater Clark Visitors Bureau.
"Clark flights provide additional destination for us. They provide connectivity. From Clark or Iloilo, you can take international destinations (onwards)," Padua said.
"We can push for Pampanga tourism in the region and vice versa. The flight is an opportunity for us to help promote our place," she added.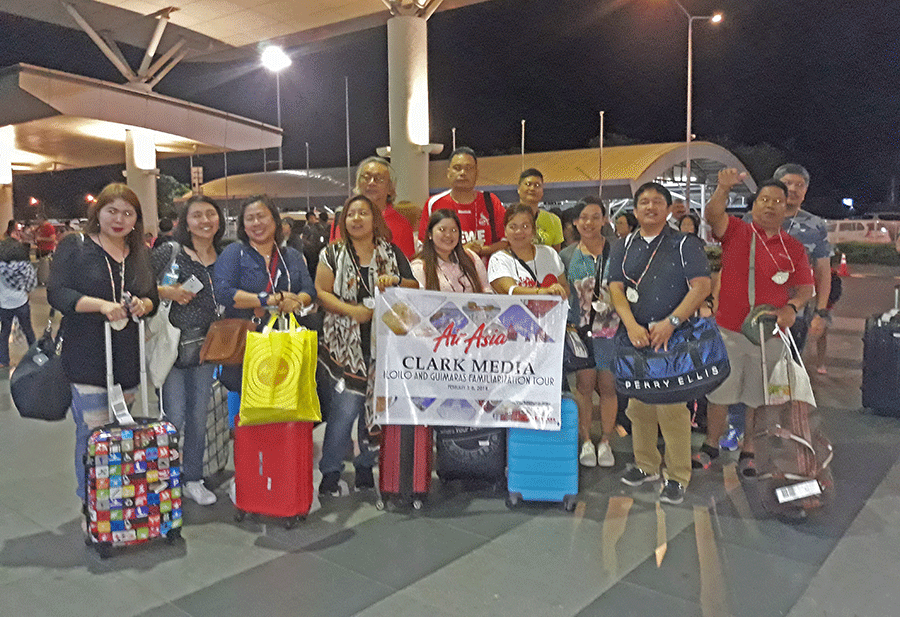 Media practitioners from Clark welcomed at Iloilo Airport upon arrival.
On Saturday, AirAsia launched three additional fights to the Visayas region from CRK. These are Clark-Iloilo, Clark-Puerto Princesa (T-TH-SAT both), Clark-Tacloban (M-W-F).
Last year, it started Clark flights to Kalibo and Caticlan, also in Visayas and a route to Mindanao region via Davao City. It uses Airbus A320s.
Clark to rest of Philippines 
Alex Cauguiran, president of CIAC, said that the additional flights of AirAsia bring to 434 the total flights per week at CRK. Of these, 160 are regional and international flights. He added that the average daily flights number to 62.

AirAsia flight attendants award a free ticket for two to any AirAsia destination to Jomar Lorenzo for being the first passenger to book the Clark-Iloilo flight.
In the Philippines, Cauguiran said, the archipelago is now connected to CRK. This airport in Mabalacat, Pampanga only had Cebu flights for its domestic service one year ago.
"Practically, Clark is now connected with almost every major cities in the country," he said.  –Photos by Noel G. Tulabut