CAPAS, TARLAC — Armed Forces of the Philippines (AFP) Chief of Staff General Andres Centino keynoted the 46th Founding Anniversary of the Armor Division.
He led the awarding of outstanding battalion, personnel, and partner agencies.
In his speech, Centino said Armor Division through AFP Modernization Program proudly hosts upgraded tanks with topnotch weapons systems.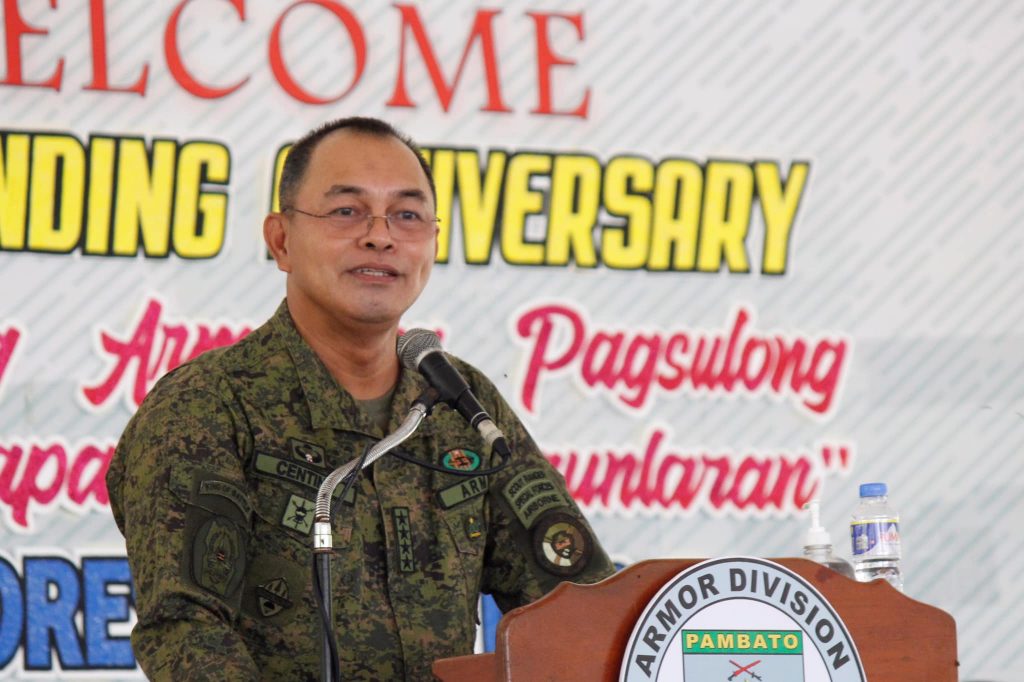 "It is noteworthy that our Armor Division translated its vision into tangible actions in preparation for its complete transformation or transition into becoming a modern and highly competent Armor Division of the Philippine Army, consistent with this year's theme, Makabagong Armor sa Pagsulong ng Kapayapaan at Kaunlaran," he said.
One of the results of AFP Modernization Program is the re-activation of 1st Tank Battalion, which completes the Armor Division by doctrine for having Cavalry Units, Mechanized Units, and a Tank Battalion.
Centino also acknowledged the troops and awardees for achieving accomplishments in their internal security operations.
"I commend your commitment to deliver only the best of your abilities, and may the accolades given to you serve as an inspiration for you to sustain your excellent performance and strive to exceed expectations," Centino said.
Operations led by Armor Division yielded a total of 1,133 firearms recovered from rebel groups and 342 neutralized terrorist personalities including the surrender of 153 members of the Bangsamoro Islamic Freedom fighters.
For his part, Armor Division Commander Major General Afren Baluyot reaffirmed the unit's dedication in fulfilling their mandate to serve the Filipino people.
"As we move forward to our modernization plan, we are confident that the team armor can achieve our goals as we carry out our roles in security to pave the way towards peace and development. Hence, we will continue to build on our history of achievements and provide flesh to our theme," Baluyot said.
Moreover, he extended his gratitude to its partner agencies including the municipal government of Capas, multi-sector board of Armor Division, Tarlac Heritage Foundation, and other institutions for their continuous cooperation in their programs.
Pre-anniversary activities include the distribution of goods to about 170 families in sitio Agus and sitio Tala in barangay Burgos, San Jose, Tarlac.
The activity aims to extend government services to indigenous peoples communities in far-flung areas.