14
MONTHLY FEAT AT SM SAN FERNANDO DOWNTOWN
Pampanga's vibrant visual arts showcase every month with 'Art Within Your Reach' at SM City San Fernando Downtown. Different facets of Pampanga's rich culture – its painting, sculpture, printmaking, photography – bringing art and people together by showcasing the works of different Kapampangan masters, modernists, and millennials in a monthly basis.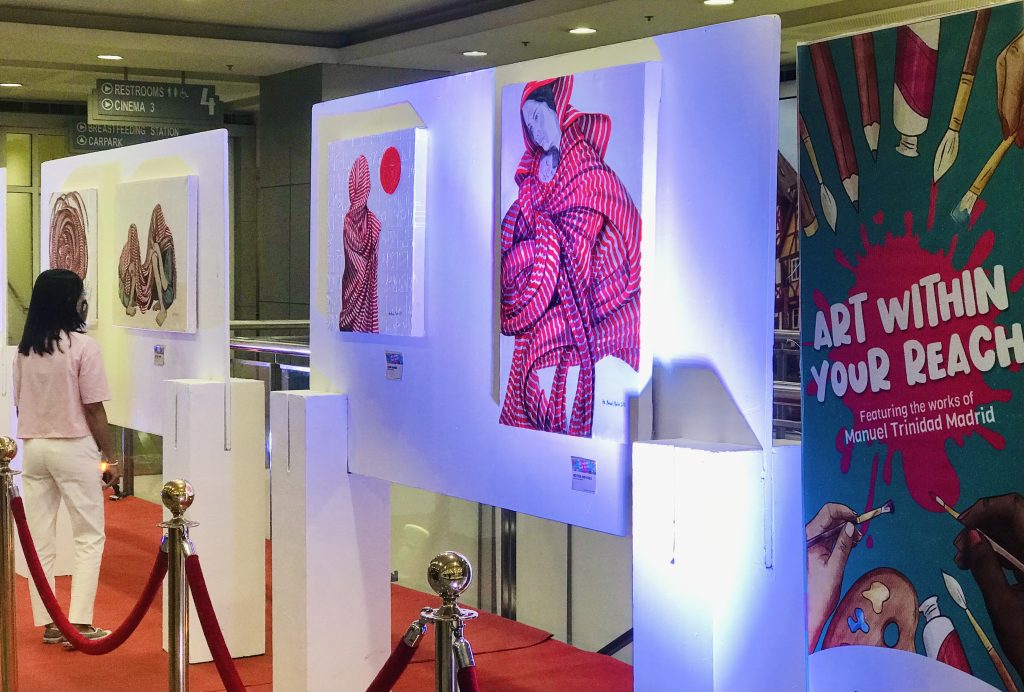 SM City San Fernando Downtown campaigns Art Within Your Reach with new featured artists every month. The month of March, Art Within Your Reach highlights the works of Manuel Trinidad Madrid, a flourishing local Kapampangan artist and theater performer hailing from Guagua, Pampanga. He specializes in acrylic, oil paint and soft pastels in canvas technique with his unique signature red and white stripe style. Paying homage to his beloved Sitio Divine Mercy, he chose to emphasize the colors red and white – which he considers to signify mercy; stripes, on the other hand, is his main "art character" as he was drawn by the old patterns of Filipiniana skirts. 
Throughout his young professional career, he has already done seven solo shows, participated in several group exhibitions such as ASEAN Summit Exhibit 2017 and Angeles Museum, and has his works bought and displayed in and out of the country. With his works, he hopes to promote Kapampangan artistry, and keep the art of painting alive to his fellow millennials and older and younger generations alike.
With proper physical distancing management in place, you may catch Manual Trinidad's art exhibit on March 17 to 31, 2021 at the Forth Level of SM City San Fernando Downtown.