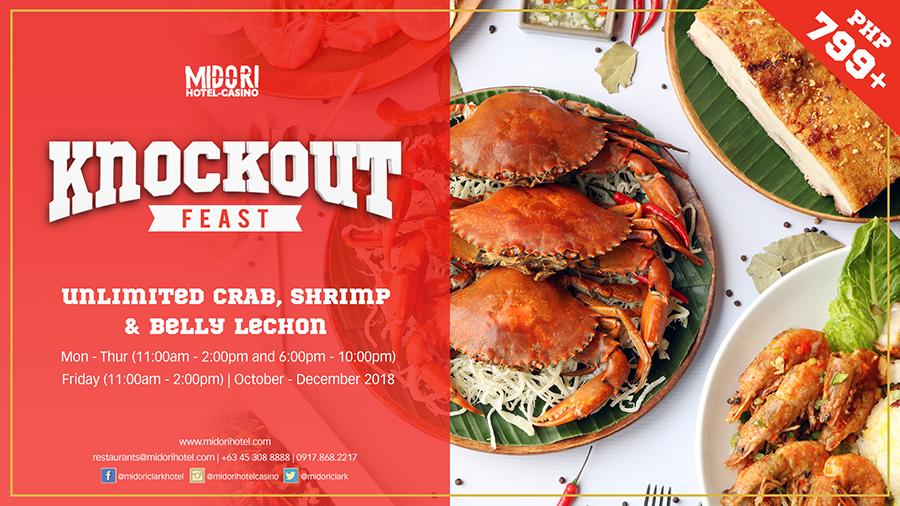 As the Oktoberfest approaches, Midori Clark Hotel and Casino launches back-to-back food promotions that will make everyone enjoy, feast and drool!
Knockout Feast – Unlimited Crab, Shrimp and Belly Lechon
Prepare yourself to be a great fighter with your all-time favorites with the Knockout Feast. All of your favorites in a one platter which includes Crab, Shrimp and Belly Lechon with UNLIMITED REFILLS! Platter comes with unlimited rice, bottomless beer, iced tea and soup of the day.
Freshly picked crabs and shrimps will be cooked in a choice of Aligue sauce, Oyster, Herb and Butter garlic and Salt and Pepper while the crackling belly lechon will be prepared by the roasting masters of the Midori Clark Hotel.
Knockout feast is available every weekdays from 11 a.m. to 2 p.m. for lunch and 6 p.m. to 10 p.m. for dinner for only Php 799+. A friendly reminder, no sharing and eat moderately.
Bavarian Feast every Weekends
Celebrate the Oktoberfest at Toscana Dining as it features the Bavarian Feast as the theme of the month.
The buffet will feature unlimited beer and wine, pretzels and a lot of mouth-watering Bavarian specialties which are to try whilst along with the international dishes.
Executive Western Chef Marcos Dungca will highlight the iconic Bavarian dishes such as Pork Knuckle, German Pot Roast Beef, Sausages and Pretzels.
Different Bavarian stations for the buffet are also to be served, some of the stations are Composed Salad which highlights the Warm German Potato Salad, Bratwurst for the German and Schublig sausages, Lite Bites for the hotdog sandwiches and German Pizza to name a few.
An assortment of German breads like Sour Dough, Rye Bread, Multi Grain and Pretzels.
We briefly talked about the question on what there is to drink on Oktoberfest, San Miguel Draft beer is to provide the libations for the guests.
Heading over for the Bavarian Feast? Just remember the word for cheers (Prost!), so you do not look like a fool when you neighbor wants to cheer you. All set to feast? Oans, zwoa, gsuffa (one, two, drink)!
Bavarian Feast opens every Friday, Saturday and Sunday from 6 p.m. – 10 p.m. and Brunch Buffet every Saturday and Sunday from 11 a.m. to 2 p.m. Priced at P1,099+ for adults and P550 for kids 4 ft. and below.
Don't miss the feast and reserve now! You can email us at [email protected] or give us a call at 045 308 8888 / 09178682217.
Don't miss out any update from Midori Clark Hotel and Casino! Visit www.midorihotel .com, we love you to be connected with us! Like our page at www.facebook.com/midoriclarkhotel, follow us on Twitter @midoriclark and @midorihotelcasino on Instagram.