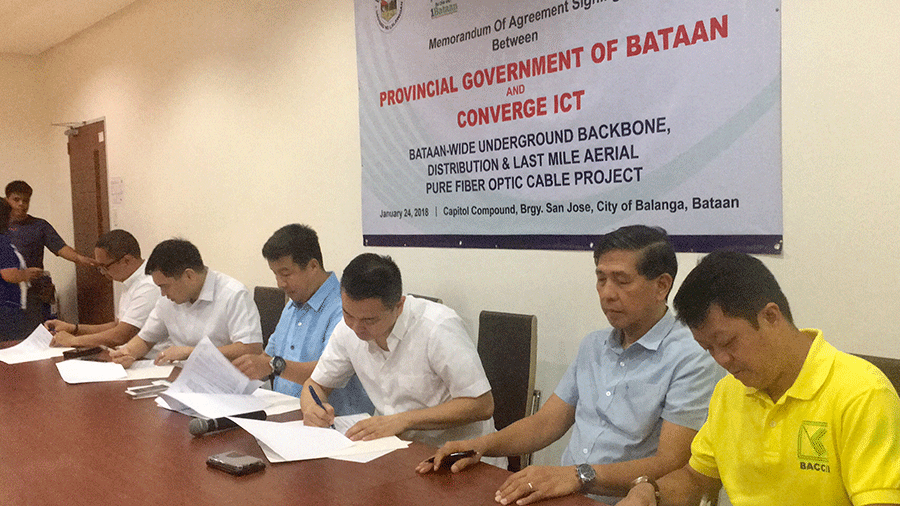 BALANGA CITY – Bataan Governor Abet Garcia recently led the Provincial Government of Bataan in the signing of a Memorandum of Agreement with Converge ICT at the Bulwagan ng Bayan at the Capitol Compound in this component city.
The agreement is for the province-wide underground backbone, distribution and last mile aerial pure fiber optic cable project.
The ICT provider will be putting 160 kilometers fiber optic cable encircling around the whole Bataan peninsula which will serve as a digital highway along the provincial freeway and national roads in the province.
Also present during the MOA signing were Mariveles Mayor Ace Jello Concepcion, Balanga City Mayor Francis Anthony Garcia, Authority of the Freeport Area of Bataan (AFAB) Chairman and Administrator Emmanuel Pineda, BACCII President Orly Dela Peña Bataan ICT Development Council President Engr. Robert Enriquez, Metro Bataan Development Authority (MBDA) general manager Charlie Pizarro Jr. and other stakeholders.
Converge ICT President and CEO Dennis Anthony Uy, meanwhile, thanked his new partners and customers for their continued success and bared big plans for the company. He noted the intention to cover not just the province of Bataan but the entire Luzon area by this year and launch of a subsea cable that will connect the entire Philippines.
Governor Garcia said that nowadays, with the influx of investors in the province internet connection is becoming a necessity. The project he said will provide more efficient and faster internet connection.
The project, when realized, will deliver more efficient and quality public service leading to a better life for Bataeños. Further, this will enhance the security and peace and order situation in the province since security devices transmit data over the internet in real time.
Uy said this year his company will be investing in extensive rollouts for their own subsea cable and underground backbone, starting in major provinces, such as Cavite, Batangas, Bulacan, Pampanga and Pangasinan, and will continue to build on their Fiber-To-The-Home business.
He also shared his plans to invest in applications, cloud services, particularly in the government to help provide better services to the people. Uy is also the owner of Comclark that operates and partners with other major cable TV providers in the province and other parts of Central Luzon.