Ever wonder how famed celebs maintain their youthful and glowing skin despite of toxic days and sleepless nights?
The secret is 'G'.
Oops! you don't need to be a star to achieve this pinkish glow.
This 'G' is now within your reach.
Bookworms and spa aficionados can now avail this trendy beauty wonder while enjoying the satisfaction of reading and nail care at the Library Spa and Nail Salon (LSNS), the first library-inspired spa in Pampanga and in the Philippines.
True to its commitment of providing only the satisfactory and highly-recommended recipe of wellness, LSNS offers the most trusted and highly-effective glutathione products in the beauty market.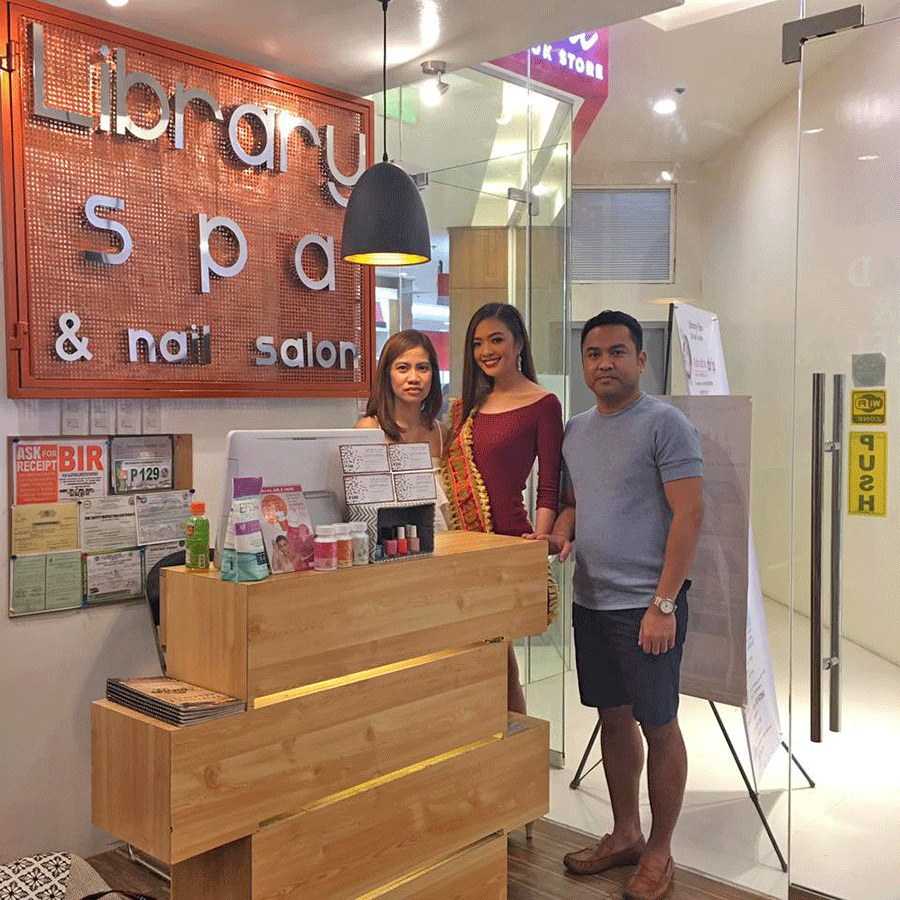 According to research, glutathione has been called the "master antioxidant," in addition to its own potent antioxidant powers glutathione helps to recycle other antioxidants such as vitamins C and E. Thus, glutathione can help to protect against cancer and other diseases caused by oxidative damage. Glutathione also plays an important role in the regulation of immune cells, and is a potent detoxifying agent.
"We are offering only the quality services in accord with the international standards. Before introducing it to our valued clients, we made sure we have tried its efficiency on our own. Me and my husband Roumel are enjoying best results ," Ma. Teresa Arevalo, owner said.
Dippin' into the drip (the actual experience)
I, myself, had the chance to avail the gluta experience. I picked the Aphrodite Drip since it promised to rejuvenate my 'nabilad sa araw' skin.
For first timers, surely, an endless chain of questions will joggle in your mind. Will it be painful? Are there side-effects? And so on.
Tip: 'Huwag mahihiyang magtanong!" Ask until you are found satisfactory of their service. The owners and the nurses are more than welcome to entertain questions.
Sitting beside me is a friend-blogger Armela Patalud of aroundthemetro.ph who had tried the Cocktail Drip (it is more of replenishing your body with multi-viitamins). She said she needed that most since 'madalas siyang magbilad lalo na ngayong summer' and she wanted to boost her immune system.
Tip: This is a must-try especially to call center agents working on a graveyard shift.
To check on her Cocktail drip experience, follow her blogs at aroundthemetro.ph
Prior to the actual infusion, I grabbed the chance to ask these questions bothering me to the nurse on-duty. Yes, they had hired an expert, a registered nurse. And I was satisfied and complacent to what I had heard. This gluta thing won't harm you at all if you take it in moderation.
Tip: Clients are encouraged to inquire to their physician and divulge their health status before undergoing the drip. Preggies are advised to not have the gluta drip. But before-hand, the LSNS house nurse will orient you on the process.
Tadaaah! Now I am ready to be in dextrose Yes, it looks like a dextrose bag. The nurse is about to find the vein on my right hand where she will inject the gluta. It gave me an unusual feeling (because the last time I was injected was when I'm in fourth grade) and I can sense that this liquid thing I have availed is rushing into my veins.
Tip: Sit still, enjoy the moment. Grab a book, indulge!
As a keen observer, I had noticed that my right arm felt heavier but no pain at all. After 30-45 minutes, it was a success! Of course you will not notice the effect promptly, and so I wondered when?
Tip: If you are feeling a bit of pain, don't be hesitant to call the attention of the nurse.
Next day in the morning, I was amazed by the evident results!
Not even a single patch of allergic reaction was found on my skin.
My facial pores were minimized; my skin has this even softness and glow, I felt energized (not the usual feeling I have after a good sleep) – and I love results. It gave me a strong sense of confidence to converse with our clients.
Tip: Stay away from the sun, put on sun block creams. Eat healthy food and drink more water. To maintain the effect, I was advised to undergo the same drip at least once a week. Library Spa and Nail Salon is also a legit distributor of Sky Gluta products being used by Philippine celebrities like Kim Domingo.
Truly, a goddess feeling from within.
Thanks to the Library Spa and Nail Salon!
Mind you, Aphrodite and Cocktail Drip are not only applicable to women, men are also encouraged to try and see best results out of the LSNS's newest services. Tag along your boy beshies, hubbies, boyfies, grandpas, and dads!
Cheers to a new and healthy you!
Visit the Library Spa and Nail Salon at 2nd level, Newpoint in Angeles City from 10 a.m. to 9 p.m. For reservations you may reach them at 0917 672 9811 or via Facebook @libraryspa.nailsalon
LIBRARY SPA AND NAIL SALON SERVICES:
APHRODITE DRIP: P 1, 800/session
– with High Gluta content to Protect the Skin and Body from free radical damage
– Collagen-for Naturally Firm and Rejuvenate skin
– Placenta-reduces Wrinkles and Eliminates Acne
– Vitamin C-collagen & gluta booster
COCKTAIL DRIP: P 1,250/session
– Multivitamin infusion
– helps prevent fatigue, viral infection
SNOW WHITE DRIP (instant whitening): P 1,750/session
Other Services & Add-ons
Diet & Detox IV: P 650/session
Classic White IV push: P 795/session
Classic White with Collagen & Vit C: P 1,250/session
Youthful Glow IV: P 695/session
Collagen with Vitamin C: P 550/session
/Larrica Angela Cunanan
IG: @larricaangela
[email protected]