CITY OF SAN FERNANDO – In line with the celebration of Women's Month, the provincial government of Pampanga kicked off its month long celebration with the theme "We Make Change Work for Women".
A congregation of purple-dressed women Capitol employees gathered for the 'Walk for a Change' around the Capitol compound followed by a Zumba physical fitness session also participated in by lady mayors, vice mayors and legislators.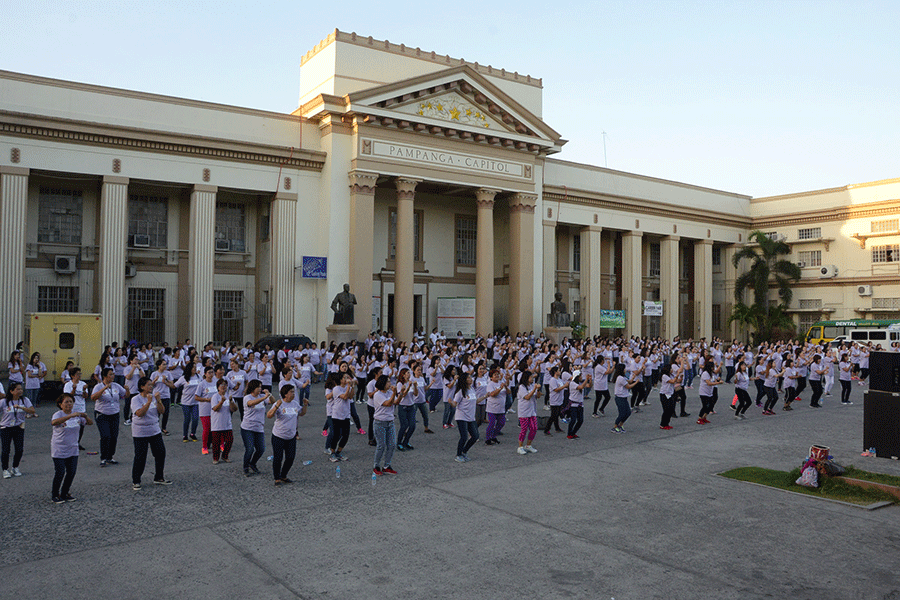 During the celebration, Board Member Cherry Manalo, chairperson on the committee on women and family, emphasized the participation of the women for the betterment of the province.
"Today, we can see the participation and strength of the women in our society. This only means that we, women are united for the sake and betterment of our province," Manalo said.
Gov. Lilia 'Nanay' Pineda, for her part, believes that women's month should not only be celebrated for one month but throughout the year because of the invaluable participation of women in the society.
"We have a lot of women serving in the provincial government including employees, doctors, nurses and barangay health workers. We can see that women's participation nowadays is not only in the government but also in the business and other sector. We can see how powerful the women are especially legislators who are very aggressive in their work," Gov. Pineda said.
The governor also underscored the important role of lady mayors and legislators in their respective areas of jurisdiction. She also encouraged them to craft ordinances that will help the national and provincial government in their fight against illegal drugs.
"Think of ways on how you can help your municipalities and cities in its fight against illegal drugs. We should also remember that as women and mothers, we should pour our hearts in our services. We should serve our constituents with our hearts and minds," the governor said.
As part of the women's month celebration, the provincial government lined up activities for women. This includes Orientation on Responsible Parenting Movement for female Capitol employees on
March 24
; Orientation on Health and Wellness for Solo Parent Leaders and Women with Disability leaders on
March 24
; Free Anti-Flu vaccine among Capitol employees on
March 27
; Buntis Congress on March 28; and Bloodletting activity participated by female Capitol employees on March 29.
•LIEZEL CAYANAN/PIO