Cebu Pacific, allows passengers to "SEA more with Visa" as it offers special seat sale fares to some of the most popular international destinations within its extensive flight network.
This sale marks the sixth year of partnership between Cebu Pacific and Visa.
The Cebu Pacific seat sale is exclusive for Visa cardholders. It begins today and will be available until October 06, 2018 (or until seats last). Travel period will be from January 1 to March 31, 2019.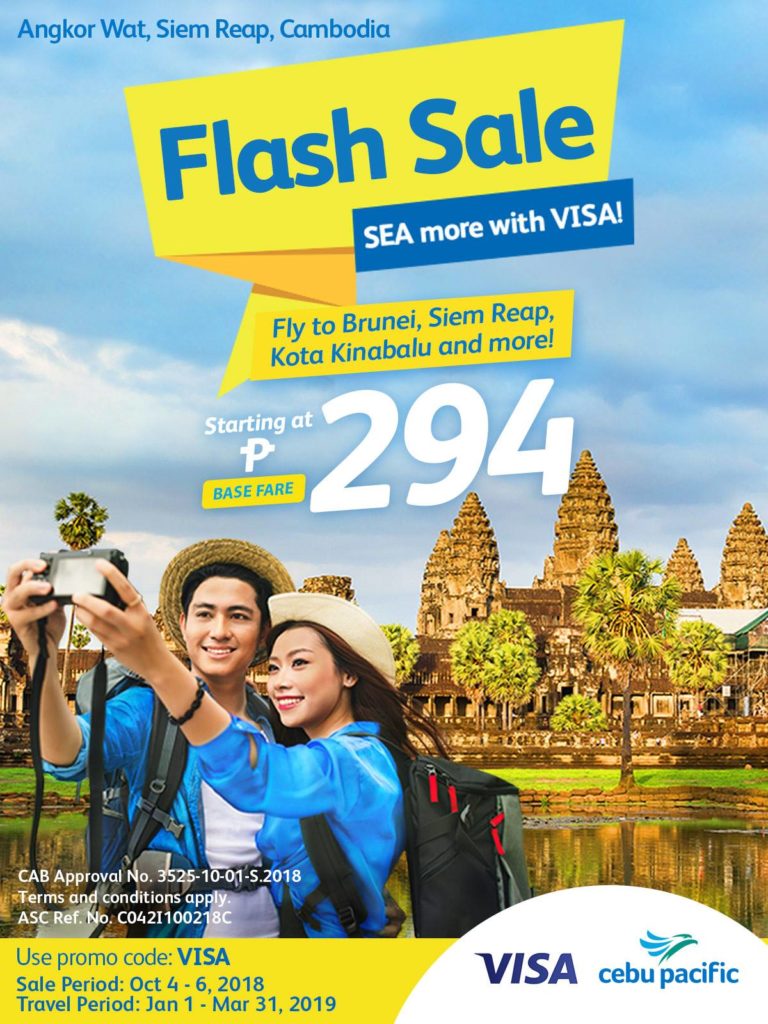 "We thank Visa for continuously working with us to fulfill our vision of enabling more Filipinos to maximize their travel opportunities, not only within the Philippines but to international destinations as well. We urge everyJuan to make use of this ongoing seat sale and book flights early, so that they may save up on airfare, and have more budget to splurge on other activities," says Atty. JR Mantaring, CEB Vice President for Corporate Affairs.
Kick-start 2019 with getaways from Manila to Kota Kinabalu for as low as P294 base fare, or a quick escape to Brunei (Bandar Seri Begawan) for as low as P1, 099 base fare, or to Taipei for only P1, 199 base fare. Flights to Kuala Lumpur are also up for grabs for as low as P1, 494 base fare, along with flights to Ho Chi Minh, Vietnam available at only P1, 499 base fare.
Those who want to see Bangkok and beyond can fly via Manila for only P1, 899 base fare. Flights to Hong Kong from the Queen City of the South (Cebu) are also available for the same low fare. Adventure-seekers can also fly to Bali, Indonesia for as low as P1, 999 base fare.
Passengers can also fly from Manila to Hanoi at P2, 099 base fare; Cambodia at P2, 299 base fare; Jakarta at 2, 499 base fare.
Quoted base fare rates are inclusive of a seven (7) kilogram-hand carry baggage allowance, but exclusive of Web Administration Fee, the PHP550.00 International Terminal Fee and Fuel Surcharge. Passengers may also add-on additional baggage allowance, meals, travel insurance and other ancillary products and services.
To avail of this exclusive seat sale, Visa cardholders only need to input the promotional code "VISA" upon booking through www.cebupacificair.com. Terms and conditions apply. About Cebu Air Inc. (PSE: CEB)
Cebu Air Inc. is the largest carrier in the Philippine air transportation industry, offering its low-cost services to more destinations and routes with higher flight frequency within the Philippines than any other airline. CEB currently offers flights to a total of 37 domestic and 26 international destinations, operating an extensive network across Asia, Australia, the Middle East, and USA.
CEB boasts of one of the youngest fleets in the world, with a total of 67 aircraft with an average age of 5 years. The CEB fleet is comprised of 36 Airbus A320, five Airbus A321CEO (Current Engine Option), and eight Airbus A330; while the Cebgo fleet is composed of eight ATR 72-500, and ten ATR 72-600 aircraft. Between 2018 and 2022, CEB expects delivery of two more Airbus A321 CEO, five Airbus A321 NEO (New Engine Option), six ATR 72-600, and 32 Airbus A321NEO aircraft.
Cebu Pacific has achieved full compliance with the International Air Transport Association (IATA) Operational Safety Audit (IOSA)—considered as the accreditation with the highest standards for safety in the airline industry, joining a roster of 429 airlines worldwide that have strictly complied with the most stringent of international standards governing aviation safety.