Clark Freeport Zone, Pampanga –– Since Clark Marriott Hotel's opening at the Clark Freeport Zone, the first and only internationally branded 5-star hotel in Clark, Pampanga and north of Manila has become a top of mind among business and leisure travelers, including locals. And in continuing this tradition of firsts, the globally-recognized hotel chain brings yet another first to Clark.
Clark Marriott, one of five Marriott properties in the Philippines, brings the authentic flavor of Germany to Clark, Pampanga with its first-ever Oktoberfest from October 11 to 12, 2019 at 6pm at an air-conditioned tent at the back of the hotel.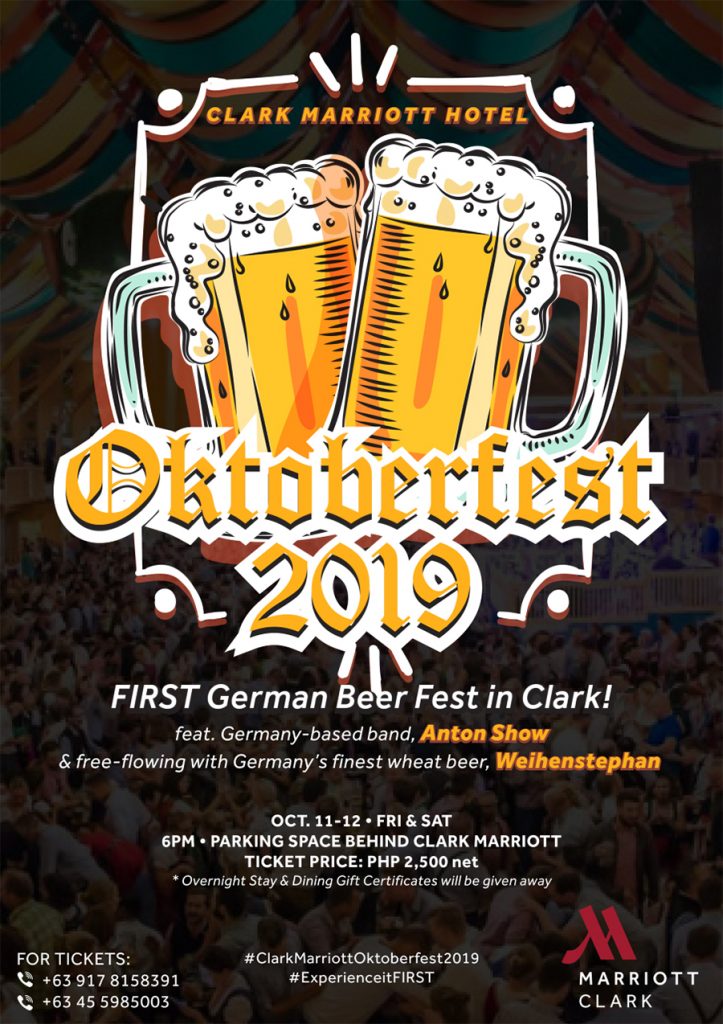 This will be the first and only authentic German Oktoberfest in Clark and the first time that a festival of this kind will be held in the free port. The festival promises two exciting nights where festivalgoers, foreign and local, can experience a taste of Germany.
Festivalgoers will be treated with free-flowing Weihenstephan beer, one of the finest German wheat beers, and will be provided their fills of German food. While Munich-based Oktoberfest band that performs in all over Asia, Anton Show, will take over the fun and entertainment.
Tickets to the festival are priced at only Php2,500 that will also delight each festivalgoer with complimentary German beer mugs and other freebies. The hotel will raffle off overnight stays and dining gift certificates.
"It is basically bringing one part of Germany to Clark that our guests and the Kapampangan can enjoy – German Oktoberfest that is truly worth experiencing first. We hope to continue bringing more firsts to our valued guests, partners, and even our associates," said Goeran Soelter, Clark Marriott General Manager.
To know more about the hotel, call +63 45 5985000 or visit www.clarkmarriott.com. And to keep up on our latest offerings, follow Clark Marriott Hotel on Facebook, @clarkmarriott on Instagram, and @clark_marriott on Twitter.