ANGELES CITY —- Converge ICT Solutions, the country's leading pure end-to-end fiber internet service provider, donated a total of Php5 million worth of relief assistance to the victims of the Taal volcanic eruptions on January 17, 2020.
Dennis Anthony Uy, Converge ICT president and CEO, handed over the donation to Batangas Governor Hermilando "Dodo" Mandanas in a briefing held at the Batangas Sports Complex.
The turn-over was witnessed by Pampanga Governor Dennis "Delta" Pineda who had earlier brought truckloads of relief aid to the victims.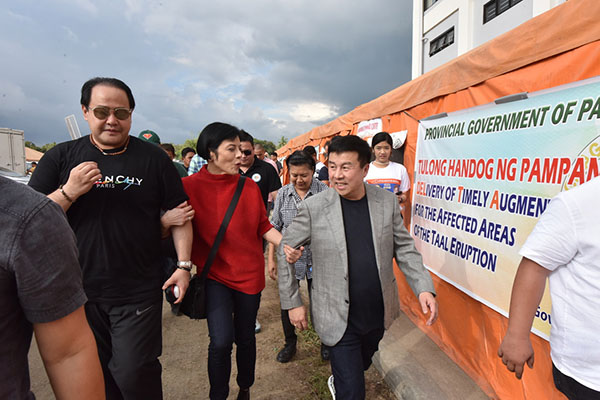 Aside from the relief donation, Uy also committed to provide internet connectivity to the disaster command center to closely monitor critical areas.
"This initiative will be critical to ensure more efficient relief operations and, to some extent, will allow victims to communicate with relatives in and around the disaster area," Uy stressed.
"One million peso worth of potable drinking water will be provided to 20,000 households that were affected by the volcano," Uy added.
"As a Pampangueño, I've experienced the same hardships during the eruption of Mount Pinatubo in June 1991. Drawing from that experience, I know how small efforts, like what we are doing today, can really help those who were affected," the businessman stressed.
"Let us help make our kababayans' situation better. Let us give them hope. Everybody should be for everybody," Uy appealed.
The Converge donation came at the heels of appeals for assistance from officials and residents affected by the recent activity of Taal Volcano that started acting up on January 12.
In less than 48 hours, aid from the Pampanga Provincial Government came rolling in via a 62-vehicle convoy early morning Tuesday.
Additional relief goods were also transported to Batangas from the Pampanga Provincial Government over the weekend to provide assistance to more than half a million victims of the volcano that, aside from Batangas, has also affected the provinces of Laguna and Cavite.
Also pitching in the relief for Taal effort were the BBIF and WMRI-PH and the the Angeles City Local Government.